Xbox Series X/S wireless headset issues reported with Turtle Beach, SteelSeries, and more
Wireless headsets aren't playing nice with Xbox Series X and Xbox Series S for some, with crackling audio and connectivity issues among some popular brands.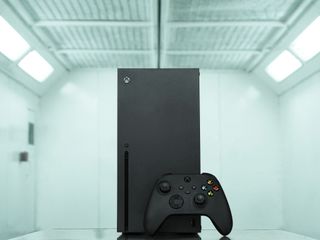 (Image credit: Matt Brown | Windows Central)
What you need to know
Various Xbox Series X and Xbox Series S owners report issues with wireless headsets, including those from Turtle Beach and SteelSeries.
Reported issues include crackling and distorted audio across the system, alongside problems with power and connectivity when using these headsets.
Microsoft launched its new Xbox Series X and Xbox Series S consoles last week, with shared foundations with Xbox One ensuring a generally smooth transition. It couples with Microsoft's promise of full backward compatibility, including the ability to bring forward past Xbox accessories like controllers, headsets, and chargers to the newest systems. But we're also seeing some Xbox Series X and Xbox Series S owners report wireless headset issues, from audio distortion to poor connectivity.
Complaints have surfaced across various forums from users with headsets that use the Xbox Wireless protocol for cable-free connectivity. The problems appear to impact some of the best Xbox Series X and Xbox Series S headsets on the market, including the Turtle Beach Stealth 600 and Stealth 700, SteelSeries Arctis 9X, and Corsair HS75 XB.
Cracking audio, with general stutters and distortion, appears to be one of the primary issues affecting headsets. These problems often remain following firmware updates to both the headset and controller, although we've been unable to recreate them as of publication. But amid discussions on Reddit and Twitter, some have found a remedy by using an older Xbox One controller with their console. It suggests this stems from the new Xbox hardware, rather than the headsets themselves.
Several also report headset connectivity issues when using the new Xbox controller bundled with Xbox Series X and Xbox Series S. Top issues include the controller failing to register inputs with the headset connected, and headsets automatically powering on the console but leaving the controller unresponsive until the system is unplugged.
from r/steelseries
from r/TurtleBeach
It's once again worth stressing that these reported issues aren't guaranteed, and we've been unable to replicate them with Xbox Wireless-enabled headsets like the Turtle Beach Stealth 700 and Corsair HS75 XB. But it appears that many remain impacted, indicating an issue lies with the wireless connectivity shared across these headsets and controllers.
If you're experiencing these issues, make sure to let us know in the comments. We recommend visiting your manufacturer online to update with the latest available firmware while updating your Xbox controller via the on-device settings app.
Xbox Series X/S
Main
What is the Xbox Series X release date?
How much does Xbox Series X cost?
Why you can't preorder Xbox Series X yet
Matt Brown is Windows Central's Senior Editor, Xbox & PC, at Future. Following over seven years of professional consumer technology and gaming coverage, he's focused on the world of Microsoft's gaming efforts. You can follow him on Twitter @mattjbrown.
I can confirm that I have these issues with my Xbox Series X and HS75 BX.
As soon as I stop use the controller (during cut scenes) the audio starts crackling. The workaround for me is to always use a trigger or thumbstick to keep the audio working

Do you have a previous-gen Xbox One controller? Supposedly fixing the issue for many.

Yes i have, but have not connected it yet. Use it it the guestroom with the XoX :D

Yup, I got the cracklies on a brand new Stealth 700 Gen 2 and Series X. Ugh. Sometimes cycling power on the headset works.. sometimes it dont.

I can confirm I'm having the same issues with my 9x. I noticed it big-time playing tetris.

I had the same issue too with the 9x and Tetris Connect. Seems worse on the optimised for X|S titles. Interestingly it seemed to be worst with the new controller and particularly if it is left without inputs for about 15 seconds the sound breaks down to the point it is just noise (lol). Clears again if there is an input, eg d-pad click. Does anyone know if the Xbox wireless protocol been changed for the low latency features?

Glad to finally know I wasn't going crazy. I have the Steel series 7X and its been hit or miss on the audio. The issue i was having was low sound and then the headset not connecting. I have also experienced choppy audio . I hope they fix this soon and Xbox and steel series, push out a fix.

Similar issue to this above. I have switched to a different HDMI input. The one I was using had ARC as well and I wondered if that might be causing the audio to loop back and interfere. It seems to have resolved the issue with the headset audio. No clue why. Might be worth a check though.

Nice to hear this isn't just me - I've been trying to troubleshoot to no avail.

I was getting audio issues playing Forza Horizon 4, but only in certain sections of the game. For example, free roam was fine, but any mission dialogues where just bad! These are the TB Stealth 700. I've just tried connecting an original Xbox controller and turned off the new one and it works fine! Both controller and headset not showing any updates available.

I too have had issues with my LS35X headset with games, but the worst offender is Gears 5. It cuts out to the point that I can't hear anything for several seconds. I have noticed crackling and other issues as well. Like what Erik Nyman said, you can move the thumb stick or pull a trigger and the audio comes back in momentarily. It is a big pain. It also does not improve when changing the audio from Windows Sonic to Dolby Atmos, or Uncompressed Stereo. I am glad you all are shining a light on this issue.

I'm definitely having the issue and didn't know if it was the headphones or the console. I typically notice it during cut scenes in the games I'm playing now which are AC Valhalla and Gears tactics. I also play a lot of pubg and the don't have the issue there. I have the stealth Gen 2 on an Xbox series X.

lol could be worse my xbox series x powered off after 48 hours and wouldnt turn back on I had to ship it back and I am told it could be 2 weeks before I get it back. I am looking for a good wireless headset for when I get it back.

I have the same issue with wired headset connected to the new Xbox controller. The crackling/noise is most noticeable when I lower the volume. I've tested this on both Series X and S. The crackling goes away if I use an Xbox One controller but notice the volume level is very low when it's is set below 50% on the volume slider. Makes me think they are related.

My Issue = Series X Controllers losing Connection - flashing slowly - at Power Off and Power On Series X is in Instant On mode. I turn off Series X using Controller I have been gaming with (Elite 2 - Firmware is up to date). Console sounds like it's turning off but actually stays on ! Then light on the Controller starts to blinks slowly and is no longer connected to the Series X ! I then try to reconnect my Controller by re-syncing but when I press the Sync button on the Series X it doesn't make the Power button light flash ! I try the Controller (previously synced and updated) that came with the Series X but that just Slow Flashes too and doesn't connect to the Series X The only way I can then get the Controller(s) to reconnect is to press and hold the Power button on the Series X until the light goes out and it fully shuts down, I then press the power button again and the Series X reboots and the Controller(s) reconnect ! Also I have Arctis 9x headset that are often still on when I turn off the Console and thought that might be the issue, as I believe the Arctis 9x can turn on the Console (it used to on my One X) so tried to replicate the fault by definitely leaving the headset on, but the fault did not repeat. This problem with the Controllers flashing slowly and losing connection has happened about a dozen times now and I cannot pinpoint the issue.

Updated stealth 700gen2 for xbox yesterday with latest firmware , now when I shut down the series x with the headset connected the screen goes blank and the xbox power light stays on, if you press the power button again the xbox apears to turn off but when you turn it on again none of the xbox controllers or headset work, have two old and one new controller, the controller lights just flash and you can't resync them by pressing the sync button. The only thing that works is my media remote. If I restart the xbox everything works again. If i switch off the stealth 700 headset first the xbox shuts down and starts up normally without a problem.

Similar with me, but the sync button on the console will not go into pairing mode were the light rapidly flashes. I've had to unplug the console and restart to correct

Can confirm this happening with my TB Stealth 700 Gen 1. Has been happening for a while here and there, but is much worse (basically unusable) when playing an Xbox Series X/S enhanced game like AC Valhalla.

I bought a stealth 700 gen 2 yesterday and immediately started experiencing issues. From turning on the headset and the headset will immediately power itself down. That sounds like an issue with the headset itself, right? I've updated the firmware on the headset. Other Xbox-centric issues I've experienced are where my controllers cannot connect. In the article, it states that it only happens with the main controller that came with the Xbox. I can confirm that this happens on both my bundled controller and my shock blue controller. I've also experienced the crackling issue and it seems to be when I leave the controller idle for a cutscene or if there is no controller activity for about 10-20 seconds. This immediately corrects itself when I nudge an analog stick. I can canfirm I've experienced this on Valhalla. I feel like this happened on other Halo after the new optimized update. But cannot recall when it happened in Assassins Creed Valhalla.

Add Razer Nari ultimate to the list as well, that's what I got and it's glitching too

Can confirm this happens with my series x and Corsair HB75. Contacted Microsoft who said they're aware of the issue. No known work around at this time but are looking into a fix. I have my series x on instant standby mode but I've found if you restart it so it boots from cold - hold the X controller button in the centre of the pad then the right most option - that fixes it every time and it's good for a day or so until it happens again.

Hi I am having the problem making Gears Tactics unplayable but i found a fix that worked for me. The problem seems to occur when booting up the xbox from sleep mode as opposed to full shut down. Running a hard reset on the console (using restart console command) fixes the problem for me until the next time I boot up the console from sleep mode. Hopefully a patch coming soon!

I am having similar issues. My xbox series x does not recognize my headphones when i plug it in. It keeps coming from the stereo.

I have teh HS75's and lose audio when playing on the PC via the wireless adapter, in the system tray it constantly shows on and off that Atmos for headphones in use. I'm going to say that this is a more of an issue with Microsoft not having updated drivers in both the Xbox and PC.

TB Stealth 600. Sound quality is impacted. Distorted sound like an over stretched cassette tape. Xbox Series X with the series x controller paired. Doesn't always happen. But often enough to impact the immersion.
Windows Central Newsletter
Thank you for signing up to Windows Central. You will receive a verification email shortly.
There was a problem. Please refresh the page and try again.