Xbox Wireless Adapter now lets Windows 7 and 8.1 PC gamers use the Xbox One controller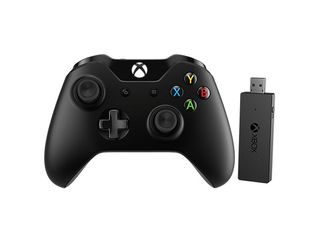 Windows 7 and Windows 8.1 PC gamers can now play games with the Xbox One controller wirelessly. Microsoft has revealed the previously released Xbox Wireless Adapter, which only supported Windows 10 PCs when it was first launched, now supports the two older Windows operating systems as well.
The news was revealed by Microsoft's Xbox Live programming head Larry "Major Nelson" Hryb via his Twitter feed. Hryb didn't mention how this new support was added, but we would assume it's via a firmware update for the adapter. In any case, this should open up the Xbox Wireless Adapter to a much bigger audience of PC gamers who have yet to make the upgrade to Windows 10.
Buy the Xbox Wireless Adapter at Amazon (opens in new tab)
Source: Larry Hryb (Twitter)
Windows Central Newsletter
Get the best of Windows Central in in your inbox, every day!
Ah man, that sucks to be you...

but we would assume it's via a firmware update for the adapter

Perhaps, or maybe there were no windows 7 and 8.1 drivers available for it before and they are now.

Yeah, it would almost certainly be a matter of extending the drivers. No need to change firmware when the OS doesn't talk directly to the firmware.

Yeah, it's drivers, not firmware. If it was firmware then it wouldn't just magically start working. It would require flashing new firmware into the wireless adapter first. (And this is not something the OS can do silently in the background for you.) Bringing drivers/features downlevel from new OSes to old ones is nothing new for Microsoft. This is good news for gamers though!

Yes! I just don't get the delay. Was it some exclusivity thing or what?

Well it does support it over cable guessing something they added to their wireless stack this past Tuesday?

Upgrade to Windows 10 already!!

Not everyone has the option.

And not everyone wants to.

Now I would like to see that the adapter will work with Display Dock so we can play UW games on big screen with Xbox controller.

Maybe it dies. Shouldn't be mich different from a PC since it's Win 10 anyways. Could just be about ARM CPU if it doesn't work.

Got an Xbox one today. **** happy :)

Good for u... One of the best decisions I've made in a while :-)

Just bought the wireless adapter... Can't count how many items I've bought off amazon or MSFT store just cause they were featured on this site. Hope wpcentral is making some money of amazon and MSFT for the adverts

Why is it so big? Don't they have full PCs on thumb drives now?

Yeah it is unusually large, I was hoping for something more along the lines of my usb bluetooth adapter and microsoft wireless keyboard/mouse adapter - which are basically tiny little nubbins that barely stick out of the usb port.

Problem is theirs nothing like it on the market yet that uses white-fi spectrum

Most likely, the wireless antenna. The smaller you make an antenna, the worse reception it gets. As I understand, it comes with an extender so it won't cover more than one USB port.

You gotta remember, this also controls up to 8 controllers

My elite and windows 8.1 pc are happy! Twin titans rejoice!!!!

Ugh, this is one of the biggest reasons I upgraded my gaming/media PC to 10. I'd have held off on 8.1 for a while longer if this was supported two weeks ago.

Can anyone help me, I can't seem to be able to route audio through the controller

Dont think its meant to aside from chat

But I remember it saying it can on the Amazon page, also, chat doesn't work either.

What about windows8? Posted via the Windows Central App for Android

Now if I can only find this thing in stores...

They need to make it so you can re map buttons on the elite controller, on PC.
Windows Central Newsletter
Thank you for signing up to Windows Central. You will receive a verification email shortly.
There was a problem. Please refresh the page and try again.