Xbox at E3 2017: 3 things we loved — and 3 things that were lame
E3 2017 is drawing to a close, and many attendees have already flown out of LA in search of less crowded pastures.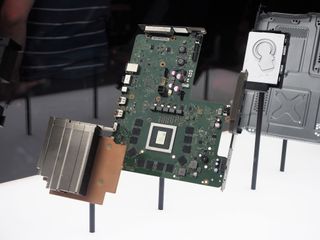 At E3 this week, Microsoft revealed the new Xbox One X, formerly known as "Project Scorpio." The new console sports a six-teraflop (TF) computational capability, designed to power games with 4K resolution.
Overall, Microsoft had a great E3 showing, but there are some genuine question marks that need to be addressed sooner rather than later.
Here are the three things I loved most ... and the three things I thought were lame.
Loved: Xbox One X
While there were some initial dissatisfied rumblings about the leaked $499 price point ahead of the show, Microsoft did a good job of demonstrating why the console is more expensive than its closest competitor, the PlayStation 4 (PS4) Pro.
The beefy six TF specs, the (small) size and general form factor, and the feature set, 4K game DVR, 4K streaming, 4K Blu-ray, HDMI-pass through, and more, really demonstrated how much value the Xbox One X will provide users who have invested in expensive 4K monitors and TVs. It genuinely looks tremendous.
Lame: Relying on third-party graphics demonstrations
With the exception of Forza Motorsport 7, Microsoft largely relied on third-party games to demonstrate the Xbox One X's visuals. Metro Exodus and Anthem both looked utterly stunning, but we don't really know how they'll look on PS4 Pro in comparison, which is a big problem.
Assassin's Creed: Origins also looked incredible, but I know from conversations here at E3 2017 that it will look virtually identical on the PS4 Pro, which is $100 cheaper than the Xbox One X. Again, not good.
Microsoft really needed another game such as Ryse to fully showcase what is possible with the Xbox One X. You can easily argue that racing games, particularly non-open world racing games, aren't as intensive as a fully-open-world action game, complete with multiple A.I. characters and environmental details.
It was a big mistake on Microsoft's part to not have something ready to shut down any discussions about graphics parity.
Loved: The diverse games lineup
Microsoft made a point of showing a diverse and vast games lineup at E3 2017, showing off 42 titles with more than half of them featuring some form of console exclusivity. Games like Code Vein and Black Desert really spoke to the criticism Xbox has received for not having enough Asian titles, and games such Lucky's Tale and Metro Exodus covered the full age range of Xbox One users.
It's a credit to Microsoft and the Xbox team that they placed emphasis on the global nature of their upcoming games lineup, featuring titles from all sorts of developers.
Lame: Lack of new AAA first-party
Frustratingly, Microsoft didn't unveil (or even really tease) what sorts of exclusive games players can expect to enjoy on their Xbox One X consoles in the future, opting instead to show a bit more of the games we already know are coming. I've been up close and personal with Crackdown 3, Forza Motorsport 7, Sea of Thieves, and State of Decay 2, but I can't really say I'm surprised by anything I've seen.
Crackdown 3 is mad fun, but it's just like Crackdown 1, by design. Forza Motorsport 7 has some great new features, but we all know what a racing game is for. Sea of Thieves didn't really give us any more clues as to what players will be doing besides digging up treasure. And State of Decay 2 is almost identical to the first game, albeit with polish more befitting of a Microsoft Studio title.
Sea of Thieves, State of Decay 2, and Crackdown 3 all sport stylized visuals, as well, and clearly don't push the Xbox One X to its limits. I think Microsoft really needed a more photo-realistic flagship action game to tease for the Xbox One X. But it looks as though we could be waiting a while to find out what comes next.
Loved: OG Xbox backward compatibility
As someone who largely missed out on the original Xbox (thanks, World of Warcraft), I'm ecstatic that Microsoft is now working to bring original Xbox games to the Xbox One family.
Microsoft emphasized "game preservation" as a driving motivator for bringing OG Xbox games into the modern generation, and I think that's a noble goal. In my interview with Xbox's chief of marketing Mike Nichols, he compared the concept to music, in the sense that it should be no harder to play 25-year-old games than it is to listen to 25-year-old music.
Microsoft demonstrated Crimson Skies as one of the first games that will come to OG Xbox backward compatibility, but there are dozens of instant-classics we could see re-emerge from obscurity, including Knights of the Old Republic, the original Max Payne games, and Mech Assault.
Microsoft also showed off some amazing new Xbox One avatars and demonstrated the potential of Dolby Atmos to us behind closed doors. Microsoft certainly isn't holding out on new features.
Lame: No roadmap for VR
When the Xbox One X was originally revealed as Project Scorpio, Microsoft placed a lot of emphasis on the fact that it would power "high-fidelity" VR experiences. The fact that games like Resident Evil 7 (with a baked VR component on PSVR) came to the Universal Windows Platform (UWP), seemed to signify that the Xbox One X would at least have some form of VR demonstration this year. If not at E3, at least during Xbox Daily or something. Instead, we got nothing.
It seems to be part of a bigger PR decision to not talk about VR this year. Some outlets even reported that VR for the Xbox One X has been dropped entirely. We know that isn't true, it just relies on Windows Mixed Reality which Microsoft is developing in partnership with Acer, Dell, and HP, and for Microsoft's own HoloLens headset.
Microsoft could still be working out what VR looks like on Xbox One X. The company doesn't seem to be happy with the current implementation, which is fairly anti-social and isolating, locking you out of multi-tasking and other functionality. Windows Mixed Reality will, presumably, allow games to run as the VR "environment," letting you lay down 3D holograms for UWP apps like Twitter and Skype, right on top of the VR "experience."
Perhaps it simply isn't ready for prime time yet, but Microsoft could have at least given us some hard confirmation that it's still on the way.
Wrapping up
Microsoft had a great press conference at E3, and in my opinion, the company dominated Nintendo, Sony, and the big third-party AAA publishers.
The Xbox One X demonstrated its power well, using games like Metro Exodus and Anthem to do the heavy lifting. Clearly, Microsoft is going to struggle to persuade third-party publishers such as EA, Ubisoft, and Activision to utilize the extra power in the Xbox One X, because it seems like companies want to keep their games on an even-footing with the objectively inferior PS4 Pro.
As we move through the holiday season and towards E3 2018, Microsoft has Gamescom, and perhaps even the Tokyo Gameshow, to talk a little more about its future roadmap for exclusive games.
For now, let's kick back, relax, and start wondering how we're going to pay for that 65-ich 4K TV to go with our new Xbox One X consoles ...
Related reading
Windows Central Newsletter
Get the best of Windows Central in your inbox, every day!
Jez Corden a Managing Editor at Windows Central, focusing primarily on all things Xbox and gaming. Jez is known for breaking exclusive news and analysis as relates to the Microsoft ecosystem while being powered by caffeine. Follow on Twitter @JezCorden and listen to his Xbox Two podcast, all about, you guessed it, Xbox!
Affording the One X will be the easier part, actually getting one for launch will be excruciating 😭

Amazon here I come. It's a good thing that I would probably be working when it comes out anyway, so even if I can't get it on launch day from some kind of demand screw up, it won't even matter.

Might just wait a few weeks myself, Black Friday and other sites will have deals near the holiday, I would not be shocked to see Amazon and others have $50+ off on one of their sales days... Crap on Black Friday last year, I got a 500gb Xbox One S with Battlefield 1, a 3 month Xbox gold card, with free 2 day shipping for $162.50... You STILL even with the price drop cant touch that price.

Thats a great deal, missed a great deal myself on Prime day last year for the One. Yeah, I'm tempted to wait myself, though I can't see there being big sales for a new system. The following year defiantly, but no way in hell I'm waiting that long.

Wait after black Friday to buy the warehouse deals XBOX that people return!

I'm just going to try and pre-order. In the UK they will probably sell out online and in store like the Switch and any other new console. I managed to get a Switch (just about) but it was hard to secure it for launch

Xbox is becoming a gaming platform for indies. Will be getting a PS4 Pro this holidays instead of the X. I don't see the essence of the X power. People are failing to notice this cuz of "bias".....and I'm gonna get million downvotes for saying this.

Jez calls this out specifically as an issue in this article. Personally, as a casual gamer who uses Xbox for a lot of media, this argument has no impact on me. It's all gaming nerd stuff. I just want some 4K games. How many letters they have their classification is of no consequence. Not saying it shouldn't be a concern and I get the argument: expensive console, need good AAA games, but that;s also not for everyone.

I agree. There seems to be more perks with owning an Xbox for myself than owning a PS4. It fits nicely into the Windows ecosystem as an all around entertainment system. I just need to work on getting that Dolby Atmos setup ;)

Xbox one will sell like hotcakes if they ship it with full windows 10 OS instead of just as a gaming console. If they sell it as pc then it doesn't matter if the price increases by another $100-$150, people will still buy it. After all they are getting a powerful enough pc and also a beautiful box running it. At least it is better than having a ugly tower PCs.

That sounds like a horrible idea, sorry! It runs Windows 10 anyway. I don't see how having the 'desktop experience' benefits anyone. If anything it'd send more casual consumers running to get a PlayStation instead.

They show off the gaming side of the XB1 and media site, and that is bad because there isn't a focus on games. They show off double the number of games on XB1 and XBX than Sony did, and that is bad because they are forgetting about the media part. Microsoft started the XB1 generation without XBox Arcade, and that is bad. Microsoft shows games from big name publishers as well as indie games, and that is bad. No matter what they do, they are doing things wrong. And if you don't pile on and play the damned if you do, damned if you don't game, then you are biased?

You just shut down all other arguments LOL

Omg, that was too funny but true!!
If they had a photorealistic game to show off, then they are wrong for focusing too much on pretty graphics instead of good old fashion gameplay.

Additionally if they tried to talk about VR they would have copped it for launching too many things. They would then have spent the entire conference defending why VR is on the 1X and not the 1S and 1. This would present as splitting it's user base and no matter what they said it would be labelled as 'confusing'.

You don't need a XB1 to play ALL the games shown on the XB conference. MS were showing games that are on multiple platforms. Is MS's conference about showing off multiplats? MS aren't investing enough in making their own games, but you guys keep defending them...

Don't disagree with the need for more first party stuff. I think Re-core's luke warm reception, the cancellation of both Scalebound and new Phantom Dust and the looong development time of Crackdown3 left them with no other option than to rely on third party development. Luckily i thought the stuff they announced look damn good and way more diverse than in previous years.

Yeah, pretty sure they have at least a handful of titles in early development as exclusives... But they don't want them to come bite them in the ass if they are canceled or delayed many times... So they'll probably wait for them to be closer to launch to talk about them from now on...

I doubt it. It's been years since they have made many announcements. The competition has had so many release already this year and will have more in the upcoming months to the start of next year. When Sony started those games, what was MS doing then? Either way it's just speculation, recent E3s, and gamescom tells us a story. They have a new console coming up this year, they should have had A LOT more 1st party software for it imo...

Well exclusives that are good matter... And those are very few on any platform lately... Nothing to warrant a purchase in any case imo...

I hope you're kidding. Here are metacritic scores of games this year. Just this year (Sony exclu/console exclu)
93 Persona 5
89 Horizon: Zero Dawn
88 What Remains of Edith Finch
88 NieR: Automata
88 Nioh
86 Guilty Gear Xrd: Rev 2
85 Yakuza 0
85 MLB The Show 17
85 Wipeout: Omega Collection
84 Kingdom Hearts HD I.5 + II.5 Remix
80 Gravity Rush 2 In around 3 months (Nintendo exclu)
97 The Legend of Zelda: Breath of the Wild
92 Mario Kart 8 Deluxe
81 VOEZ
81 Fast RMX
80 Snipperclips - Cut it out, together! MS
81 Halo Wars: Definitive Edition Many people see things like this before buying one console over another. I mean it's really easy to see. It's amazing how people here defend MS on this point and don't seem to want MS to invest in gaming. I don't believe these people are gamers or have games as their priority...

@nohone. Well said. I wish Microsoft didn't cut back on the number of games studios. They could have possible had some new 1st party franchises to showcase. But even then some would have whined it's not "enough" lol.

E3 2016
Forza Horizon 3 (yearly Forza game)
State of Decay 2 (indie game that could well end up on steam) Gamescom 2016
Nothing E3 3017
Forza 7 (yearly Forza game)
Next Ori (indie game that could well end up on steam)
Super lucky's tale (indie game that could well end up on steam) I'm glad you think that's "enough". Other people have different opinions, specially looking at what a smaller/poorer company like Sony can do.

People are failing to notice this? I've written about it twice, lol

You are right and to me it's a big plus.... Found more games good in the past few years in the indie line up than the rest, so that's a big +++ for me... The supposed AAA market is becoming bland with way to many times just more of the same... Zero innovation and originality...

oh those really crap indies, being all indi with their uniqueness and innovation who do they think they are getting published on our consoles.... Personally think indi games are some of the best games out there, its easy to get tired of this years version of a AAA franchise.

The paucity of new Play Anywhere titles, and the fact that Microsoft barely mentioned the feature on stage compared to how many times they name-dropped it last year, was my biggest disappointment. It's got me worried they're going to stop pushing the program. I had had hope that Xbox One X game development would closely mirror Windows 10 game development, and that that would therefore make it a no-brainer for publishers to push out Play Anywhere titles, but, other than a few indies and a games by Microsoft Studios, there doesn't seem to be much on the horizon. Even those publishers that are publishing into the Store are rarely using Play Anywhere (e.g. Telltale).

I mean, all the MS Studios are Play Anywhere e.g. Crackdown 3 and State of Decay 2 as expected; but yeah, the issue around PA is how to get outside companies to give up a double-dip in rev; not easy.

Do that many people really re-buy the same games across multiple platforms--especially if those games are not cross-sync/cross-save? I've only done that once (Minecraft). I would've thought that the loss of additional revenue from taking away the double-dippers would've been more than made up for by the number of new buyers who otherwise wouldn't have purchased the game at all but would do so because its Play Anywhere. Maybe that's not the case, though. It's true that Microsoft Studios is still doing it, yes, but what is worrisome is that, if I recall correctly, I don't think they even mentioned the words "Play Anywhere" during their E3 conference or even showed the Play Anywhere logo onscreen at all during it (opting for "Xbox and Windows 10" instead, whereas last year they uttered it many times. It kind of reminds me how they haven't publicly said the word "Kinect" at E3 or Gamescom since 2014, and we all know what happened next with that.

They did show the logo on the lower screens

Yeah it came up like a watermark on the demos.

I talked to Microsoft about Play Anywhere and incentives for devs, I have a meeting with one of the Windows Store team guys about this soon -- Microsoft is working hard to make Play Anywhere as flexible and rewarding as possible for third-party devs, stay tuned for more info on this, and DM me on Twitter (@JezCorden) if you have any specific questions you want answered.

Awesome, I am curious to know more regarding that.

@Daniel Rubino, how about offering a second option, a discounted license if you own the game on one platform. So if you buy the game on Windows 10, you get to buy the game at a discounted price ranging from 70-90% from the Xbox store. With the other alternative being buy once, play anywhere. Sure, the issue then becomes dev's going for option B and people complaining. But at that discounted rate, it becomes a compelling option for some. Personally I find it disappointing that games are still sold at max price on the digital store whereas a physical copy can be bought sometimes at substantial lower price i.e. £10. Recent example Fallout 4, physical copies were being sold at £11, Steam version £39.99 via Game.co.uk.

Sure, but all of that needs to be negotiated and accepted by devs. MS needs to convince them to give up rev in exchange for hitting a larger audience. They need to prove that.

@Daniel Rubino. True they do and that's where foregoing the consumer space well and truly comes back to kick them in their backside imo.

Yep highlighting PA was a missed opportunity, as was not promoting the third party EA Access program as a point of platform differentiation.
I personally wanted to see more games compatible with the Xbox Tournament function.

I think the lack of VR is probably on purpose. I have noticed that Microsoft is doing more evenly spaced product announcements. This keeps the hype train running. I have a feeling that the VR announcements will come later in the year right before the One X launches. That way they get a lot of free advertising right before a big product launch. It is also good to keep "One more thing.." in your back pocket in case anyone stole your thunder at E3 so that you had something to steal it back with later.

I wouldn't expect anything before CES2018 regarding VR on Xbox One X. Their focus is laying the foundation with Windows Mixed Reality on the PC. There's some advancements planned for the Fall Creators Update, but I wouldn't expect they'll have the foundation finalized until the spring 2018 update. Then, you'll hear about Xbox One X (mixed reality) VR roadmap.

I'm getting Xbox one x but might wait till a sale or next year for a 4K hdr tv

Steel Battalion compatibility for the controller & game please!!! (Won't happen, but it would be awesome for Capcom to fire up the mutiplayer servers again.)

Too many indie games that look like they belong in the 16-bit era. Not enough Games showing off the power of the X. Stop waiting for developers to show off the power and do it themselves. It is Microsoft's console, not the Developers. Set the example. They need to pull their heads out of their rear end and get some more first party devs on board.

Too many indie games that look like they belong in the original Xbox era. Not enough Games showing off the power of the X. Stop waiting for developers to show off the power and do it themselves. It is Microsoft's console, not the Developers. Set the example. They need to pull their heads out of their rear end and get some more first party devs on board.

No roadmap for VR was my big bummer. Probably going to stick with my One S until VR is available.

People (there were a few here on WC) claiming that the XBX is underpowered because Assasins Creed was supposedly checkerboarded in the demo. But then you write this: "but I know from conversations here at E3 2017 that it will look virtually identical on the PS4 Pro" So the developer is doing the same exact thing on both systems because they are lazy and need to cater to the lowest common denominator, and supposedly that means that the XBX is bad. The Sony fans are starting early this time around. And I don't necessarily think that it is bad they showed 3rd party games. If they didn't, then it would be used to claim that Microsoft is hiding something, that they are only enabling 4K for their games, that they really can't do 4K but are somehow cheating, and so on.

"And I don't necessarily think that it is bad they showed 3rd party games." It's not really difficult to understand. They are showing 3rd party games because they aren't investing enough in making their own games. People want MS to make games. How is that a bad thing? If( you're a gamer that's what you want. If MS is your priority, you would only try to build hype and excitment and not focus or ask MS spending more money.

DUring Sony's conference, they showed off COD, Elder Scrolls, FF, Marvel Vs. Capcom Infinite, Monster Hunter, all of which are cross platform. They showed Spider Man, GOW, Days Gone, Horizon Zero Dawn, and Uncharted as exclusives. Some of those games will not be shipping for a while as Sony has a horrible track record of shipping on time - GT was supposed to be a PS3 day 1 game and shipped 4 years later. Last year they announced TLOU2, and that will not ship for years. So Sony showed off about the same number of 3rd as 1st party games. So if Microsoft shows off the same number of 1st party games as Sony showed 1st party games, but Microsoft had a lot more 3rd party games that somehow Microsoft is is a bad way? Sure, we want more and more, but to show off all the 3rd party games that people are writing to show the great lineup available, and your competition doesn't have as many 3rd party games, that is bad for Microsoft? I would think it would be worse for Sony, that they had a similar number of 1st party games, but had relatively few 3rd party games.

I really am not sure what' you're talking about. Sony have Matterfall, Uncharted: The Lost Legacy, Knack II, GT Sports coming out this year. Do you want me to list what exclusives already came out earlier? So in the end Sony release a lot more exclusives, console exclusives, games... than MS. the facts are there for everyone to see. MS's conference had a LOT of indie games that were timed.
Last E3 they announced FH3 and State of decay 2 (an indie game that could come on steam)
This year they announced F7 and Ori sequel + Super Lucky tale (2 indie games that could come on steam)
In between that managed to cancel scalebound. I guess you are happy that MS has announced so few games in the last few years, it may be your opinion so it's fine, but it is still way lower than what the competition is doing. I can't believe you people still defend MS on this point. I would have thought people would want MORE games not less.

Matterfall- same old same old platform shooting
Uncharted-same game, new story. Knack ii- same old run, jump, explore, shoot punch...
Need i say more?

Your opinion Your opinion Your opinion I mean I could say Forza is just the same racing game, gears is just the same 3rd person shooter and Halo is the same FPS but I won't do that. To defend the lack of 1st party games by your beloved MS you need to throw dirt and spit on what the competition is doing. You company fans are weird... I hope enough gamers who are real gamers and whose priority is games ask MS to make more games. If MS keep listening to you guys the only first party games XB1 owners will be yearly Forza or Halo or Gears all packed with microtransaction, pay to win,...

Vr hadn't taken off on playstation nor has it taken off on PC. So why are you surprised that a version of gameplay that hasn't really been getting people to buy software in droves, itsn't being featured. VR really won't be ready till the can remove the wires and give people 8-10hrs atleast of gameplay.

VR is massive in Australia. Just because America isn't interested doesn't mean the rest of the world doesn't care.

"it seems like companies want to keep their games on an even-footing with the objectively inferior PS4 Pro" - so much bullshit...why the hell they didn't do that when xbox had to struggle when ps4 pro came out. developers droped the graphics for the games running on xb1...now they dont wanna do that for ps4 when xb1x is stronger?

You're the first person I've seen across a few sites to mention this (as I've been thinking the same thing). For every reason I can think of why devs would choose to downgrade the xb1x experience to "match" the ps4p, the fact that those reasons didn't hold for the original xb1 and ps4 releases is baffling now. I have no idea, but agree that it's bs

The Assassin's Creed games have always been like that, even with the original One and PS4, and even on the 360 and PS3. The developers go for a unified experience across the consoles, just usually, because of one console being inherently more powerful, one has a better frame rate. So the fact that Origins does this is nothing new and people should hold off on the water works until other developers decide to do the same.

Agreed. Many a game review have mentioned how much worse games ran on the One. It's ridiculous, more unwarranted MS hate.

Wasn't that because of stupid ESRAM? Now its just 12GB GDDR5??

Iblike the idea of nonphotrealistic Crackdown, as I thing it allows for other areas, such as effects and explosions to be more exotic. My concerns with the X are the fan noise and the hard drive speed. Heard nothing about either. I also hope those Dev kits that they used were set at X levels, and not artificially higher, due to their beefier specs. For the Japanese style stuff, wow, loved it. Actually surprised that MS don't try and court more Japanese studios. There have to be some that would like to try making an Xbox exclusive title. Surely not all of them get equal love from Sony. I have a suspicion that debs "may" suggest feature parity, but x may have a slight edge. I think you nailed it though, some great points Jez.

Watch the Xbox one Assembly video. They talk about the fan there.

I thought Microsoft showing was well above song and nintendo in my opinion. Everyone complain no halo or new gears showing. I personally didn't care cause you know they will both be out eventually. It would of been nice to see new first party games announced not sequels. I was hoping maybe they would hear the cries for scalebound to be back but I guess not.

I think the Microsoft e3 presentation was the worst this year.
Lack of exclusives
Lack of vr
Lack to realize if people want high end gaming then they goto pc where the graphic cards do more than 6 teraflops
Lack of use ports on Xbox one x
Lack of fcc approvel so you can't pre order the Xbox one x
Lack of good cpu speed for a high end console and the ram is on the low end too

WTF do you want for 500? It can't be a gaming PC, be all the other things that people who own the console want, and still maintain affordability.

Thank you Avatar of Apathy... For some people there's no limit to their critique or to their carping. My PC's video card was close to $500 just by itself and it's not even top tier (GTX 1070). The Xbox One X will be a capable 4k gaming console at a resonable price for its' specs at this time. Oh, and the comment that the FCC has not yet approved it so it can't be preordered at this time. Bwa ha ha ha! REALLY? Is it really that critical that you have to pre order it five months before release? It's hard for me to imagine that such a complaint is anything other than trivial.

WTH? Like seriously WTF? Sounds like you have a problem with life in general. Maybe gaming is not a good choice for you.

OMG!!! What's wrong with the guy. He has an opinion that is not pro-MS/XB. How dare he criticise your beloved MS!! LOL you guys are funny. People just don't have the right to an opinion or criticised the beloved MS here. LOL

You're pretty funny yourself Guest_aotf (a$$ of the future?)!!! I don't care if there is criticism of Microsoft. I have my share of criticism for them too. The OP did not post criticism. It's what we call a troll. Sort of like yourself. You two would probably get along just fine. And for doing so much preaching about how everyone has an opinion you sure do not like my opinion, oxymoron much? :) Have a wonderful day!

He is criticising a company. You are attacking him personally for his criticism of said company. Next you come and insult me which childish name calling because I defend someone from being attacked for criticising that company. You aren't giving your opinion on the topic (about XB's conference), you are attacking him personally. Big difference. Presenting all thes facts just shows what you're all about... I wouldn't be surprise if you're one of those company "fans" who downvote every criticism of that company and upvote every positive comment for the said company. Good day. :)

You know bolding something really does not help you (or maybe it is for your benefit? Idk, so hard to understand you). You did attack me, if you cannot see that then you are a hypocrite You got it thrown back at you and you did not like it, did you? Also, who said that you are the police and everyone needs your help? Is the OP defenseless? Is anyone else you are "defending" defenseless? I really do not think they need or want your "help". And what facts? You presented 0 facts. There are no facts that you stated. You really want to know my opinion? I don't think the sky is falling and the XBX looks just fine to me and the WC article sucks. There are people disagreeing with my opinion, but I do not see anyone running around posting stih to help "defend" me. Nor do I want anyone to. I think I can handle everything myself thank you very much. You seriously need a new hobby. But look you did good at your trolling because I keep responding to you.

I insulted you? LOL

Please show me where I said you "had a problem in life in general" or when I used childish name calling? Or are you saying that just because I criticised some

company

, it was a personal insult to you? :o I never said I was the police. But I don't really like bullies who attack people or gamer (like myself) just because he is criticising a

multinational corporation

.

"You really want to know my opinion?"

Nope, not really. LOL I usually don't care of opinion of

company "fans"

. I actually care of the opinion of fellow gamers.

Probably the biggest issue is the lack of various 1st party AAA games. The best 1st party games not only means exclusive games that can take advantage on other platforms, but also means the hardware department could directly know what the developers want and where is the future / potential from their own company, and could make correct decision or big innovation. Of course you can get feedback from 3rd party, but not as direct.

It's amazing to see people try to defend MS and decide to attack people asking for more games. When someone is asking MS to invest more in making games, they see it as a personal insult... There is a limit to fanboyism...

People are not 'defending', they're either voicing a different opinion or holding off on proclaiming that 'the sky is falling'. You don't win at having a conversation.

Right. "you have a problem with life in general" "But even then some would have whined it's not "enough" lol." Look at all the down vote any criticism gets. So many down votes, so few actual replies trying to debate the criticism. All these down votes, that's a nice way to have a conversation. :)

You're not trying to have a conversation either a$$ of the future. You are only here to troll throughout the whole article telling everyone about opinions. Yet, those who don't agree with your thinking do not get a pass like everyone else that agrees with you. You are by definition an oxymoron. And also way to cherry pick quotes taken out of context! I applaud you in your a$$ish ways :)

Ah more childish name calling in the name of company war and defence. Thanks for showing the maturity level of your kind... :)

OMG! How much hypocrisy can one person have? Do you not see how childish you are yourself? And who the he11 is "your kind"? You like blanket statements much?

lol what are you talking about? You even had a go at the article and the author. LOL Your kind is company fans who personally attack and insult people who criticise their beloved company. Your kind is company fans whose priority remains that of their beloved company over that of having new games. Your kind is company fans who defend their beloved company no matter what. Your kind is company fans who insults (often with childish name calling) just because they can't have a mature discussion. Do you want to know more about your kind or should I stop here?

If you have more then keep going

It's ok, I guess you already know what you're all about. :)

Relying on third party graphics is lame? Its like saying every show is lame. Having 3rd party showing off something on your console is always good, that tells that developers are standing behind the new Xbox. specially with those annoying fanboys that suddenly cannot see a P difference anymore and developers like bungie botching Destiny 2 for XB1X. In the end MS just had to add own IP's to it.

Relying on it completely is lame, cus it lets those companies dictate how the Xbox One X is perceived.

If the xb1x could run games from windows id get one in heartbeat. Imagine steam library on xb1x its definitely powerful enough.

Agree with all of these likes and lames. Well summarized.

Thanks for reading matey.

3 good things?
1) Ori sequel announced
2) some 3rd party games looked good
3) hmm Super lucky's tale, I guess 3 lame things?
1) Misleading gamers and the community about "22 exclusives" and "timed exclusives". Passing timed exclusives as "exclusives".
2) Keep using anti-gaming policies like timed deals.
3) Besides the yearly forza (which we knew was coming) they announced ZERO AAA games that they are making! After months/years of nearly nothing this is UNACCEPTABLE!!

I would still expect Assasins Creed to run better on the X (and look better at times if it uses dynamic res) even if they are targeting the same graphics settings.

3 good things?
1) Ori sequel announced
2) some 3rd party games looked good
3) hmm Super lucky's tale, I guess 3 lame things?
1) Misleading gamers and the community about "22 exclusives" and "timed exclusives". Passing timed exclusives as "exclusives".
2) Keep using anti-gaming policies like timed deals.
3) Besides the yearly forza (which we knew was coming) they announced ZERO AAA games that they are making! After months/years of nearly nothing this is UNACCEPTABLE!!

Hey Jez, I mentioned it in response to a previous commenter however it is worth bringing up, the Assassin's Creed games have always held visual parity across consoles, regardless of who has the more powerful system. I think it is too early to lay judgement on third parties yet until we start seeing what other developers are doing with the two systems.

Lame : The name. Pretty much every tech site has mentioned Xbox Scorpio would have sounded far cooler. So naturally Redmond couldn't have that now could they.

Scorpio just wouldn't fit into the Xbox naming convention and may be limiting when naming what comes next. Now you have the One, One S and One X. You can see their all from the same family and that any Xbox One game plays on all. Naming it Scorpio could have created the perception it was a different generation. Naming it Xbox One Scorpio would have created two console versions that could be abbreviated to Xbox One S.

I cant wait for Uncharted LL and TLOU2 on my PS4 Slim and Forza 7 on my OG XO. No reason to upgrade to new hardware. They will look great and be amazing on fake last gen hardware.

they want to show off wireless vr with the xbox one x. that what they are waiting for

waiting in technology is the one thing you should never do

I don't give a flying monkey about vr, and I'll be waiting for gamescom in Germany for more game announcements

I see a lot of this "but now we need an expensive 4K tv" - stuff... What's with that? Last year I bought the 55" UHD Samsung from the year before. Standard tv, really... Most mid to high range tv sets are UHD, and have been for a year or two. If you're still sporting a 2014 full HD tv, it seems now would be the perfect time to upgrade anyway...

I stated in another thread that I recently saw a 55" Samsung UHD TV with HDR at Walmart for 550 dollars. How is that expensive? The sad part? It probably looks way better than my Black Friday 2014 special that I got for 1500.

I was hoping they'd release it with a display port. A great deal of 4k monitors will not show 4k through HDMI. My Acer Predator 321x as an example.

yep, the lack of VR is disappointing at least. For another year PSVR will be the only VR-enabled console!!!! It is huge mistake on Microsoft's part. I'm planning to buy either an Xbox One X or a PS4 Pro this holiday and i am in huge dilemma. On one hand i am a Microsoft fan, on the other i am a VR fan. The price of a PS4 + PSVR + all accessories included is about the same as the One X.

Honestly I would say just get the PSVR because that's what you want. There are so many more games, more upcoming games and VR games. Sony are investing and putting more effort into games and into VR. I'm not sure XB1x will catch up the PS when it comes to VR. There may be VR on XB1 in the future but by then the XB1x + VR headset + accessories will probably be a lot cheaper. Personally I think we as consumer should always look at products first over brand or company. I got products of all company, MS, Sony, Nintendo, Samsung, LG, Dell,... At the end of the day it's better for me to just stick to the products I want rather than to a company...

I hope Crytek will showcase a game... on XBox X...

Spencer said in a recent article that they have exclusives in the works which won't be ready for 2/3 years. Which is why they didn't show many. I think we have to give the man credit, he is slowing steering the Xbox ship back on its path again after the damage the initial announcement caused. Also, I hope one of those exclusives turns out to be Ninja Gaiden.

He is in charge for more than 3 yers now. Sorry but I feel it's been a disaster. I think he had more than enough time to steer XB back to success. For me, his recent comments shows what he is all about. They made Mattrick the scapegoat. I think he was bad but not 100% responsible. I really think MS need to get rid of him and some other of the execs who have all been present for years... (all present during the initial announcement)

Tbh, I'd rather they laid the foundation for CORE games before jumping into VR.
Did you see how VR games in the PS conference just screwed up the presentation?

Question, what is up with 3 being so popular in WC articles all of a sudden? It's rather annoying Oh and also not to be forgotten, Microsoft is failing at everything and is doomed /s

LOL now you're having a go at the article and the author... Amazing...

Pretty sure you replied to the wrong comment. Anyways, if that is my opinion then that is my opinion as you are defending everyone else with an opinion why are you attacking my opinion? Also, quite amazing how you can sidestep everything that I am pointing out to you and simply ignore it. I seriously need to stop responding to you. You are a trolladite, childish, a$$ of the future, hypocrite. And doing everything that you are telling everyone else to stop doing. You are a sad sad person and I feel sorry for you. I really hope you can manage to get your life together and enjoy it. I promise what you are doing is not going to bring happiness to you or anyone around you (or maybe that is the problem?). I really hope you get a new better hobby and things start looking up for you.

Ah more childish name calling. Once again showing the maturity level of people like you. :) I didn't insult you. I just find behaviour of company "fans" such as yourself amazing. Well done. I hope your loyalty will be rewarded. :) I hope MS will actually make more games for you guys. (if that's what you want)

Excellent hardware, shame about a real strong inhouse ip to present to the public...Scalebound would have been that title. It had the potential to show off this new hardware in great scale and detail. Hope things change between today and the release date to demo something truly exciting and ground breaking for a console.

Oddly enough your lame's are the things I liked. Glad they have solid third party support... Look at how well Nintendo systems have done in the past without the third party support. Almost exclusively carried by first party games. This is not the year to announce another Gears or Halo. Giving people time to see the game as fresh and new is a good thing. Look at what its doing for AC. I wouldnt mind a fresh AAA IP out of Microsoft though. And VR... Meh... It is always going to be a niche market... The people who want it are very passionate about it. So are people who like motion controls... The vast majority of people dont really care to use VR. It will have a small market it will cater to and thats about it. Missing one important vote in the poll... Option: Would buy the Xbox One X if I didnt already own another Xbox One (S). I think a lot of people fall into that category.

I'm on point w/ everything you said here save the last part. I own a One S specifically to use it for trade in for the One X or the Xb.O.X. That extra $ off the cost will come in handy. I paid $300 for the battlefield 1 bundle and will hopefully get $150 or better towards the One X to drop it down to $350 or better. I thought MS had a cool conference, but I can't say that I would have liked to see Scalebound un-cancelled and some new 1st party titles. MS now can hopefully now focus on gaining/building 1st party devs up to complement having the best console out now.

I'm very happy with Xbox for being able to sell a new console without using the influences of Halo and Gears. Very proud of them!
So the fact that it doesn't have 1st party NOW means they're taking there time with the game. They really rushed the last halo and it pissed me and alot of gamers off alot when they included Microtransactions instead of traditional map packs. Screw microtransactions! 343i better get rid of them in halo 6 or they lost a hardcore halo fan and I won't be the only one. Been playing since the first game and it changed way too much from when Bungie made it. But I understand.

Screw microtransactions? I'm sorry to tell you this but MS's strategy has a lot of microtransactions, DLC, "get the game late if you don't pay up" and basically how to make you spend more money after spending $60 (or more). It's something that's called games as a service. They had recent presentation with investors and their plans were very well presented. You really got to look it up. Also, they haven't had much 1st party on stage probably because it looks like the investment into making games has dried up. They have recently closed down studios and cancelled games because they didn't want to pay more money on those. Last E3, the only announced the yearly forza and one indie game as "console exclusives". This year it's almost the same thing. They haven't shown anything in last year's Gamescom or TGS.

If it's not going to be out to purchase before the next E3 don't show it. E3 has a bad habbit of this and we are tired of it. Keep up the good work Microsoft.

Pro will show it's age eventually with lower specs, probably in VR, AR scenarios. But it won't help MS this year.