XFX RX 480 RS Review: The hot and spicy curry of mid-range AMD GPUs
The RX 480 is a good-looking card that promises solid 1080p performance and a pleasant experience at 1440p after turning down options.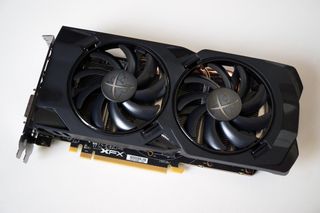 (Image credit: Windows Central)
The XFX RX 480 RS is your typical Polaris-powered GPU packing a 256-bit bus, 2048 stream processors, 1288MHz core clock, and 8GB of VRAM at 8000MHz. Those specs on paper don't sound too bad for a mid-range GPU and you'd be right in believing exactly that. Picking one up for 1080p at highest graphic settings, or 1440p with a more conservative approach to in-game options, it's possible to abstract much performance here.
XFX has gone the extra mile when it comes to cooling the RX 480 RS with hot-swappable fans and an all copper unibody VRM heatsink. This is important to note as the card itself runs very, very hot. Firing up a demanding title and having settings turned up will see the GPU easily pass 70 degrees (Celcius) with 80 not too far out of sight. Installing this thing inside a case without adequate cooling and airflow may result in thermal throttling and a reduction in performance.
It's getting hot in here
The swappable fans, in my opinion, are a great addition to any GPU. This makes it easier for consumers to swap out bad performing or inoperable units with replacements. While this can be achieved on most cards should a replacement be located online, having store listings to hand makes the whole process simpler. The fans on the XFX RX 480 RS simply clip onto the shroud and hook up with surface contacts. Optional fans include ones with increased performance and others sport bright LEDs.
The RX 480 RS isn't a full-length card and as such it will fit inside most (if not all) cases, hence our warning above about potential issues with regards to heat. That said, while dimensions (9.45 inches / 240mm) do not match larger beasts in the GPU segment, XFX opted to install a backplate to help prevent sagging of the card, which is an issue for bulkier and heavier GPUs (Zotac's AMP! Extreme series of GPUs are particular saggy due to weight).
Image 1 of 3
On the side of the card, there are connections for DVI, HDMI and (three) DisplayPort interfaces, which is more than capable of handling most modern display configurations. Lastly, there's a single 6-pin PCIe power connector just above the shroud. Speaking of which, the shroud and the cooling solution implemented here does help keep the GPU within reasonable temperatures, even though touching 80 degrees isn't desirable, and interestingly XFX opted to have hardware control clock speed with the ability to spin down the fans for silent operation at low loads.
See you in-game
Our testing rig contains the following:
Swipe to scroll horizontally
Category
Component
CPU
Intel Core i5-6400 (2.7GHz)
RAM
16GB Corsair Vengeance LPX (2133MHz)
Motherboard
MSI H110M PRO-D
Storage
Kingston 256GB SSD
1TB Western Digital HDD
Windows 10 is the choice of OS with the latest updates installed. We're also rocking the latest drivers from AMD (version 17.4.4).
Grand Theft Auto V
The latest installment from Rockstar in the GTA series of games. This is a huge, expansive open-world sandbox with a lot to do. The benchmark utility does a good job at testing the system with a variety of effects and alternating load levels.
The RX 480 RS performs well here, providing a pleasant and stable experience. GTA V runs fairly well on even affordable GPUs so this isn't too surprising. It's even possible to crank down a few settings to game on a 1440p display.
Total War: Attila
Total War: Attila is an incredibly demanding game, not just for the GPU but CPU and the system as a whole. We utilize the built-in benchmark utility to measure numbers and cross reference results provided by the game with Fraps logs.
It's worth noting that this test was performed with settings configured to high and at 1080p the game is certainly playable on the XFX RX 480 RS. Total War hovered at around the 30 FPS mark when a large number of units were present on-screen, but rose up to mid-50s at other times. Sure, it's not a smooth 60 FPS and one would have to turn down a setting or two, but overall we were still camping around the absolute minimum marker that is 30 frames per second.
The Witcher 3
CD Projekt RED worked wonders with The Witcher 3. It's a well-developed game built on an optimized yet powerful engine. Since there's not an in-game benchmarking utility, we measured performance from when we first get on Roach at the start of the game until we hit the cutscene where Geralt and Vesemir scare off a Griffin attacking the peasant.
It's a similar story to Total War whereby the GPU performed well in most parts but it stuttered here and there at 30 FPS. Again, settings were configured to high which leaves me mildly impressed with the results, as it's simple to bring the graphics settings down a notch without making the game look terrible.
DOOM
DOOM is such a bizarre game, simply because it runs well on most hardware configurations.
Take our trusty RX 480 RS here, which managed to pull off a staggering 131 FPS on average, topping out at 142.
Rise of the DX12
Tomb Raider is a great title to show off the capabilities of a GPU, especially one from the AMD camp that seems to have better support for DX12, Microsoft's latest gaming API for Windows. This seemingly unpopular API has yet to really kick off with mainstream support, leaving only a select few titles actually taking advantage of what's available, including low-level access to hardware like on Xbox, as well as throwing more at your GPU to do, saving valuable CPU time.
DX12 is just flat out better than DX11, though it does have some drawbacks. The biggest one is a lack of support in games, while another is the requirement of Windows 10 — we actually like the latest OS, but if you happen to be on Windows 7 or 8 you're out of luck when it comes to DX12. Bringing everything back to the RX 480 here, we ran Tomb Raider with DX11 and DX 12 to compare any differences.
Interestingly, activating DirectX 12 provided a small boost in performance, particularly noticeable in the low and mid-range where the GPU had a higher workload with on-screen elements. Overall, regardless of which DX version you employ, the RX 480 can handle ROTTR without issue.
3DMark Fire Strike
Images speak louder than words sometimes. 3DMark's Fire Strike stress tests graphics cards to see just how much power they wield and provides scores to reflect this. What you see above is at least 50 FPS in both GPU tests, which is good. The card struggled slightly in the physics test, but as a mid-range card this was to be expected. Overall, Fire Strike confirms the RX 480 GPU is a capable companion for gaming.
Worth fighting for?
Sure. The RX 480 series of GPUs are fantastic mid-range units capable of blasting through even more demanding games without much issue. The problem with these cards, however, is the heat which often sees the card max out available cooling to keep it within acceptable limits. Luckily, this doesn't transform the PC into a jumbo jet, but one has to be careful about GPU installation to ensure adequate airflow is present.
Good luck finding these in stock, however. Have a shop around and double-check pricing. Some outlets are selling cards for anywhere up to $700 and beyond — avoid these. If you need more buying options, our best graphics cards buyer's guide has what you need.
See at Amazon (opens in new tab)