Xtrfy K2 is a killer RGB keyboard with a few unfortunate flaws
The Xtrfy K2 is one of the best keyboards you can find today ... except when it comes to the RGB lighting.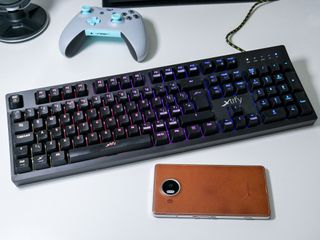 The keyboard boasts that it's the "world's fastest keyboard," but you may be wondering what the heck that even means. We'll get to that, but in simple terms, the K2 promises exceptional performance and a top-notch typing experience.
And it delivers. No joke, this is one of the best keyboards I've ever used. But it's still not without its flaws, and it's currently only available in Europe.
See at Amazon (opens in new tab)
Tech specs
Here's a quick list of the Xtry K2's technical specifications:
Available layouts — Nordic, UK, German.
Illumination — RGB, 16.8 million colors.
Keys — Standard 105.
Key cap layout — Step Scalpture2 Type.
Anti-ghosting — Unlimited USB & and PS/2 N-Key rollover.
Key switches — Mechanical Kailh Red RGB.
Special keys and shortcuts — Media controls, gaming mode key, macro keys, illumination setting keys, quick access to Google, Facebook, HLTV, Steam and other websites.
Connection — USB, PS/2 (PS/2 adapter included).
Weight — 44 ounces (1.25 kg).
Size — 440 mm x 140 mm x 35 mm
Cable — Two meters, braided.
'World's fastest keyboard'
So, what does that even mean? From the manufacturer:
Essentially the response time from the K2 is the fastest you'll find anywhere, and it's on point. I'm not going to argue if it is the fastest, but it's incredible. Even though it's a mechanical keyboard with that satisfying clack as the keys press, you only have to glance over the keys to get your desired action.
It's capable of being one of the quieter mechanical keyboards you'll come across simply because you barely have to press each key to get a response. So your fingers can glide effortlessly across the keyboard.
This has its own negative side effect: It's really easy, at least at first, to make too many mistakes. If you just happen to touch the wrong key, you'll get a response. So it takes a little programming to get your brain and fingers adjusted, especially if you're a touch typist. It's not very forgiving.
The Kailh Red switches are very good, though. The noise if you're giving them some real stick isn't particularly loud, and they're incredibly responsive. From a daily typing or a gaming perspective, the K2 excels in both regards. Unlimited anti-ghosting and built in macro support in particular useful to the latter.
One issue I encountered, and it seems not to be isolated, is a squeaking noise from the left side of the space bar. It's annoying because that's where I press the space key every time, and customers and reviewers alike have experienced the same thing.
A sensible looking gaming keyboard
The K2 might have full RGB lighting, but aside from that, it's a perfectly average looking keyboard. That's what attracts me to it the most. It looks almost boring. There are no aggressive angles or wild design choices.
Not everyone wants peripherals that shout "I AM A GAMER" or look like an extra from Star Wars. This is a well-built, subtle looking keyboard that has the performance you crave without looking like a 10-year-old designed it.
It's fairly hefty for a keyboard, the USB cable is braided, and while it's plastic all over, it's good quality.
I also like that there is a groove running the full length of the underside of the keyboard to help you channel the USB cable to better organize it rather than just leave it flapping about out of the middle. That's a thoughtful touch.
Lighting without software
How the RGB lighting is handled on the K2 will split opinions. Personally, I hate it, and thankfully I'm not so bothered with the LEDs that it spoils what I really love about this keyboard. Xtrfy has taken the approach of having everything accessible on the keyboard and doesn't use companion software to set up macros or lighting effects.
This means you have to read the manual. And even if you do, you might not get where you want to go.
Instead of accessing an app on your PC, you have to execute a series of key combinations to change the lighting or setup your macros. In principle, it sounds great, but in practice, it's confusing. I don't want to have to open the manual every time I want to change something.
The Fn key is at the center, and holding it down will at least show you what lighting mode you're currently in. And turning the lights off completely is easy enough. But I haven't found a static color effect. I don't even really know if it has such a thing.
The principle is good, but the execution isn't exactly straightforward. If it's worse than using a companion app, you should just have a companion app.
The lighting looks fantastic though. It's bright, and the built-in effects are very nice. They're just too difficult to use.
Bottom line
Aside from the ridiculous way you have to change the LED lighting effects, the Xtrfy K2 is pure gold. For all intents and purposes, the Kailh Red switches feel a lot like Cherry MX (something they were going for anyway), and this is genuinely one of the nicest typing experiences I've ever had on any keyboard.
The response time takes a little getting used to, but once you're there it's an absolute dream. Hopefully I can sort out the squeaky space bar. But where it matters, the K2 is a beast. It's definitely a premium keyboard at a list price of €189 ($214). And if you shop around, you'll find it for a lot less than that, on Amazon UK (opens in new tab) I picked one up on a deal price of £89, which makes it exceptionally good value.
It is, however, only officially sold in Europe right now, at least as far as I can tell.
See at Amazon (opens in new tab)
Richard Devine is an Editor at Windows Central. A former Project Manager and long-term tech addict, he joined Mobile Nations in 2011 and has been found on Android Central and iMore as well as Windows Central. Currently you'll find him covering all manner of PC hardware and gaming, and you can follow him on Twitter and Instagram.
What is that very nice looking brown thing everywhere? :P

Dunno but it smells like an old shoe!

Had to get mine out of hibernation to sniff it.
Now I just feel wrong....

As somebody with an Aimpad keyboard, with analog buttons, imma disagree this is the best. My keyboard can do something this one can't, and never will be able to.

That's awesome!! How do you like the analog controls??? Does the Aimpad work well?

Can we thumb-down an article? Not this article but a few articles over about the $20 Military Flashlight. Since we are not allowed to comment there, I'm commenting here to voice my thoughts. I mean why Flashlight article on Windows Central? Is this Walmart?

They're promoting stuffs in their shop. I am absolutely fine with this. Since I am using the app, and there is no ad in the app. This kind of article helps Mobile Nation sell their stuffs and stays with us!

Just ignore articles that are of no interest to you. The alternative may be in-app ads or constant requests for donations and that is positively annoying! This way, everyone simply goes for what interests him/her. After all, just like Walmart, you don't complain about them stocking items that don't concern you in any way whatsoever (provided said items are not 'offensive' or 'detrimental' to your own items of choice), you just pick what you came for and move on-- Even for 'valid' MS ecosystem articles, there are so many topics I can't be bothered about - should they exclude those as well?

We sell things to help us pay for the site we don't ask you to pay to visit.

I'll stick with my cheap as chips Motospeed mechanical at less than $50 US... and it has static colour.

Is it just me or does anyone else NOT get the idea of a keyboard with a light show?

It's not just about a light show, it's being able to set each key to it's own color (great for mapping certain actions to certain keys visually, and if you have multiple profile control keys, you can switch between many profiles of key color assignments).

Yeah, I'm sure the lighting can be made extra wonderful on this but I don't have the patience to figure it out. Shame because it's so damn good. An app would be much easier.

I get the idea but don't think it's necessary for my uses. It would probably distract. I'm a fan of backlit keyboards, though. Then again, I'm not a gamer. I've seen my brother game in a dark room, and can see the value of glowing input devices.

For only $135 I got a Cooler Master MasterKeys Pro L with built in profiles that get stored on the keyboard (Cherry MX Brown Switches). I can set per key lighting to whatever I want, and I can switch between different profiles using the P1-P4 keys in upper right. Paying double for something like this doesn't make sense when you can get the same or better for half (braided cable and all). https://www.amazon.com/Cooler-Master-MasterKeys-Mechanical-Keyboard/dp/B...

You're comparing dollars to Euro money again as if a straight conversion is a thing. Currencies don't work like that. UK money is currently being slammed, the Euro is, well, the Euro, and we have (in my country) 20% sales tax already included in the price. And this is also only officially available in Europe so....

Also you get a rebate of 20.00 off after you buy the Cooler Master MasterKeys Pro L: https://images-na.ssl-images-amazon.com/images/G/01/00/01/17/18/55/04/11... Truly a no-brainer here.
Windows Central Newsletter
Thank you for signing up to Windows Central. You will receive a verification email shortly.
There was a problem. Please refresh the page and try again.