Yammer updated on Windows Phone, adds multiple image upload and more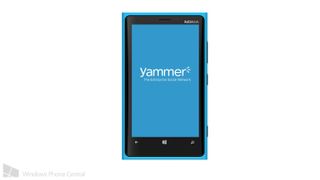 In 2012 Microsoft bought Yammer, the freemium enterprise social network that allows companies and organizations to basically use "Facebook for business". There are apps for both Windows Phone 8 and Windows 8, but it's the Windows Phone version that just got a neat update today. Let's check it out.
If you fire up the Windows Phone Store you'll be looking to update to version 1.4 for Yammer. With this latest update you get four things:
Image attachments now appear in conversations and messages
Navigate to shared conversations without leaving the app
Upload multiple images at once
Design improvements and bug fixes
We fired up Yammer after updating and quickly checked out the improvements for image attachments. Which is a feature we're sure a lot of you have been hoping for. Uploading more than one image worked great the first time we tried it out. To be honest, this is really our first time trying out the app and service, so we can't fully comment on design improvements or bug fixes. This is where you come in and sound off below in the comments with our thoughts on Yammer for Windows Phone and its latest update.
Yammer is free for both Windows Phone 7.x and 8. Grab it here in the Store, use the QR code below, or swipe to the right in our app.
It's one of those things fortune 500 companies are all about. Social network for work.

Thanks Sam, my company is out of this league lol....
Always learning something new here... !

My workplace tries to get us to use it. Its alright. Pretty much just like a "Facebook for business" as Sam described it.

We have it at my organization (Over 40k staff) and works really well. Love it.

Our workplace recently hopped onto the Yammer bandwagon and yes it is basically Facebook for businesses as Sam described it. You login with your work's email and you can connect to different people in your company while the admins can create different groups for different departments etc.

Sweet, Yammer for WP8 needs more updates!

Needs support for multiple networks, for one...

We have been trying Yammer at work. While the desktop version is pretty good, the WP8 version fails on many counts (haven't yet tried the multi picture upload)
- No way to upload documents (its for work after all)
- Cant download an attached document and view on a WPphone . Yes not even a word document on a phone with MS Word installed. How backward is that?
- You can only follow a conversation on the phone version - nothing else. The Windows RT version (Metro app) for Yammer is actually far better featured with full document support that you can view and edit and them upload again to all groups etc. Don't know what MS was thinking when they released the WP version - except as a Facebook clone.

Hi nilchak, I'm a developer at Yammer and I worked on the Windows Phone app versions 1.2/3/4.
- We can't upload documents as Windows Phone does not provide the necessary API for anything other than pictures. See for yourself in the SkyDrive app for example; can't upload Word docs there either.
- We added support for opening Word, Excel, Powerpoint, PDF attachments in version 1.3 (released June 4th). I will take a look this week at why this might be broken for some users.
- Not sure what you mean by that. The app does not let you follow a thread like the web does, but it lets you view/reply to conversations and private messages.
The RT version has a much better publishing and attachments experience. The phone app is still better featured as it lets you view and filter groups, browse members and view their feeds, see notifications and private messages. We have people working on both apps on updates that should make every user happy. Stay tuned! And please send any feature requests/support issues to the feedback address on the about page (this comment form won't let me post an email address); we do read them!

still no fucking notifications or live tile....absolutely useless on the phone.
Windows Central Newsletter
Thank you for signing up to Windows Central. You will receive a verification email shortly.
There was a problem. Please refresh the page and try again.