Yammer updated on Windows Phone. Brings new inbox with easy filters for read and unread messages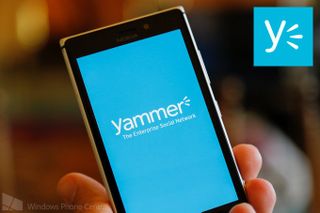 Yammer is Microsoft's social network for enterprise and a place where companies can let their employees get their Facebook-fix, but in a manner that benefits the company. The company was acquired by Microsoft in 2012, and it's one of the leading enterprise social networks with a fairly lucrative freemium model.
The Yammer Windows Phone app has slowly been getting better with each update, and today's update is no exception.
We last saw Yammer get updated to v 1.4 in early August. That one was a doozy as it brought the ability to view image attachments in conversations / messages, upload multiple images at once, and a bit more. Today, we're going to v1.5. Here's what's new:
Yammer 1.5 changes
New inbox to show all the conversations you're a part of
Filters for read and unread messages
Design improvements and bug fixes
The version 1.5 update improves the inbox view tremendously. Prior to this update, all messages were in one view. But today's change gives you an inbox where you can filter between read and unread messages--similar to how our email works on Windows Phone. Other than that, the app has some overall design improvements and bug fixes. Not bad at all.
What do you think of the update? Anything else you want to see in Yammer for Windows Phone? Sound off below.
Yammer is available for Windows Phone 7.x and 8. It's free, but you'll need to be in a workplace that takes advantage of it already to get any use out of it.
Grab it in the Windows Phone Store, use the QR code below, or swipe to the right in our app.
I am done trolling for the day

Why? did mum sent you to bed already?

Why are you so mean to me? I barely know you. :(

Required "Where is my GDR2+Amber update AT&T?" comment.

The new inbox is a huge improvement. Still doesn't match up to the iOS equivalent though. Still, at least it shows its getting some attention
Windows Central Newsletter
Get the best of Windows Central in in your inbox, every day!
Thank you for signing up to Windows Central. You will receive a verification email shortly.
There was a problem. Please refresh the page and try again.