Yes, the Xbox One X's vertical stand will be sold separately
No, you won't have to buy the Project Scorpio Edition to stand your Xbox One X upright.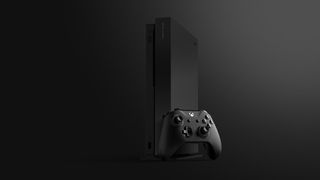 Though it's not an entirely unexpected bit of news, Microsoft cleared up a little bit of potential confusion surrounding the vertical stand for the Xbox One X. During Sunday's unveiling of the Project Scorpio Edition of the console at Gamescom, Xbox's Larry "Major Nelson" Hryb mentioned the vertical stand would be included with the special edition, which some took to mean it would be exclusive. But there's no need to worry, everyone will be able to get their hands on one.
In an interview with Eurogamer, Xbox executive Mike Ybarra confirmed that the vertical stand will indeed be sold separately. When it comes right down to it, making such a minor accessory exclusive to a limited subset of early preorders would have been a little questionable anyway. However, Ybarra's confirmation should clear up any confusion brought about during the unboxing.
There's no price available just yet, but a similar vertical stand for the Xbox One S currently retails for $19.99 (though it can be had for $14.99 at Amazon (opens in new tab)). It would make sense for the One X stand to come in at a similar price point. Of course, Project Scorpio Edition owners will get it for free in the box.
For more, check out Major Nelson's unboxing of the Project Scorpio Edition in the video below.
More Xbox One X
List of Xbox One X Enhanced Games
Windows Central Newsletter
Get the best of Windows Central in your inbox, every day!
Dan Thorp-Lancaster is the former Editor-in-Chief of Windows Central. He began working with Windows Central, Android Central, and iMore as a news writer in 2014 and is obsessed with tech of all sorts. You can follow Dan on Twitter @DthorpL and Instagram @heyitsdtl.
It was kind of weird that he said that the exclusive stand is included in the Project Scorpio edition. He probably just meant that it only comes free with the Project Scorpio edition.

I doubt I'll be using the included stand since I still will be using physical game discs/4K Bluray movies in the console. However, I was hoping for the exclusivity of ordering the Scorpio Edition and no one else could get stand aftermarket.

That's too big to make it exclusive... If anything a special shade of the stand to be made exclusive or something like that.

Agreed, that or have 'Scorpio Edition' on the scorpio stands.

I don't see why you don't want others to get a product. And MS are here to make money. This is a good chance to make more money.

I want to see people drown in their tears of sorrow when they see I have the exclusive item with my Limited Day One Super Special Collector's Edition <insert anything tech> and they don't. That's what makes it special.

Does anyone know the dimensions of the Xbox One X?

I couoldn't find anything except "Xbox One X is the smallest console we've ever made" on Xbox.com. So it'll fit where ever your current Xbox is, if you have one.

Was here on WC a few months ago; slightly larger in one dimension than the regular Xbox, and slightly smaller in the two other dimensions. Unless you're looking at a millimeter-tight fit, go with the dimensions of the regular console...

It was a really quick use of the google...and straight from WC no less! Dims: 11.81 in x 9.45 in x 2.36 in (30cm x 24cm x 6cm) Wt: 8.4 lbs (3.81 kg) Conversely original Xbox is slightly smaller which disappoints me, Original Day One Edition: Dims: 13.1 in x 10.8 in x 3.1 in (33.3 cm x 27.6 cm x 7.8 cm) Wt.: 7.8 lbs (3.5 Kg) + power brick Xbox One S of course is considerable smaller than both of these.

I'm confused now. I thought WC has been saying it is smaller than the XB1S?

I can't edit my comment on dim's above. The X is slightly smaller than the original. S is still apparantly (still slightly) smaller than both: 11.6 in x 9 in x 2.5 in (29.5 cm x 23.0 cm x 6.4 cm) 6.4 ibs (2.9 kg)

It is amazing what people will find cause to whine and complain about. I was expecting the XBOX to include a Happy Meal and a nice new bath robe. It doesn't include one? Time to go to the internet to rage against Microsoft for not including them.

I agree people are never happy about anything in fact the one thing you can be happy about is knowing someone will not be happy

will wait for a white or different color one. I hate the tactical black that manufacture are putting on everything these day.

Honestly, I wish all the consoles has a 'design lab' type thing for them. I happen to have a black entertainment center, and all my other electronics are black. I kind of wanted to upgrade to the Xbox One S, but that white console would stick out like a sore thumb in my set up. (the gears 4 one was cool, didn't have the money at the time) I really think, console color choice should be a thing now. It can't add THAT much to manufacture costs.

It must be pretty pricey since they won't even bother to include the Elite Controller in the design options supply chain (or give the freaking thing Bluetooth...or bumpers and sticks that aren't garbage).

Since there are no vents on top, the real question becomes how long until skins are available for these things...

Funny, I refused to buy the XB1S at first because I hate white electornics. They show dirt and dust like crazy and are generally an eyesore in an entertainment center. I hate light-colored electronics as a whole, whether it be a white console or a white/silver phone. That said, saying "everyone" is kind of a weird complaint. MS, Nintendo, and Sony have all released their products in several color schemes in the last 5 years. AMD's new video card is stock black, but had a "Limited Edition" with an aluminum alternative. You can get most any phone in 3+ colors.

Who would actually believe that the stand would only come with the Scorpio version? The design of the stand is exclusive.

Check eBay for cheaper pricing.

Trigger finger is very itchy for a One X....m u s t...r e s i s t...t e m p t a t i o n

No. Don't resist. Give in to it. You NEED Xbox One X!. Lol.

Gotta sell overpriced accessories because they don't have any first-party games! Kidding aside, it is pretty absurd that they want $20 for a $0.03 piece of plastic.

Better than what Nintendo charges for it dock. 90 ridiculous for. A slab of ok with cutout port on them.

At least the Switch dock does something.

It's a shame you have to fork out $40 for the adapter for those who still use their kinect. You'd think microsoft woukd make it available for free for a limited time, like they did with the one s last year.

Exactly. I still use my Kinect -- well, I would if the S was designed with the Kinect port or if msft included the adapter in with my console. $40 is a bit steep for a feature that should have been included for free.

One more reason to preorder now and get the Project Scorpio Edition ($20 accessory for free)! They're selling out everywhere. Better not wait.