Xbox One X preorders are live, with 'Project Scorpio' Limited Edition in tow
It's finally almost here. Xbox One X preorders are now live.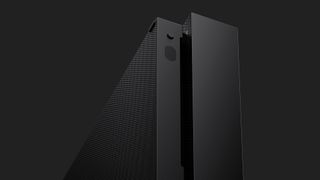 Microsoft is now rolling out Xbox One X preorders (opens in new tab), and the console starts at $499. But those who get in early could get a little bonus.
For a limited time only, there will be an Xbox One X "Project Scorpio Edition" console, with lettering designed specifically for those fans who have been watching the new Xbox from its initial announcement, when it was codenamed "Project Scorpio." The Project Scorpio Edition preorders will be available until supplies run out, so you'd better get in there as fast as you can. The Scorpio Edition Xbox One X console will also start at $499.
Microsoft's Corporate Vice President and Chief Marketing Officer at Xbox, Mike Nichols, described the Scorpio Edition as a celebration of the console's heritage, as the Scorpio name will live on as the name of the console's chipset. Nichols teased a special edition Xbox One X to me in our interview at E3, too, and I'd say this is a pretty great way for fans to celebrate the console's launch.
From Microsoft:
The Xbox One X is powered by six teraflop (TF) internals with the aim of getting the most out of your expensive 4K HDR TV, but you don't need a 4K TV to benefit from the Xbox One X. With a faster HDD and super-sampling technology, games running on the Xbox One X will not only look better but run faster, particularly if the games have been built to utilize dynamic resolution scaling. Of course, people with 4K TVs will see the biggest benefits, considering there are already more than 100 games that either run at a 4K resolution or have specific visual enhancements that utilize the power of the console.
Where to preorder Microsoft's Xbox One X
Xbox One X consoles will start at $499 in the U.S., with UK and European pricing set at £449 and €499 respectively. All consoles should ship later this year, with a release date currently set for November 7, 2017.
U.S.
UK
Your thoughts
The Xbox One X is Microsoft's latest salvo in the evolving console war, giving Redmond a clear power advantage over all of its competitors. Are you going to pick one up? Let us know in the comments.
List of Xbox One X Enhanced Games
Windows Central Newsletter
Get the best of Windows Central in in your inbox, every day!
Jez Corden a Managing Editor at Windows Central, focusing primarily on all things Xbox and gaming. Jez is known for breaking exclusive news and analysis as relates to the Microsoft ecosystem while being powered by caffeine. Follow on Twitter @JezCorden and listen to his Xbox Two podcast, all about, you guessed it, Xbox!
Where did you order from? All the links I try say not available. EDIT: Found it at Amazon. Scorpio edition.

Ms store Maine mall maine

Got mine on order from here.

Got mine on Amazon Smile. Scorpio Edition

Amazon now lists it as unavailable. Stock still at Wal-Mart.

In switzerland it is available at digitec.ch
https://www.digitec.ch/de/s1/product/microsoft-xbox-one-x-project-scorpi...

Nabbed a scorpio edition from Gamestop!

Pre-ordered on Amazon. But I'm going to check my local GameStop tomorrow. If they're still taking pre-orders, I'll order one of their and cancel Amazon. I would prefer to pick it up rather than waiting on a delivery from UPS that may be damaged. But I guess either way it's going to be shipped to GameStop by UPS or FedEx so....... Nvm

Even if I was willing to pay the ridiculous overpriced tag (which I'm not), I'd wait for the regular version. Why? Because those dots engraved on the Scorpio Edition look God damn ugly, that's why. I'd have to immediately slap a dbrand skin in it...and for that, well, I might as well just get the regular version anyway.

Its the same price as the normal version, just has a special paint scheme. I've pre-ordered from Amazon in the UK, I'd like to have seen maybe a limited edition Project Scorpio with an Elite controller and maybe a bigger HDD but I'm fine with the way it is and happy to pre-order.

Yes I'm aware of that. I'm just saying that if I had to opt between the Project Scorpio edition or the normal one, I'd prefer to go for the normal one. I'm not going for either. For 500€ it needed to come *at least* with 2TB HDD. As it is, it's just far too overpriced. But everyone burns their money as they see fit ;)

I agree on the 2TB HDD, heck at HDD prices today they should have put in a 4TB one;

it has gpu equivalent to gtx1070 in it and they are selling it for 500$ asking 4tb HDD at this price is too greedy if u ask me you can always buy 4tb hdd and clone xbox x hdd and upgrade it 4tb HDD is 110$ at lowest

2TB would have been a nice starting point in this 4K era but then my PS4 Pro only shipped with 1TB. I don't see it burning money, I have a gaming PC also but to upgrade the graphics card from my current one to anything half decent would cost the same as an XBOX One X. My existing XBOX One is going to my grandson so it will get good use.

overpriced go buy a pc with the same capabilities.... all the way from the hdr blue ray player to 4k 60fps games...tell me you get it for less then 500 then say xbox one x is over priced.

You know... You don't have to let us know on every single xbox topic that you are not getting one. We know already. :D

You can preorder at Walmart's website for pickup at your store on the day it is released.

Pre-ordered the Scorpio Edition from Amazon UK, hoping this is where Microsoft come back with the XBOX brand, I have a PS4 Pro and at the moment there is a big difference in performance on cross platfroms on games like Battlefield 1.

Out of stock everywhere here in Montreal, i can't believe it how fast they disappeared. I hope they will be selling more of this version soon. The Microsoft store canada does not sell yet.....

It probably didn't went live yet ;)

Nvm got 1 on my Microsoft account at Microsoft store CA. Woot

I got three, lol. Amazon is now out. You have to search "project scorpio" at best buy. Target does not say "project scorpio edition." Gamestop says ship date of 12/31. Still available at Microsoft store.

Will the 'Project Scorpio' Limited Edition be available in Australia? I've just checked the Australian Microsoft Store and when trying to pre-order the limited edition, it simply says: not available. :-(

Edit: it's now available at JB Hi-Fi :-)

Scorpio on order, looking for a 2nd...

Do we get the points through Microsoft if we buy if directly from them? If so, I'm going to cancel my Amazon preorder

We should... Although not until the order ships and the credit card gets charged in november.

Just ordered mine, got the Scorpio Edition...

1. Depends who you order from. Amazon doesn't charge until it ships where some others may require a deposit.
2. If you have to ask this question, you likely should wait until you have the money to buy it.

#2, not necessarily, for example, this month I had both my car registration and insurance come due, which wiped out over $600 of otherwise spendable money. I ended up putting mine on a "real" credit card (vs debit) and will pay off before it arrives, but if I didn't have to pay until November, I would have put it on a debit card.

Freom my MS Store receipt:
For items we ship to you, including pre-orders, we'll charge you when they ship.

Pre-ordered! It's actually going to be my Xmas gift. Amazon pre-order changed to "unavailable" by the time my wife got around to place the order. EBGames/GameStop stated only 16 consoles per store availability. So I ended up having to place order directly at the source: Microsoft Store.

Gamestop is giving $150 for the xbox one s trade in

Jusrt pre-ordered mine at BestBuy for local pickup. Was going to go with Microsoft, but I do get the points with BB. Although, I will go to the MS store for free food and giveaways. Yes, I am shameless that way.

WC will now inundate us with the inevitable 4K TV articles. Which is a good thing because now I will want to buy a good one by the time November 7 hits. Any pre-article suggestions? Wants: 55" - 65", black blacks.

LG Electronics OLED65C7P 65-Inch 4K Ultra HD Smart OLED TV

. Will check it out thanks.

NO Please don't get LG, right now only Samsung offers the ability to play HDR media. I would say get the Un60KS8000

What are you talking about I do HDR with my LG, with MEDIA both through its built in apps with Dolby Vision support and HDR with my XBOX One s

I ordered the 2016 model of the same TV as Nimdock (the OLED65C6P in my case, note the 6 or 7 as the next to last character, 6P or 7P -- that's the year indicator) from Amazon this weekend -- I wanted the 3D, which they have discontinued in the 2017 model. I realize that with no one making 3D TVs any longer, there's less likely to be much new content in 3D, but on a 4K TV, 3D works great with nice lightweight, battery-free passive glasses. On a regular HDTV, for a good HD visual experience, you need heavier active glasses and the annoying charging system. It's almost like 3D came too early, if it started with 4K, maybe people would have embraced it. For anyone considering, I think the main benefits to the newer model are WebOS 3.5 vs 3.0 and Dolby Atmos sound included. Because I use a separate receiver for audio and not the little TV speakers, the TV sound doesn't matter to me. Both are 65" OLED with curved screens and support HDR10 and Dolby Vision. I understand there was originally an issue with lag with HDR in 4k on the 2016 model, but LG fixed it with a firmware update you can download and install via USB. After that, it has rave reviews by gamers, even though it's probably still not the fastest in response time (under 1/10 second lag). So if 3D is of any interest (I know it's not to a lot of people), then see if you can still find the 2016 model. It's also $500 less expensive.

Oh, and if you normally run your HDMI through a receiver for audio, be sure you upgrade that too to one that supports 4K passthrough and HDCP 2.2. Unfortunately, that's an additional expense.

Good point on the receiver.

You was able to do local pick up through Best buy because mine said shipping only.

Most of the people here pre-ordereing the system alre MS/XB fans or already own the XB1. I'm curious. Anyone here who mostly play on PC, Nintendo or Sony platforms getting this day one?

Yeah I play almost everything on PC. Put in a pre-order and holding deposit but will see how I'm feeling about it come week before launch. I've been on the Xbox Insider program but simply wasn't using the XBO Elite (traded from Day One ed) and had been paying for Xbox Live for the entirety of my ownership. Hundreds of dollars not used is wasted I guess. Whether I proceed depends on how my HTPC / server stacks up as a game, VR and media box for the lounge. It's still more powerful than the XBO-X and has expandability...

Anyone else a tad dissappointed they can't just order the regular console? I like the Scorpio logo, but I don't want the gradiant paint job and controller buttons without the colors are a pet peeve of mine. It's nice to have the stand (which seems to be the only non-deco reason to get the Scorpio edition), but I don't plan to use it anyway. If they had raised the price $50 and made it a 2TB drive I wouldd have been happy to order this. A bit unhappy that I waited and waited and now I can't even order what they showed before. I know, first world problems, but I now have to decide if I want to wait or just get this opne and live with the minor quibbles.

What about "Canada"? I ordered thru Microsoft Store CA. I know WC listed only US & UK but they just live in their little bubble.

I want that final image (vertical console w controller on dark background) as a 4k desktop image, please. :)

Has there been any word on Mixed Reality for Xbox yet?

Not yet that I've heard. My assumption is that you will be able to plug in a MR headset (just 1 USB & 1 HDMI) and use it, but I expect that MS wants to get the headsets fully launched and some apps & games in the store before they announce X1X support.

I ordered mine via Target with a ship date of the 7th of November. I thought only the Scorpio edition was the only one available to ship that early and it seemed to be the only retailer I could find with an early ship date and did not blast out of stock or not available for pre-order.

i ended up preordering it. my xbox one will make a great gift for my nefue.
Windows Central Newsletter
Thank you for signing up to Windows Central. You will receive a verification email shortly.
There was a problem. Please refresh the page and try again.