You aren't a true Overwatch fan if you don't preorder the $200 Ultimate Genji Sword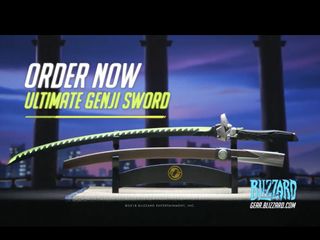 Blizzard recently announced that there's a new ultimate fan gift in town. The Overwatch Ultimate Genji Sword is available as a pre-order for $200. It'll ship by December 15th, so you should get it in time for the holidays. Also, there's a limit of 10 swords per customer, so if you were planning on spending $20,000 on these, you're out of luck. Two grand's the limit, buddy.
All sarcasm about the price aside, Blizzard collectibles are almost always the pinnacle of all things geeky and awesome, and this is no exception. It comes with a sword, a sheath, and a stand. The sword has LEDs for illumination and has motion-activated sounds too. The collectible is made of premium materials and measures almost 47 inches long.
While you might not be able to go full Dragonblade, this is still an awesome collectible for anyone who mains Genji or just really likes Overwatch (opens in new tab). Of course, if you don't want to drop a couple hundred bucks on something that may be irrelevant in a couple of years, you could opt for something like the Funko Pop Genji figure (opens in new tab) or even a wooden Genji replica sword (opens in new tab). If you want the full experience though, be sure to head to Blizzard and get your pre-order in.
Windows Central Newsletter
Get the best of Windows Central in your inbox, every day!
Louryn was seven when her shopping obsession began. It started with eBay and quickly escalated to Black Friday. Now she's a shopaholic -- no day is complete without a pile of packages on her front porch. She justifies it by refusing to pay full price. She also loves Skyrim, makeup, and beer. Find her on Twitter @lourynstrampe
That's really ugly... for an expensive collector item, that's a problem...
I don't see who would buy that, unless there's doing a genji cosplay and want to save time on the blade (but losing part of the interest of doing a cosplay)

You know what makes your comment funny? In some languages "genji" means vest and often used as retort when someone is wearing a rather tatty and used vest haha.

pre-ordered one already as a Christmas gift. being early with it this year. I've seen a better Genji sword in Japan but that was around $1400 for real cut steal material.

You are correct, I am not a true fan.