You can help make Gears of War 4 better with new feedback program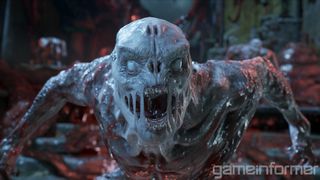 Developer The Coalition and publisher Microsoft are taking some lessons from the Windows Insider Program by launching the Gears Feedback Program. It will allow fans to give their opinions on the upcoming Xbox One shooter Gears of Wars 4.
The details on the program were revealed in a post on the official Gears of War forums:
You can learn more about the Gears Feedback Program, and also sign up to join it, at the link below. The Coalition and Microsoft also plan to begin a beta test of Gears of War 4 starting on April 18. The game itself will be released on October 11.
Sign up for the Gears Feedback Program
Im in, if they had this for Gears 3, there would of been no Retro Lancer

Sounds like an awesome idea, count me in.

Microsoft can't do anything by own self Posted on Lumia 930 with
Windows 10 Mobile

That's because people are never satisfied regardless of what they do, so why not take feedback so they can make more informed decisions?

Did you read the article? This feedback program is for The Coalition, not Microsoft.

I'll be voting for a Quantum Break crossover so they can bring Dom back! :)

who was Dom in GOW series? I thought it was marcus feenix

If I remember correctly, Dom was Marcus's brother. coated Lumia 950 :3

Just ignore that last part, my signature got cut :P Sent from my (usually) leather-coated Lumia 950 :3

Play the First 3 games and you'll know, I recommend you to get the UE edition, it's a nice addition to any gaming library... And ultimately it will add to the experience if u get gears 4, from a narrative viewpoint of course..

Also lets add Greyson Hunt and all the other foul mouthed members of Dead Echo Squad. The power of public opinion can ruin anything.

Every game that wants feedback to be a better game means the devs have no idea what to do and the game will fail. With multiplayer based games like doom and fortnight and stuff i can see that. But making games means being creative and having a vision you want to bring to the fans to surprise them and make them smile and scream of excitement. That's what the magic is about.
I have no issue with Sth like a stress test to see if the servers can handle ****. Apparently Microsofts own games haven't brought me close to that. At least not story wise. So sad that gears will fall under the " we've no idea what were doing charta "

You, sir....i have no words. Your logic is laughable at best.

How soon we forget about giving feedback. Some of use gave feedback thinking we were trying help improve, but only get left behind when the it was released.

signed-up...let's hope for the best GO4 possible.
Windows Central Newsletter
Get the best of Windows Central in in your inbox, every day!
Thank you for signing up to Windows Central. You will receive a verification email shortly.
There was a problem. Please refresh the page and try again.