You can now digitally pre-order The Elder Scrolls V: Skyrim Special Edition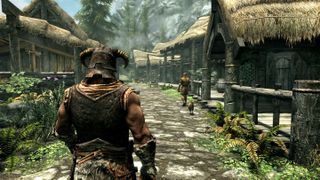 (Image credit: Bethesda Softworks)
If you're up for taking another crack at The Elder Scrolls V: Skyrim once more, the Special Edition re-release for Xbox One is now up for digital pre-order. While the game is set for release on October 28, pre-ordering will let you pre-download the game ahead of launch so you're ready to play right away.
To recap, the Skyrim Special Edition includes a ton of enhancements to the original version of the game, which was initially released on last-gen consoles in 2011:
If you're interested in picking up the Skyrim Special Edition, you can put your pre-order in for $60 at the Microsoft Store now.
See at the Microsoft Store (opens in new tab)
Windows Central Newsletter
Get the best of Windows Central in in your inbox, every day!
Dan Thorp-Lancaster is the former Editor-in-Chief of Windows Central. He began working with Windows Central, Android Central, and iMore as a news writer in 2014 and is obsessed with tech of all sorts. You can follow Dan on Twitter @DthorpL and Instagram @heyitsdtl.
http://gadgets.ndtv.com/mobiles/news/microsoft-says-its-almost-ready-wit...

Damn $60? I was hoping it would come in a bit cheaper, being a remake. Or maybe give some kind of discount for those of us who own the 360 version and were hoping for eventual backwards compatibility...

I daresay Sony have set the stage by charging full price for all their remakes...

$60 is a lot for a game this old, even if it is arguably the best single player RPG ever made. ​Part of what makes it so good is the modding though, and its a complete overstatement to say that the XB version will be as moddable as the PC. Most of the modding community has moved on to other games and that means the vast majority of mods will never get ported over. If you have a PC, do yourself a favor and get the game, plus the expansion packs and all the higher definition textures for $20 or less on steam. ​If you don't have a PC and XB is your only choice... its probably still worth waiting for the next sale.

even if it is arguably the best single player RPG ever made

lolwut? Skyrim is no way the best single player RPG ever made, out of the other TESO games it was one of the weaker ones. Not to mention The Witcher 3 spanks it in everyway. It's probably top 10 but it's not that high on that list.

Exactly my thoughts lol. Skyrim has heaps of content but the quality of that content is above average at best.

Lolwut, quietnine is absolutely correct

He did say "arguably" so he isn't wrong. Maybe people will argue it's the best, i wouldn't but some would.

"$60 is a lot for a game this old, even if it is arguably the best single player RPG ever made." Can't be because "ever" has not happened yet.

If you're going to be pedantic... "ever made" is obviously only inclusive up to the present because future games have not been made yet. If they had said "best game of all time", you would have a point. Posted via the Windows Central App for Android

"...because future games have not been made yet. " Au contraire, mon ami! Future games are being made as we speak/type!

Takes a pretty hefty PC to run at a decent graphics setting. I have a brand new ASUS laptop with an I7 Skylake and GTX940 discrete graphics and it doesn't meet recommended components.

Should've went with a minimum GTX970M gpu.

Love Skyrim but I am going to pass on this. I already played over 400 hours in the 360 version. If it were possible to load saves from the 360 then maybe yes.

I have the 360 version, only played the tutorial... :(

I have a feeling it will be possible. Remember that utility which extracts X360 saves from external storage to the PC to make minor changes to them then load them back into the xbox? Maybe someone will come up with another tool that converts these saves to the xbox one.

Think about those 400 hours you logged on Skyrim while you lie in your deathbed. We are wasteful creatures, me included.

If he enjoyed that time spent, how is it wasted?

Modding... One of the few positive things in PC gaming, now coming to Xbox in some games. How fantastic!

I agree it's over priced for a 5 year old game no matter how good it was then and better it looks now.
Sell it for €20.

Isn't this going to be free for owners on Steam?

it will be for those that own all the dlc. If you don't theyre giving th dlc for a special price

Ah. I have the Legendary Edition or whatever it was called.

I have played Skyrim like 3-4 times over, and yet I was looking forward for this Remastered edition. But $60? O_o

Free in PC for owners of the original game. :) glad I have all systems. Posted via the Windows Central App for Android

This. People seem to have ignored this piece of information and skipped straight to the part where they complain about the price.

Interesting, but i don't pre-order as so many games do this to bring in funding and then push the release back. They basically jip people into paying knowing they won't be able to deliver. No benefit to pre-ordering. I'll wait til it's release before I decide. I also think $60 is a lot to pay for what is essentially a really old game. They didn't do anything but upgrade some assets and add a new feature. That seems like a steep price. Will likely pass on it.

Just seeing the article image has me wanting to play this again.

I remember on a YouTube gaming channel, someone tested the original version of Skyrim on an HP Stream 7, and it worked. Look up HP Stream gaming. Skyrim will play on even my Acer One 10 on low settings flawlessly.

Wait $60? I still have the 360 dosc and purchased all the dlc. Gonna wait and see what's happens for a discount.

Its a lot for an old game..... But it's Skyrim. Sold :)

Why would anyone preorder this with how little information has been shown? They showed what... like a 10 second clip at E3?
Windows Central Newsletter
Thank you for signing up to Windows Central. You will receive a verification email shortly.
There was a problem. Please refresh the page and try again.