You can now preorder the Samsung Galaxy S9 directly from Microsoft
By Zac Bowden last updated
Microsoft is selling the Samsung Galaxy S9 directly from its own store, just like it did last year with the Samsung Galaxy S8. Will you be getting one?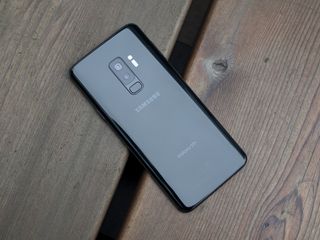 Just like last year with the Samsung Galaxy S8, Microsoft is now taking preorders for the upcoming Samsung Galaxy S9, with an expected launch date of March 16. Microsoft's store listing is quick to point out how well the Microsoft Launcher and Microsoft apps such as Cortana, OneDrive and Office work on the Galaxy S9, however it doesn't appear these apps come preloaded.
See Samsung Galaxy S9 at Microsoft
Related: Remember that Galaxy S8 'Microsoft Edition?' Samsung says it never existed …
The Samsung Galaxy S9 is Samsung's latest smartphone flagship, packing a Snapdragon 845, Android Oreo, and a great 18:9 display. Reviews for the device just came out today, and the verdict so far is that the Galaxy S9 is a great handset, albeit a rather small upgrade over last years S8. The handset is available in two sizes, and starts at $719.99 from Microsoft.
Category
Samsung Galaxy S9
Samsung Galaxy S9+
Operating system
Android 8.0 Oreo
Samsung Experience 9.0
Android 8.0 Oreo
Samsung Experience 9.0
Display
5.8-inch AMOLED, 2960x1440 (18.5:9)
6.2-inch AMOLED, 2960x1440 (18.5:9)
Processor
Snapdragon 845
or 10nm 64-bit Samsung Exynos
Snapdragon 845
or 10nm 64-bit Samsung Exynos
Storage
64GB
64GB
Expandable
microSD up to 400GB
microSD up to 400GB
RAM
4GB
6GB
Primary rear camera
12MP Super Speed Dual Pixel, OIS, f/1.5 or f/2.4
12MP Super Speed Dual Pixel, OIS, f/1.5 or f/2.4
Secondary rear camera
n/a
12MP, f/2.4
Front camera
8MP, f/1.7, auto focus
8MP, f/1.7, auto focus
Connectivity
Wi-Fi 802.11ac MIMO, 1.2Gbps (Cat-18) LTE, Bluetooth 5.0 LE
ANT+, NFC, GPS, Glonass
Wi-Fi 802.11ac MIMO, 1.2 Gbps (Cat-18) LTE, Bluetooth 5.0 LE
ANT+, NFC, GPS, Glonass
Audio
Stereo speakers
Dolby Atmos
3.5mm headphone
Stereo speakers
Dolby Atmos
3.5mm headphone
Battery
3000mAh
3500mAh
Charging
USB-C
Fast Wireless Charging
USB-C
Fast Wireless Charging
Water resistance
IP68
IP68
Security
Fingerprint sensor
Iris scanning
Face unlock
Fingerprint sensor
Iris scanning
Face unlock
Dimensions
147.7 x 68.7 x 8.5 mm
163 g
158.1 x 73.8 x 8.5 mm
189 g
Colors
Midnight Black, Lilac Purple, Coral Blue (U.S.)
Midnight Black, Lilac Purple, Coral Blue, Slate Grey (intl)
Midnight Black, Lilac Purple, Coral Blue (U.S.)
Midnight Black, Lilac Purple, Coral Blue, Slate Grey (intl)
Microsoft's current mobile strategy involves adopting Android smartphones and encouraging users to install things like the Microsoft Launcher and apps onto the device. Since Microsoft is no longer focused on Windows 10 Mobile, buying an Android device and loading it up with Microsoft software is now what Microsoft encourages users to do, and so far, it's working out pretty well.
Will you be preordering the Samsung Galaxy S9 from Microsoft? Let us know in the comments!
Zac Bowden is a Senior Editor at Windows Central. Bringing you exclusive coverage into the world of Windows 10 on PCs, tablets, phones, and more. Also an avid collector of rare Microsoft prototype devices! Keep in touch on Twitter: @zacbowden.
While it's nice that Microsoft is still selling phones, and are most likely still going to be assisting people with creating a "Microsoft Edition" phone, I could never buy a Samsung Galaxy device. The hardware is great, and has come a long way since the beginning. For instance, they don't feel like cheap slabs of plastic anymore (950/XL), but Samsung has a way of really bringing the whole Android OS down a few levels. Everything on Samsung feels much slower, more cluttered, and just bloated. If Samsung would release a Galaxy S9 with just simple Android on it, I would be more inclinded to buy it.

I never got this, I dont feel like my Note 8 is ever bloated with junk unless I install custom apps or themes

Curious, have you tried a phone that is straight Android e.g. Razer, or Pixel, or even something minimalist like OnePlus with Oxygen OS? It's kind of a night and day experience.

I have seen a multitude of speed comparisons between the note 8 and all the fastest Android phones and the iPhone x, the difference is insignificant. Saw yesterday the s9plus compared to the pixel 2 XL and it was faster on pretty much everything except boot up. So yeah the whole bloat thing is wildly exaggerated these days.

Trust me, Samsung has bloat. And even more bloat from Carriers. With Android One coming, you'll understand why it's bloat. Get the Nokia 8 and see.

Some of it is bloat. But a lot of it is genuinely value-added. For example, I'm on AT&T, and Samsung adds support for AT&T Video calling, which is better than any app. Samsung Pay is night and day better than any other digital payment solution. Depending on how you use voice commands, you may find that Bixby is perhaps the only actually helpful personal assitant. It's really a matter of what you're looking for.

Yeah me neither, my note 8 is super fast to this day

I came from Nexus to the S8 and it was certainly different, but some of the stuff was actually useable and nice. It took a minute to get used to the UI and all the extra options, but my S8 doesn't feel slow at all. S10 and Pixel 3 will be a tough decision next year. The Pixel software isn't going to be a big differentiator for me.

I LOVE my Samsung Galaxy S8, but I cannot STAND the "Bixby" button and bloated Samsung duplicate software (don't get me started on the AT&T crap that you cannot uninstall on it.) If I replace it, an UNLOCKED PHONE is the way to go so I avoid all the carrier crap. Too bad the Google Pixel phones are so expensive in comparison and frankly, just don't "do" it for me design-wise. The Razer Phone is a bit interesting but I would wait for v2.0 before I buy one to make sure they stay "in the game."

I would kill to be able to turn the "Bixby" button into a dedicated CAMERA BUTTON. That is what I miss the most from my trusty old 950.............ah, memories.

Double-clicking the power button works just as well for me as the camera button ever did.

Why anyone would want to prostitute their intimate details to that company, I have no idea...

Microsoft? They have some ok services now that are better when they have your data.

Samsung and scroogle, you know what they are talking about troll.

MS is just as spywary as Google is, these days. Maybe worse.

Put Windows on ARM on it and I'll buy one :D Even better, with dual boot.

I loved Windows phone because it was free of bloatware and ads even YouTube on the edge didn't have ads. However Microsoft has changed a lot. From ad free to max advertising and bloatwares that are useless.

"however it doesn't appear these apps come preloaded."
Yes, exactly like last year for galaxy s8 & s8+. You have to buy the phone first, and then they ask if they can install the MS apps on it for you!!! No way to try before you buy!!!

I don't read android central. Sorry.

Well my 950 xl gave up the ghost and I had to make a decision. After much anger and self loathing for having to abandon Windows, I jumped on the S8. Couldn't justify the extra $130 for the S9. Looked at all the options and while the new Sony and ASUS looked promising, and the Razer has its own appeal (Pixel not an option since it's locked to Verizon) the support in the US is really only for Samsung, Apple, and to a lesser extent LG. So, I will see as I de-Google and add Microsoft apps how tolerable Android is.

Launcher 10 and SquareHome2 are your friend. You can also go into settings and disable a lot of the scroogle apps.

I can't live without SqaureHome2. Every time I have to look at my wife's phone I cringe with that default Google launcher. iOS is just a static "Fisher-Price" interface for kids in my opinion (and yes, I have to use one for my Work Phone.)

@Khaaannn - completely agree. SquareHome rocks! I put it on my S8+, as well as my wife's, it's 99% of what Live Tiles was. Also agree about iOS being Fisher Price. Never thought I'd have to buy a Droid, but at least I can customize it. Also, not seeing what everyone is talking about bloatware on it or running slow. I disabled Bigsby button and uninstalled the stuff I don't want and it runs great.

Could your 950xl be resurrected with a new battery?

Tried that, Reloaded, everything I could find to try. Battery drains fast, random crashes, slow, messages not coming through. Pretty much unusable.

Seems like Samsung is running out of ideas. This is pretty boring!

Not just Samsung, the whole Android itself running out of ideas lately.

I better get the L950 , it has a much better camera and cost half the price . I couldn't care less about 1 zillion apps with adds popping up here and there .

HP Elite X3 is still a remarkable phone. Still loving it and there is nothing I can't do on it. The screen is Samsung 😜 although the width is a lot better. 18:9 ratio sucks butt. Plus, it's a pleasure using Windows mobile OS compared to awful Android. If you have a phone addiction I say buy Android.
Windows Central Newsletter
Get the best of Windows Central in in your inbox, every day!
Thank you for signing up to Windows Central. You will receive a verification email shortly.
There was a problem. Please refresh the page and try again.