You can stop wishing for a Venue Pro II now (or any Dell smartphone)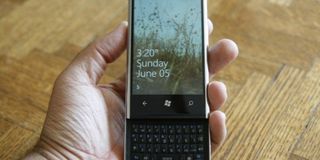 It's been a little over two years since Windows Phone landed in the market. One of the first devices at that time was from Dell. The Venue Pro was one of the most unique handsets at launch, it was the only device with a portrait-oriented slide out QWERTY keyboard. That device had a small, loyal fan base for being really great at pounding out emails the old way. If you were hoping for Dell to release a follow up to that stoic phone, it's time to move on as Dell has no plans to reenter the smartphone market.
Jeff Clarke, global operations president for Dell, told ComputerWorldUK that the tech company has no plans with smartphones and instead will continue its focus on the PC market. Here is the pertinent quote about Dell and their smartphone free future from Clarke:
When Dell looks into their crystal ball, they see a future where customers will increasing bring their own devices into the workplace. So Dell has decided to focus bridging the gap between home and work computing.
My first Windows Phone was actually a Dell Venue Pro and I loved it. Sure the device had it's share of issues, like WiFI sucking, but it was a solid first showing. The keyboard was another great asset at the time, coming from BlackBerry I really enjoyed it and was always looking future devices like it. How smartphones aren't a part of this technology future for Dell is a little confusing for me as well, but that's the direction they have taken.
Think it's a good idea?
Source: ZDNET, Via ComputerWorldUK; Thanks, Kyle, for the tip!
I think Your ' is correct here. Since You're means 'you are' so it's kinda odd reading 'You are welcome '

@jack1129 ...and you would be wrong about that one.

*Your first windows phone was a Dell Venue Pro.
The dell venue was an android phone.
And I mean this with no harm.

Yeah. They actually stated this some time ago. And, as someone who owned a Venue Pro, I won't lose any sleep over this decision. It got much better after the Wi-Fi fix, but... Ah well. I'm now the proud owner of a Nokia Lumia 810. Take that, Dell!

Imagine if Nokia made E7 Lumia ohh god please make it happen

They could make it big like the galaxy note

no. And jsut as well. It needs to die a quick painless death due to the fact that Dell wouldn't fix the broken compass and it was a botched launch overall. I still think they could have made this thing a hit if they had got it out to all carriers. Trying to sell direct didn't work and still doesn't to a large degree.

Okay. But it doesn't affect me because I have a 920. :)

Well, I'm sure this whole smartphone thing is just a fad.


Haha. They probably know they are outmatched tho.

Sad day for sure the Venue Pro was one if my favorite Gen one devices

Why sad day ? It's a fairly good device, it had its place, we move on, that's life.

Was my favorite too. Sure it was chunky for the time, but man that keyboard was awesome. Too bad the camera was absolute junk.

I loved my dvp too. I miss it in a way.

I always liked the looks and concept of the DVP.

Too bad, because their computers suck. At least this thing was unique and could have attracted a specific customer.

Well, I guess when companies want low-cost junk PCs in the office, Dell is the go-to company on that. My school's loaded with their garbage.

My Dell XPS 12 and Alienware X51 beg to differ with your ridiculous comment. Try finding a better ultrabook than the XPS 12. Dell makes some high end stuff that performs and looks great.

Right it is a ridiculous comment, my Axim is still working great

Although I'd agree with you regarding the xps duo (I've got myself and its amazing) I'd say good riddance to the venue pro. I had the 16gb and had 5 switched out on me due to random reboots and that ever so famous WiFi issue. Gorgeous screen.... Crap phone.

I've been working with Dells since the mid-90's in the 486 days. I continue to buy their "garbage" for the networks I manage and somehow, I'm able to get this junk to work productively for 5-7 years, with very little effort. The hardware itself will last for much longer, but the software eventually obsolesces the hardware, through resource demands. Great hardware and terrific warranty, on the rare occassions I have to use it. I can't say the same thing about the Macs that marketing insists that they *have* to have.

I have one person still using a decade old Optiplex GX150 (PIII 750 MHz), which I wouldn't wish on my enemy at this point, but it keeps on ticking. She's getting a newer multi-core next week, running 64-bit Windows 7.

Regarding the Venue Pro, I had one too. Great design hardware-wise, especially the keyboard, but a completely botched execution by Dell. I wouldn't buy another one from them at this point any way. I have a Lumia 920 now, which I love, but I really miss that keyboard.

Well, you have to admit Dell had a number of years where quality fell significantly. I know more than one person who had their Dell laptop rebuilt 100%, piece by piece over the course of three years. I had good luck for the most part, but the very few times I did have to call support was a nightmare. And then there's my large employer: a couple years ago Dell was wholesale dumped and replaced by another vendor. Too many bad motherboards, LCD monitors, power supplies, and so on. And the DVP launch was nothing short of a travesty. I really hope Dell is getting its quality mojo back, because I loved their stuff for years. But I'll wait for proof before diving back into their pool again.

The consumer level stuff has always been iffy. The Inspiron 1500 series is a loss leading, disposable laptop that lasts for about 2 years. That's what you get for 300 bucks.

It's like the Dell consumer side and business side are 2 completely separate companies. I've always used the Optiplex business line of products. It's absolutely bulletproof. They had an issue with bad capacitors on the GX260/270/280 line, but that's the worst thing and they did stand behind that with mobo replacements. There was an AC adapter issue with some laptops, but they replaced those too. That's about it in 15 years of using Dell products.

I always advise people to go the Dell business outlet and buy those computers. Top flight quality with retail prices.

Though 920 is still the best, vertical keyboard is fairly useful for those who type a lot. Would be sweet if there is a phone like venue pro

Using my DVP right now. Great device. Solid. Physical keyboard was worthless. I still get compliments all the time in meetings about how nice it looks from iPhone and BlackBerry users. Contract is up in January. Hope Lumia 920 comes to T-mobile by then.

I had the privilege of hold and using one of these... Most amazing device I have ever seen/used. But it will never see any future :'(

The keyboard was the best part.

Sadly, I think we'll be waiting a lot longer than January for the 920 sold by T-Mobile. Not that it couldn't happen. TMo's recent plan changes could bring Nokia's best some day. At least HTC did, but the more the better.

I profess to never having heard of this device(!) That said, Dell is probably wise to steer clear of an already crowded market. Without an honest commitment to a platform perhaps its best for them to sit this one out and just "provide smart phone solutions" (whatever that means )

Agreed. I also don't get what they mean by "smartphone solutions" (sounds like BS) but they ARE wise about not re-entering the smartphone OEM market. Hardly any money there unless you're Apple or Samsung.

I have first hand knowledge from a former VP of mobility for Dell... The whole mobility division of Dell is gone, it was a game they couldn't play so the quit. No new smart phones or similar devices from Dell.

Umm...no shit, Sherlock. Did you not read the article?

The article didn't mention this dude knows a VP.

You guys need to proofread before posting an article the world can read; "increasingly" and "WiFi" are the right words.

Yeah, I hate to be critical, but this wasn't very well written, with lots of punctuation, grammar and typo issues.
"always looking future devices like it"
Dell knows hardware, and they know how to support computers, but they never figured out how to support phones or make a profitable business out of it. I still have my DVP, and it's been behaving nicely for me since the WiFi fix, though the software keyboard issue still hasn't been fixed for T-Mobile locked handsets. (Running 7720, so 7740 and 8107 have not been pushed through.) I bought it for the keyboard, but my fingers are just too damn big, so I quickly got used to the software keyboard.
My biggest complaint about the DVP, specifically, would be the terrible camera and the design flaw that let dust get under the screen. The screen, on the other hand, is gorgeous. I've yet to see phones in person that "wow" me in the same way, though I'm sure they are out there.
I'm still not super happy with Windows Phone 7.5. Don't get me wrong - I love the way it works. It's just the nagging missing pieces that bug me. I wish they could've gotten third party app developer support moving faster, so I could recommend the phones to friends and family without worrying about them missing out on the latest apps and games that other people have.
OK rambling can end now!

Being a current owner of a DVP, even though the phone has been great, I wouldn't consider anything from Dell again because of the way they bailed on their customers with the DVP.

This phone was actually unique form every other handset and had so much more potential. Too bad Dell. Too bad.

All of the past WP7 updates have come through for the DVP, so I'm hopeful of WP7.8 arriving for mine. Back when they first announced getting out, Michael Dell referred to "keeping these devices fed".
http://www.wpcentral.com/dell-likes-windows-8-still-opting-out-smartphone-business
It has always surprised me that people were so keen to ditch keyboards, because the size and weight trade-off was always worth it for me when typing more than one paragraph. Then I realised that people actually prefer not to bother writing more than one paragraph... ever. Detail is old hat, typing accuracy is irrelevant., and you should never bother reading beyond the first paragraph, because, frankly, it can't be important if it wasn't at the top. Gah!

Love how some people are personally offended by this. And attacking other people for having the nerve to like the phone. Weirdos.

Still waiting for the next wp8 with a physical keyboard. Hopefully Nokia makes one. :/

I really like my dell streak. Hopefully they come back to the smartphone game in the future and release another dell streak type phone

Had one. Loved it. If they don't want to support it I don't want it. No guts. Too bad. See ya.

I loved that phone would have been awesome with WP8.

Using mine now. The WiFi is ok but the camera is utter crap. I also have no use for the keyboard. The only reason I got it a few months back was because I'm broke, it was cheap, and I can expand the memory and put all my music on it. I just hope it gets a 7.8 update. Had to force the last few onto it.

I just sold mine to a gentlemen in Kiev. It was a great device to transition from a blackberry, but I'm over the keyboard. It was beautiful - the curved screen and attention to detail was great. My wife loved hers, though it met an untimely demise. It used to tell friends it was "heavy enough to kill a man" the hold it above them and snap the keyboard out. My wife and I are both on Nokia's now, a 710 and 822.

I was really close to getting a venue pro cause I was in love with the design and wasn't ready to give up on physical keyboards but I held on to my palm pre into the 900 came out it would be cool to see someone use the design again

I am also a DVP user. I know some group in XDA is developing a customized 7.8 I hope the group will address the broken compass issue as well as the tethering

I'd really really like to see Microsoft get together with Nokia and produce a keyboard smartphone, I don't think it would be a good move profit wise, more of a break even.
But it has the capability to bring over a lot of ex-RIM (and keyboard only) people to the WP platform, so a keyboard WP would be more valuable then the same money spent in marketting.

The DVP was clunky and heavy and Dell botched the launch bigtime, but its still my favorite phone. I just retired it after a couple of years of hard use when I picked up the T-Mo 8X. Any WP8 phone that would come out with a portrait slider would be a must buy for me. I guess I'll have to keep dreaming.

Still using mine and has kept this for the fact that it was physical keyboard. Touchscreen is nice but i hate replying and having the whole screen covered by big ass screen keyboard. I hate going through my school work on Office and type out essays without seeing what i wrote. Proofreading means hiding the onscreen keyboard. I dropped and broke my other dvp Last month and my contract was up too, but i decided to get another dvp off eBay. Even though nokias and HTC are beautiful, it just isn't going to be as productive as dvp with its kb. Unfortunately for dell, they left a bad taste in the mouth, so this will be my last dell product. Still waiting for other manufacturers to copy this design.

I'm not going to miss dell but I miss variation in phone design. So far there are no slider wp8's at all, and no phones with less then a 4.3" display in the us market. Wp7 originally had some pretty interesting phones form factor wise that are missing on wp8.

I still carry a DVP and get compliments on it all the time for how cool it looks. I am looking forward to going for the 920 but would like to wait to see if the Surface Phone materializes.
Do you all think I should just pull the trigger on the 920 now or is it worth waiting for the possible Surface Phone?
Thanks.

wait for a surface phone. i still have my dvp and its still working great.

I'm a broke college student and was looking for a new (but old) phone to use for straight talk. I was stuck between the Dell venue pro or the samsung flash. I fell in love with DVP after doing A LOT of research on it. Now I'm just patiently waiting to recieve it in the mail :)

how does your phone work with straight talk? I am having a problem setting up the APN
Windows Central Newsletter
Get the best of Windows Central in in your inbox, every day!
Thank you for signing up to Windows Central. You will receive a verification email shortly.
There was a problem. Please refresh the page and try again.