You might love Bing and not even know it - a look behind the scenes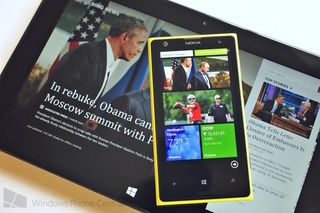 The search engine that was first launched five years ago by Microsoft in 2009 as a competitor to the giant multinational corporation, Google, now has a global markets share of 5.62% across desktops and 2.64% across mobile devices. Bing is currently ranked as the world's third most popular search engine and sits behind Yahoo's 8.22% and Google's massive 83.04% desktop search engine market share.
However, Microsoft is not just trying to get users to visit their own website – they are playing the covert operations game and acting as the backend for many services you and your friends may use. In fact, you might be loving Bing and not even know it.
Yahoo Search
The same year that Bing launched, Microsoft and Yahoo announced that they would be making a deal to use Bing as the backend for Yahoo's own search engine. You can see the partnership for yourself by heading over to Yahoo and typing in any search query your wish; when you scroll to the bottom of the page, you will see "Powered by Bing".
Consider this idea when looking at Bing's market share for desktops, while Bing is in third place and Yahoo is in second place – they both use the same backend. We could actually combine Yahoo and Bing's market share to get 13.84%, so while people might not actually be heading to Bing's website – they are still using the Bing search engine when they visit Yahoo.
Facebook Search
If you are enjoying the world's largest social network, Facebook, then you might also be enjoying Microsoft's Bing search engine from time to time. The massive networking site reported in December that over 1.23 billion active users engage in the network every single month.
When you use Facebook's search bar to search the web for content or query questions such as "Sushi restaurants my friends like", the results are being pulled from Microsoft's Bing API. Facebook's entire website uses Bing search results to power discovery, along with maps displays. If you are using Facebook, there is a good chance that you are at some point, using Bing.
Apple's Siri
One of the most interesting places to find Bing in action is within Apple's ecosystem. Despite Microsoft and Apple's differences, the Cupertino based company uses Bing to power search on its various range of electronic devices. When Apple had a fallout with Google in June 2013, they announced that they would be switching over to Microsoft Bing as a replacement.
Do you have friends who are major Apple fans, but contest Bing as a reputable search engine? Feel free to let them know that any of their devices with iOS 7 or higher are using Bing to power Apple's digital personal assistant, Siri. That is right; one of Apple's most famous software features is powered in-part by Microsoft's Bing.
Windows and Xbox
Moreover, of course, we cannot forget that Bing is now integrated into every facet of the Microsoft ecosystem itself. Whether you are using an Xbox, Windows 8 PC, or Windows Phone device, you are probably interacting with Bing from time to time.
Microsoft first introduced Bing search onto the Xbox 360 dashboard to allow consumers to search across the web and various applications for specific forms of content including music, video, and games. When the Xbox One launched this past November, we saw the same ability integrated into the console, but with a bit more polish using Kinect. Simply say "Xbox Bing" and you can easily search for various forms of content; the algorithm has also evolved, so saying, "Xbox Bing – I want to watch a Sci-Fi movie from the 1960s" will bring up relevant results for you to sift through.
With Windows 8's first update – Windows 8.1, a new feature known as Smart Search was introduced. Smart Search allows users to quickly view search results from across their device and the web simultaneously. For example, from the start screen of a Windows 8.1 machine, I can type "Daft Punk" and hit the ENTER key, then not only am I shown music tracks on my device by Daft Punk, but I am also shown the top web results in relation to the topic searched.
Windows Phone
Lastly, we can clearly see that Bing is tightly integrated into Windows Phone; it may not be the same subtle approach we have seen in other services, but merely another example of Bing's presence. Those who are Windows Phone users know that Bing cannot be change as the default search engine when pressing the hardware search button. Those who are looking to escape from Bing are forced to download a standalone Google search app – the only official application he company has released on Windows Phone.
In addition, the aforementioned Bing Smart Search within Windows 8 is set to land on Windows Phone with the upcoming Windows Phone 8.1 update later this year. For more information about the upcoming Windows Phone 8.1 update and to learn more about the Bing software additions coming soon, you can checkout our full list of features by clicking here.
The Solution
Bing has been around for five years now and is available in 40 languages around the globe, but market share still feels thin. Amazon's Alexa subsidiary currently ranks Bing as the twenty-third most popular website in the world and the tenth most popular within the United States.
While Bing is out in full force in its attempts to attack Google with campaign's such as "Bing it On", their battlefields are not just the most obvious of choices. Microsoft has gone strategic with Bing and has used their influences and connections to encourage companies such as Yahoo, Facebook, and Apple to use the search engine behind the scenes.
Microsoft is well aware that the word "Bing" carries a slightly negative connotation with it. At times, Bing seems to be lobbed into the same piles as Vista, Kin, and Microsoft Bob. In essence, blatant bias against Microsoft's search engine may be the reason that providing backend support for services might be the company's best choice.
As we have previously reported on before, the Bing it On campaign showed that a majority of users prefer to use the search engine over Google when they are completely unaware of which is which. Microsoft does not seem to have any plans on changing the name, so maybe the surprise approach is the right away to go.
If you told your Google using friends that they have actually been loving Bing search on their iPhones, iPads, Facebook pages, and around the web – do you think they would give Bing more credit?
Windows Central Newsletter
Get the best of Windows Central in in your inbox, every day!
Wait, Bing only has 2% mobile when Siri and Facebook uses it? Hmm.... I figured that it would be more.

It could be that search statistics don't "count" the results included here as Bing traffic?

They don't count the backend use. That's why they are considered side by side with Yahoo though the latter is also using Bing as the backend.

Does Search on Windows Phone count? You don't actually visit the Bing site. I know Windows Phone isn't incredibly popular, but I think it's safe to say at least 85% of Windows Phone users use the built-in Bing search service.

Actually, it was reported to be just over 50%. Kinda sad.

Really? Wow... People hate Bing /that/ much that they'll use the mobile website for Google, instead of the beautifully integrated solution? Then again, I hear Bing support is rather poor outside the US, and most WP users are outside the US.

In Finland where I am, Bing is just not nearly as good as scroogle. I have tried to switch to Bing many times, but always had to go back...

Hope they update in Finland, in the US it is on par with google.

Indeed. Bing is wonderful here. Sure, I desire a feature or two from Google, but it's overall good. Such a shame Microsoft ignores their international audience, especially when they're more popular in places like Europe and India than the US.

I hope so too. I think its a Europe wide problem with Bing.

if Bing is still on beta search code/index, you can try the other regional flavours: Uk site (full features) http://www.bing.com/?cc=gb US Site (even better but with news only US-centric) http://www.bing.com/?cc=us

Keep trying the waters. Hopefully it will suit your needs someday. I use Google only when I must but that is hardly ever now.

I'm from Finland too and I think Bing is better for the most parts. The only thing I think Google does better is typoed keywords. Google typically corrects them or at least offers to correct em, while with bing you typically just find things that also have the same word typoed or optionally won't find anything at all. But apart from that I much prefer Bing and think it's equal or better than Google, but all other things equal, Bing has less forced adverts of little relevance, while it's a known fact that Google will show you paid for adverts over relevant search results and I don't really like that.

Most of the issue is mindshare, and constantly fighting the unwarranted "negative press" that all things Microsoft gets.

Yeah, people laugh and mock me for using Bing. But then I love to blow their minds when I tell them their precious Siri uses Bing to provide results. Heheheh...

I love to tell my iSheep friends about there use of BING..... they always try to tell me its not so then point them to do searches and see it for themselves.

In Canada, I have to switch my browser and search language to US so I can get better functionality. I can't scan books and DVDs in Bing Vision, I can't see what's in theatres or local events since there isn't a panorama view, and I don't get those instant results when searching. It's kind of sad.

I am one of the 15% that use Google. I actually prefer Bing's search results...but I find the search process jarring. If I search for something using the address bar using Google as the default, it brings me up the results in a familiar page on IE.
Do the same with Bing installed, & I find myself being taken out of IE entirely, into the bing search app. Annoying.
Why can't Bing just return its results entirely from within IE?

Weird... On my Surface Pro 2, I use the search bar in Metro IE and always get my results in IE. I agree with you, however, in that I prefer the Bing website to Bing SmartSearch built into 8.1.

Aahh...sorry. I was talking about when using a Windows Phone :).

Interesting. I don't have that issue. I use the desktop IE and searches come up the same as they would with google.

(I should have made it clearer...that jarring search issue is only experienced when using my Lumia 1020).

I would love to just use bing, but outside the US it's pretty much useless I guess.. I can't seem to find anything when I search, I have to return to google in most cases :'(

I'm from Southeast Asia and I use Bing most of the time. :)

I'm in Canada and I always use Bing too! Even on my desktop or tablet. I love Bing!

I keep hearing that problem outside the US and I wonder what's the real cause of that.

Probably the age/size of Bing.
I suppose MS doesn't see the payoff of global support when it struggles so in the US.

Just change your region to us and then to some other country..and see the difference yourself..it pretty gud inside us..wish they would enable same features for rest of the countries..

In the US, the market share is closer to 20% and Google is less than 70%. If you include Yahoo searches, Bing is close to 30%. Hopefully they are working hard to make Bing more useful outside the US. I really like and I just don't trust Google for anything. Hopefully once Bing gets the international markets straightened out, the global market share will grow too.

I hate to be this guy, but do you have a source for that info?
Not doubting it, I'd just like to see it.

It's 'that' guy. btw..sorry to be that guy


Just Bing "Bing US Market Share". That's what I did...

Ok. I did it for you.... http://searchengineland.com/bing-ends-2013-with-all-time-high-in-us-market-share-but-google-also-up-comscore-181876

Same for me here in the UK

I thought initially the results were not as relevant too, but I have noticed huge improvements recently. Guess the Bing team must be working hard on the algorithms.

Until Bing brings feature parity to the rest of the globe they are going to remain at 5% market share

Market share is growing steadily in the US where Bing now has over 18% share according to Comscore. Bing gains about .15% a month.

That number includes those from Yahoo! however its not my point. Bing can have a great market share in the US, but until they focus on making the search results as relevant outside the US as they are inside the US then they will never truly succeed in the market.

All nice and dandy, but when you search on yahoo, Siri or Facebook, it should (up top) say powered by Bing, so people know it. Having it in fine words at the bottom doesn't cut it.

"doesn't cut it" as far as what?

Probably as far as getting the word out.

Subtlety. Fine words at the bottom mean people continue to use Bing powered products unknowingly. If it said it up front, at the top of the page, I'm sure many would be childish and stop using the service just because.

I agree Dustin. Its like Windows Phone and Windows 8. People love to hate all things Microsoft. If you asked them to actually try it, they'd scoff and say they'd be wasting their time cause they already know they don't like it. I like that they are using it for search elsewhere without knowing it. Maybe it'll make Bing smarter somehow haha.

Yahoo? Next you'll tell me people still Ask Jeeves.

The Amazon Kindle Fire also uses Bing as the search engine. http://searchengineland.com/kindle-tablets-default-search-engine-is-bing-132457

Nice article about bing, I checked Yahoo is using bing for yahoo search

Over the last year search results have improved greatly in Denmark.
I try in Bing first now. Often I have to Google afterwards but not too often.
Why are there no maps, calculator etc in Danish Bing?

No fan of Google, but everytime i've taken the challenge Google always wins. I must be doing something wrong.

Same here. Google do a better job IMO (and I don't like to say that!). The problem I have in the desktop space is that IE doesn't natively translate pages. Since I go on forums all around the world, Chrome's built in translate is v.v.useful. Getting driving directions is also v.easy - and shopping results are built in too.
Bing on the other hand has a fairly rubbish maps experience, its price comparison tab goes to a completely different interface...and it just doesn't feel joined up.
The video search works a treat though. One button to switch off the adult filters. Ding!

I BING every day...of course, I'm older now and can't do the things I used to do every day...but you don't really need to know about that do you? Sorry, I got nostalgic...

Wpcentral uses Google :( ....

WPCentral is only one site among a few under Mobile Nations, one being Android Central. Whoever made the decision to go with Google must work more on that site!

Doesn't mean it can't be changed at least on the WPC site.

If Google is better than Bing worldwide, why would WPCentral use Bing over Google, when they cater for a worldwide audience? Simple common sense, simple common sense mate ;)

Explains why I always find search on WPCentral to be a royal PITA.

I use Bing maybe 98% of the time. The one thing I do like about a google search is that they have a Shopping category, for easy price comparisons. Other than that I find google pretty useless.

Yeah, they used to have that feature on Bing but removed it unfortunately. I miss it dearly.

This! & google translate when using Chrome. & driving directions (I'm in the UK).
I do like Bing's image of the day though...feeds my wanderlust

And yet, we can't get any quality app support from Yahoo! Or Facebook.

That's some pretty incredible shit, isn't it?! Especially what you consider that Yahoo made about $3B off of search recently, and MS "invested" $26M in facebook some years ago.

I don't like Bing so much. Maps has less POIs, translation is much worse and some results are missing. At least these problems occur in Germany.

Why would anyone use Bing when there's Google?

I've never liked Google results, particularly image searches.
And then there is Google's placement of results from partners and their own holdings over others.
The tracking is a big concern for me.
Bing Rewards. As WP user, I also take into account their lack of support... to the point it almost seems like attempted sabotage. Tin foil hat time: Rumor is that Google was started and is ran by the NSA.

1 - Good thing about living in Europe: Google is now forced to present alternatives when they place results based on advertisement. Still, Microsoft does the same on Bing. 2 - Microsoft is tracking you exactly the same way Google is. 3 - Bing Rewards doesn't work outside the US. 4 - LOL!

Lies from a Microsoft hater.

The worst blind is the one who refuses to see.

I know, stop staring into the bright Nokia sign two inches from your face.
Eventually, your vision should improve... although your damage could be permanent.

I am shocked Bings share is still so low when factoring in the ios and default windows usage. Bings results to me (US) are much better tailored to what I'm looking for rather than Google's that seem to be tailored to what they want me to be searching for, but tbs most of my friends seem to go with what they see as the default search engine and think Bing is the odd one.. I even get shocked when I go to work on some of my family member's computers and see their Search defaulted on Google or somehow they don't know how the Google search bar showed up on their browser... smh
... My take: Google is Evil, Apple is Greedy, but unfortunately MS is just stupid...

Yeah, no. I still don't use Bing and I have no intention of doing it. I have it disabled in W8.1 and if I could replace the search button on my Nokia Lumias with something else like Google or just about *anything* I would. I'm in Europe. Bing is, therefore, useless. Not to mention I get way better results out of Google. So I shall stick with Google. Sorry but no. I'm not loving Bing and if I told my friends they were, they would first laugh their arses off and then have me committed because I would have gone insane. But hey, Michael, nice article. It's Microsoft-propaganda as usual, but at least you do it in a well-written manner.

Propaganda?
Why oh why have you not got your gold iPhone and left this site yet? Still holding out hope that Nokia somehow gets out of the MS deal?
We get it, you hate Microsoft.

"I'm in Europe. Bing is, therefore, useless." You definitely need to improve your reading skills. So go do your homework. I recommend you start by Geography and History so that you better understand that there's a World outside the US. US which, actually, likes Apple a lot more. Why don't you get an iPhone like your friends? Oh wait...

I've never ranted, cried and then swore off WP for iPhone or a Sony Android... unlike what you've been doing for months. Seriously, why are you still here?

Well if you really have "friends" who would laugh at the suggestion of using Bing then Id say you're the one that needs some new friends.
I don't care what corner of the planet you're on.

Microsoft deal was a huge break to Nokia considering the position they were in. Marketshare is nothing, making the devices profidable in long run would have been really difficult. DJCBS is probably a fin? :D

I am from India and use bing regularly for normal searches like getting the correct url for any website but when it comes complicated searches, I have to fall back onto google,the fact of the matter is though bing can do most of the stuff google can do ,but there is no particular reason for a person who uses google to switch to bing

I've been telling people this for a while now, but nobody cares. When I say I'm a Bing user, I get the evil stare, and I'm more or less laughed at. When I tell them they also use Bing on their iOS device, and on Facebook and but don't even know it, they insist this is not by any means their choice, and only use it because they are forced to by Apple, and Facebook. That is the hole that Microsoft has to climb out of. Being sneaky and behind the scenes about it, is not going to improve their public image. Even if people do prefer Bing over Google, few people are willing to admit it for rear off being publicly humiliated, and outcast from their peer group. It's the same thing with Windows Phone. I know a lot of people would love WP8 if they gave it a try, but even if they did, they will still buy an iPhone or Android device so no one will laugh at them. I have had this conversation with many iPhone users that think my Lumia is a much better device. But not one of them would switch until WP8 becomes more popular.

searched Bing for "pizza shops nearby"
And guess what the nearest I could find was about 3083Km away Ohhh boy I really live in middle of no where While google showed about 4
5 pizza shops in the radius of 1Km

Just searched for pizza near me (Sydney) nothing in local search. Put in pizza, i get everything. Bing even suggested pizza near me.. That is why Bing is failing, because it's stupid!

Doing this in London, I get a list of Pizza Huts listed in mostly distance order, followed by Pizza Express, followed by Dominos. My issue is that the closest pizza place to me on their list is a Pizza Express and it's number 8 on the list. It doesn't even show on the map as it only displays the top 5. I'd love to know how it's ordered, because it isn't useful, which is a shame considering I like Bing generally. Google works better. It finds the closest pizza place to me, Prezzo, which Bing misses, and lists them as far as I can tell by distance. Though using the mobile website it awful.

Hammad Bhatti -- you obviously don't know how to use Bing search engine mate. There is no need to put "nearby" at the end, or it will include anything with nearby or similar keywords. Simply put pizza shop in Bing and it shows what is nearby, which is way better than google. Google showed me a frigging pizza shop in NYC -- I'm in the UK! In fact, Bing also showed closer results than google, using your "nearby" method. And trust me Bing is shite in the UK. Come to think about it, why would you write "pizza shop nearby" instead of the location you were in? Therefore, like I said, you don't know how to use a search engine mate ;)

The vast majority of the MS hate I've run into simply isn't true. So how can MS "climb out of that hole" when it essentially amounts to chasing ghosts? And I'm sorry, but if you really know people who are so wrapped up in search engines that you'd have to deal with some sort of scorn for using Bing... dude, you need to know new people. :-/

Oh boy, your ideology is wrong because owning a Lumia doesn't mean you're cast out,(for me atleast) but it means you stand out of crowd who(sometimes blindly) tend to rub their arse on android or iOS. The OS running under a Lumia(or any WP) has much richer history than Android or iOS.

I have no plans using Bing as long as ms keeps ignoring giving non us countries the same features. Wait and see when cortana comes, it to will be just as meaningless for non English/US

One thing MS should stop being US. There are very few Windows phone users there as most of Americans are apple users. MS should stop this and target big markets such as India China Australia, Italy Brazil and other European countries where they are growing at a good pace.

I somewhat agree with your point, but while the iPhone is more popular in the US than most other countries... Android is still by far #1 in the US.

I was surprised. But I find Bing Translation is way better compared to google translate, perticularly for Asian/Indian launguages.

I use bing on phone and pc mostly but google for porn only

But Bing has great image results.

LOL TRY this
go to google and turn OFF SAFE SEARCH then search Amatuer and click on Images, then go to BING and Turn OFF SAFE SEARCH and search the same thing and go to images :P ull c whats better ;)

I just started using Bing instead of Google somewhat recently. The only Google service I use meow is YouTube.

+ 720 now MS should start making a video search engine too like u tube. Though it will not immediately compete u tube but after a certain stage they may get neck to neck

Seriously, Aashish? I don't know about outside US, BUT Bing video search rocks! Hover over a video and preview instead of having to open the page? Get results from YouTube and other sites combined? What's not to love?

That's just an aggregator, though. It still pulls in videos from youtube. What we need is a competitor to youtube where you can upload videos and make money...just like youtube. But youtube is just too much of a juggernaut, at least right now anyway.

How Microsoft pretends be the first search engine in the world with Bing if the best features are only available in the US? For example, in my country Bing is in beta yet!

http://www.bing.com/?cc=us

If they could find a way to promote their xxx video search without pissing off parents the numbers would explode

Been with Bing since day one, at first struggled to trust the search results but haven't had issues and use it on daily basis. Plus Bing points are great, haven't bought Skype credits in ages

I'm with you on the rewards, MindSynthetic. I redeem for Tango cards and then buy Amazon gift cards. Bing paid for my daughter's new keyboard. :)

I searched Bing for "pizza shops nearby"
And guess what the nearest I could find was about 3083Km away Ohhh boy I really live in middle of no where While google showed about 4
5 pizza shops in the radius of 1Km

I believe this was already covered above. Word for word even.

What a preposterous headline, LOL! As for this... "Those who are looking to escape from Bing are forced to download a standalone Google search app" WRONG. We just open the web browser and go to Google. Same as on a desktop computer. Duh. It's too bad I can't configure the hardware search button to take those steps, or even just do nothing at all, but spending a little extra time and effort up front saves time wasted and frustration from getting bad search results from Bing and then having to go to Google anyway.

I know a lot of people that hate Bing with a passion but use Yahoo search & siri. When I mentioned to them they both use Bing for search results...they were kinda surprised and disappointed.

Here ya go, this is a pretty good write up about Bing, but it can literally be used with anything MS related these days.
http://betanews.com/2013/07/18/this-is-why-you-dislike-bing/ Matter of fact MS did their own study similar to this called the Mojave Experiment

As usual under Balmer, MS's biggest problem is its negative reputation, which he was largely responsible for. Time for the New Guy to either flush the Consumer Marketing Group, it empower it, depending on whether they were being sabotaged or incompetent.

Haven't used Google in years. Bing all the way.

Wow. I didn't know any of this. That is kindof amazing. I actually always liked Bing. I thought their video thumbnails and image search was always top notch.

Honestly I prefer Bing as my web search.

Originally I used the google app because it accepted math formulas and conversions. Somewhere not too long ago Bing added this as well. So you can search "6 oz in g", math problems, etc and get answer in the search results. On the phone I really love the way it does the local searches. The one thing I find google seems to work better for me is with tech type searches such as error messages, coding, etc.

Was this article written by Microsoft? Anyway, as a developer, trying to find anything with Bing is wasted effort. Google delivers consistently x10 or x100 more relevant results. Bing just can't match it, even remotely.

I'm sorry, but I just cant let this comment sit unopposed. I am a software developer, working mostly with Microsoft products (VS, C#, SQL Server), and I haven't "Google"d anything for several years, and always find what I'm looking for on Bing. Maybe it's the products you're using.? I've seen this "argument" posed numerous times before and, at least in my experience, it just isn't true.

Well its true for me. .Net, C#, Windows Phone, Lin2Sql. All MS technologies. Google always finds a bunch of references. And yes I try Bing from time to time hoping it will deliver, but it doesn't. Could be the US centric nature if it, I am in Europe, don't know. Anyway, it is still very much, er, hopeless. And its not an "argument", just an observation pure and simple.

A bunch of references with Google... That's the bad point ;) with Bing you go straight to the most valuables references... ;) Try again, I'm sure you can do it with Bing ;)

If Bing did what I need, I'd use it. It doesn't, so I don't. Pretty simple. ;-)

What Josh said. I quickly find answers to my dev questions on Bing. Sometimes I head to Google for comparison, but I'm not seeing how the results are any better. Maybe it's the kinds of things I search for. Maybe Bing has more of a search history on me, and so is better able to predict the kinds of sites I find more useful.

No, I agree. This is how Bing lost their bing it on challenge with me. I searched Motorola Atrix HD XDA and Google provided the better results twice. That really is the truth. Try it.

I did see an error. With Windows Phone 8 update 3, you can now change your search engine from Bing to Google.

From france
For me... Bing for everyday and everything...
When I plug my Lenovo at office, on the second screen: Bing home page... And everyday my colleagues said "WOW"
I use Bing services: maps , translator... Everything is perfect ;)
And when I ask my Omnia 7 to find a pizza restaurant near me... It works fine ;) Two years ago, it was a little bit more difficult, but now Bing is perfect

Default browser is right, but if I need to download an app in a pinch, it works well.

This explains why I can never find what im looking for on Facebook.

And what are you looking for ;)

Here in Switzerland Bing is really bad... Unusable!

What did you mean by "unusable"... Local search? Images search?

That goes for Sweden too.

I always loved Bing. Rewards ftw! I never use Google anymore.

You might like BING and U.N O.E.O

Binger here...ill bing it all the way.

I love Bing in its own right. Far more info when just plain searching.

I love BING! Because It's Not Google!

I have completely changed my primary search engine to Bing since last December. Thanks to a search result which made me richer by a hundred bucks. Google search failed miserably on that one. Afterwards there were 3-4 searches which hit the money on Bing but trash on Google. I am outside US.

I use bing because chandler's last name is bing and love it more when monica became bing too!

I agree that Microsoft's approach to Bing has been smart. They are taking advantage of the fact that there are a lot of companies that don't want to do business with Google. Besides those mentioned in the article, search on all those Kindle Fire's is handled by Bing, Any Toyota car with a tech package uses Bing. And those are just two I know of. I bet there are many more. That is why I laugh every time I read some fianncial "analyst" or even some tech blogger who includes selling Bing as something Microsoft "must" do. First, it tells me they are either Google fandroids and second, are clueless about the role Bing actually plays for Microsoft.

The biggest problem with Google is that Google is an ADVERTISING company. That's their bread-and-butter. $50 BILLION in 2012 according to their annual report. And if you're looking for stuff... Google Shopping is all pay-to-play in the US and several other countries: http://searchengineland.com/google-product-search-to-become-google-shopping-use-pay-to-play-model-122959 http://searchengineland.com/google-switches-to-paid-shopping-results-in-11-new-countries-149280 Bing's image search filters are better, Bing's video search preview rules (just hover) over YouTube results where you have to view a video to preview a video, but WHAT BING IS LACKING: Google makes a search widget available to web devs so visitors can search just their site (even Mobile Nations uses Google's widget). I looked all over and couldn't find anything similar available for Bing searches. And I'd be willing to bet that's where a lot of Google's numbers come from... What's up with that?

I love Bing, I used to "hate" it because, well I'm human... And normal human nature goes like this. I see something (Google) and use it for a while, then I see something similar (Bing) and without trying the other thing (Bing), I say its a copy of the "First" one (Google, and mind you, its not "always the first one", but we think that because that's the first one we saw). Sadly that's how it is... And only us who started with Bing, or where bothered to try it, now know we love it :/
Windows Central Newsletter
Thank you for signing up to Windows Central. You will receive a verification email shortly.
There was a problem. Please refresh the page and try again.