You need to hear this groove by the winner of The Surface Remix Project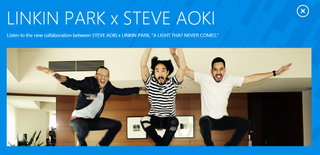 In October Microsoft decided to team up with Linkin Park and Steve Aoki to see who could best remix their song, A Light That Never Comes. Two months later, the winner has been chosen, and any fan of EDM (Electronic Dance Music) should give it a good listen after the break.
The grand prize winner, Brian Yates, walked away with $2,500, a Surface Pro 2 with Surface Music Kit, and a spot on Linkin Park's upcoming EP album. Five runners up including Alex Raniswsky, John Doe, Harel Tsemah, DJ ALOTOMANI, and Freddie Westburn, will each receive $500 and a Surface 2 for their work.
What do you think of Yates' remix? Are you ready to pick up a Surface Music Kit and drop some of your own beats?
Source: Microsoft
P.S. Viewing this story in our app or in IE on Windows Phone? The music player probably won't load since it needs Flash. Instead, head over to the Indaba Music site and take a spin at their mobile unfriendly site. Music will play though.
Yes I want my own Surface music keyboard thingie. I played with it in the Microsoft Store and loved it. Nice remix and congrats to Brian Y.

I've been trying to sell mine for the past 2 weeks. Still can't find a buyer haha

Mind sharing where you picked it up? I've been waiting for one for a while.

I won it on Twitter. I haven't taken it out of the box to use it. Brand spanking new.

How much do you want for it ?

LOL. Given that a Touch Cover is $100, that seems rather high. I think that's a little absurd.

Well, considering it hasn't been released yet and the buyer needs to pay for shipping, it's a reasonable price. There aren't many for sale and all the listings on eBay or amazon are the same price. So I know it's a good price.

Matthoms.... Are you still selling this? Please let me know!

~ M for Microsoft, Metallica and nothing else matters! Now please bring Kirk on..

Soundcloud. I'll put the mobile link up there. Gimme a sec. ...Edit. Just kidding. Not soundcloud, I'll try and find a mobile link for the music service.

Yep, despite your hate for it, it is still a web standard.

I know, nothing directed at you just wish it would die out. Frustrating that there is so much that I can't watch on my 920.

Yeah? So why IE on windows phone dose note support it?

It's the other way round. Adobe killed flash for mobile browsers.

Unfortunately, not possible to listen to the mix on my 920. Guess why...

Because you don't have a tab or a computer?

No shit?! You mean I can listen to it on my laptop?! I would never have guessed.

cool I won one of the surfaces 2 with the new blade it is verry cool indeed

I guess my remix where I just turned the volume all the way down didn't make the cut.

Yuk. As a bassplayer, I find dubstep "basslines" offensive. Congrats to the winner, but that's awful. (P.S. I'm an ex EDM DJ and fan of the genre)

You had to have like DJ Altomani's approach, then. I sure did.

Seriously? I'm a bassist, too, and I love dubstep. It's done poorly a lot, but when it's good....oh my! Although I must admit, I got so sick of Seinfeld's "bass" riffs, and they weren't done with a bass either, so I respect your opinion.

Thanks for the alternate link!

To bad. My Lumia 1020 won't play it oooppsss. Requires flash. Lol

I'm grateful for the alternative link, but I still can't hear the audio.
Edit: oops, gotta turn off bluetooth lol

My favorite was actually DJ Altomani--I think his was the most complete re-approach. I'm SO tired of dub-step, and Altomani brought a very Jamiroquai-esque feel. I can appreciate a well done funk. The chord progressions were remarkable.

LOL And I got so tired of Jamiroquai over a decade ago. Altomani does do a nice job, though.

Ok, I guess if I am being honest, I have been tired of Linkin Park for over a decade, too. :)

Never woke up to Linkin Park to get tired of them to begin with. Not a fan of hiphop/rock hybrid stuff.

Really pissed off about my purchase of Surface gen one in the hopes/intentions of creating music only to be made aware of this (not compatible with Surface RT) shit, just as the price of Gen one Surface drops to a pointless to sell level too........if Nokia's 2520 had one of these, I'd bin my Surface now i reckon :(

I was once in love with it and craved music production
Windows Central Newsletter
Get the best of Windows Central in in your inbox, every day!
Thank you for signing up to Windows Central. You will receive a verification email shortly.
There was a problem. Please refresh the page and try again.