Zomato Order launched for Windows Phone; available across 14 cities in India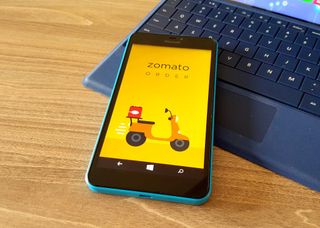 Zomato, the popular restaurant discovery app that gives you recommendations for restaurants in your area and lets you look at menus, pictures, contact info, and directions, has launched its companion app for ordering food online – Zomato Order. While Zomato has a terrific, and regularly updated, Windows Phone app, the Order app arrived after a few weeks of being available for iOS and Android.
While the primary Zomato app provides in-depth information for over 1.4 million restaurants across 22 countries, Zomato Order is available across 14 cities in India at the moment. There are Delhi NCR, Mumbai, Bangalore, Hyderabad, Chennai, Pune, Kolkata, Lucknow, Ahmedabad, Indore, Chandigarh, Kochi, Jaipur, and Coimbatore with over 10,000 restaurant partners.
The app allows you to order online from an array of delivery-based restaurants while viewing their menus and ratings. You can search by restaurant name or location, and see places that deliver to your location at a glance. You can also add frequently used locations to your address book to get your food even faster, and see all previous orders and reorder your favorites in seconds.
In a press release, Zomato informed that more features, such as online payments, search filters, and promo codes are coming soon, along with ongoing performance improvements. Zomato is one of my favorite apps, and for somebody like me who is on the 'living to eat' side of things, Zomato Order is a pretty good addition. Give it a whirl, and let us know how you like it.
Those who have changed Region fo U.S or U.K to get Cortana.... Change it back to India and download app and comeback to U.S or U.K

This app may not be available in us or uk, so those who want to use it may change their region to India!

Why would one change his/her location to US or UK when Cortana is available in India (though in Alpha) ??

Cortana in India doesn't have all the features yet.

As you said, cuz its in alpha and the us version provides better experience. Besides, wasn't the ordering part included in the main app!! In android it is.

What's up with the similar names? Abhishek1320 & Abhishek Gupta8? Just wondering. :)

I guess it's a common first name?

On my address book, I have at least 8 people with the name Abhishek! It is among the most common first names that you'll find in India :)

It's a very common Indian name.

This app is for me,as a food lover..

Great, am glad to see zomato support windows! Looks like a good app..

Great service also if only they hadn't made that mud slinging hiring campaign.

Food panda just got a strong competitor .!! XD

They could have just made this and the main app,universal

The main app is already universal. Did you mean they should've merged the Order app into the main Zomato app?

The support from Zomato is unbelievably good, and yes the UI on this is excellent. :D

Many startups such as tiny owl are considering project Astoria to port their apps on windows10.

Lucknow is there...Thanks!

Ama mian Mazak to nai kr rhe ho

I used this app when I was in India last month also used foodpanda or pandafood.... Many street food included...

There's no install button on windows phone web store?

Zomato's windows support is awesome! Btw not sure why they named it Order! When I go to my app list, I frequently end up typing zomato and not finding this app. I am wondering if this is a "marketing" tactic where they want to associate the word "order" with Zomato!

That's why there's the app search button haha

I don't understand why there is no more zomato for me in the store, both for phone or pc. And the order app I manage to reached by the direct link, but cannot install

@lucian
Is your region set India?

US. Maybe the new app is India only, but original zomato was there before

Why is it always mentioned how long it took for it to be brought to Windows phone? Don't we know By now that we get apps later? I suppose its helpful to document but it just starts to sound like all the FUD stickers about WP that are out there already.
Windows Central Newsletter
Thank you for signing up to Windows Central. You will receive a verification email shortly.
There was a problem. Please refresh the page and try again.