Zomato Windows Phone app gets new logo and adds check-in at restaurants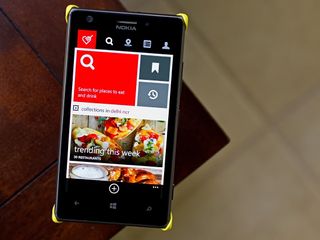 Zomato, the restaurant information app for Windows Phone, just got a big update today to version 6.0, which includes a new logo and a way to actually check into restaurants.
Here's the long change log for the new version of the app which is supported by over 100 cities in Europe, Africa the Middle East and Asia.
A lovingly crafted new logo. It represents the spirit of Zomato and celebrates the thing that connects our vast global community – our love of food. For the full story behind our new logo and brand identity, please check out our official blog.
Check-ins at restaurants. Now, you can check into restaurants you're eating at to easily access more useful information about the place. You can also tag friends you're eating or drinking with!
Friend tagging. You can now tag your fellow foodies in reviews, comments, and photo captions.
Easy-to-browse Bookmarks. Your Wishlist and Speeddial have now been neatly combined into Bookmarks; no multiple lists to worry about.
Your Food Journey. All your photos, review, and check-ins are now on a timeline that lets you track your food journey – from the day you signed up on Zomato, right up to this very moment.
Local Experts. Some folks just know their city better than others. Earn Expertise by documenting your culinary exploits in various neighborhoods.
Design improvements. Our design team's had a lot of fun with this update. You can now enjoy a smarter search bar, cleaner search result and restaurant pages, filters that require fewer taps to access and apply, a sleeker photo viewer, and a few little treats hidden from plain sight. Tweet at us if you find them ;)
A lighter, cleaner Zomato experience. This is one diet program our app's taken seriously. It's shed a ton of weight, runs faster, has lighter icons, softer colours, and cleaner fonts that'll have you spending a lot more time on it. Don't say we didn't warn you :)
What do you think of this big update for Zomato? Thanks to Yash for the tip
Windows Central Newsletter
Get the best of Windows Central in your inbox, every day!
Great support + Swart app gets two updates everyday

They changed the logo?
Love the app, helped me many times get numbers of local restaurants

I heard they're coming to North America (Toronto, at least) as well.

Microsoft can buy zomato for bing maps improvements

i can't able to search anything . Search Type box not appearing after this update.

These guys are really good at the service they provide....first app I always launch to know about any place I need to eat at...:)

Lol, I sent you guys a tip without even knowing it had been covered much earlier. Sorry about that.