Zombie Derby for Windows Phone 8, chasing down zombies in your pick-up truck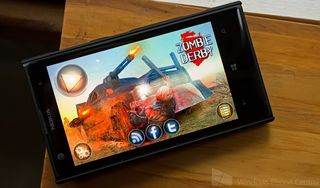 Zombie Derby is the latest undead game for our Windows Phone that has you battling the zombie apocalypse by running them down with your truck.
The goal is to see how far you can travel down the road and how many zombies you can turn into hood ornaments. You can accessorize your vehicles with machine guns, turbo boost, and spiked bumpers.
Zombie Derby is an interesting game for your Windows Phone 8 device. The game starts a little on the slow side but once you've earned enough to pimp your ride, it picks up speed nicely. It's a fun game but poorly implemented in-app purchases can hold Zombie Derby back.
When you first launch Zombie Derby, you'll be prompted to enter your screen name that will be used with the leaderboard. From there you'll be sent to the main menu.
The main menu for Zombie Derby is splattered with options that include your game settings (music/sound levels), links to the game's Facebook, Twitter and Windows Phone Store pages, and access to the game's leaderboard, achievements, and the about screen.
Game play is spread across five scenic environments that are progressively unlocked as you gain experience. You also have a tutorial level that walks you through the game's controls. There's not a help section so the tutorial does come in handy.
Before you head into the game to run down the zombies, you'll visit the Zombie Derby garage where you can choose your truck and purchase gear and upgrades with the coins you earn during game play. There are five different trucks to choose from ranging from an old step side truck to a crop harvester. As with the gaming environments, as you progress in experience additional trucks become unlocked. If you want to get a jump on things, coins can be purchased in-app.
The game screen for Zombie Derby has your truck's dashboard in the upper left corner (speedometer, fuel levels, etc), your accelerator and turbo boost (when equipped) controls in the lower right corner and your weapons control (again, when equipped) in the lower left corner. Along the bottom of the screen is a progress bar noting how far you've traveled. You control your truck's balance while airborne with your Windows Phone tilt controls.
Game play is simple, drive your truck down the road, smash through obstacles, jump canyons and run over as many zombies. Your score is based on the number of zombies you flatten and the distance you travel before you run out of gas. You can earn bonus points by flipping your truck and doing other stunts. The more points you earn, the more coins you earn.
As your zombie kills increase, you'll eventually move up through the ranks unlocking additional gaming areas and vehicles.
For the most part, Zombie Derby isn't too shabby of a game for your Windows Phone 8 device. Graphics and animations are good but game play starts out a little on the slow side because you have very little gas in the tank. Once you use your coins to upgrade your fuel supply then the game picks up speed. I am a little surprised that the game doesn't have fuel cans scattered about the road that you can collect and extend your travels and game time.
Which brings me to what may be the biggest drawback to Zombie Derby. Each time you play a round, you deplete the garage's fuel stock that is used to fill your truck's fuel tank. Your fuel stock is automatically replenished over time but if you play too frequently, you'll get a warning that you don't have enough fuel and can use your coins to re-supply things. On the plus side, I was able to play about ten rounds of Zombie Derby (about fifteen minutes worth of gaming) before seeing this warning. That may be enough game time to satisfy many but if not, you'll have to pony up some coins.
If you've collected enough coins playing Zombie Derby, this isn't such an issue. But if you've used your coins to customize your truck, you'll have to either wait for the fuel stock to replenish or buy coins through the in-app purchase. I couldn't help but feel as though the game was steering me towards buying coins so I could keep playing.
I understand the role IAPs have with Windows Phone games but they need to be done right. IAPs can help you get a jump on purchasing game boosts, upgrades or other items that helps with your game performance or used to buy additional gaming levels. But to use IAPs to keep playing the game itself kinda turns the game into a coin-op arcade game.
I think Zombie Derby has potential but really is held back by poorly implemented IAPs. If you don't want to buy coins to re-stock your fuel then you'll have to wait a significant amount of time to resume game play, which sucks the addictiveness and entertainment value right out the window. Zombie Derby is strong enough to have been a paid game without the need for the IAP. I would have rather paid $.99 for Zombie Derby and dialed back the role of the game's IAP.
Again, Zombie Derby is an entertaining game but you need to pace yourself with game play and spend your coins wisely. It is a "free" game for your Windows Phone 8 device that you can pick up here in (opens in new tab) the Windows Phone Store.
George is the Reviews Editor at Windows Central, concentrating on Windows 10 PC and Mobile apps. He's been a supporter of the platform since the days of Windows CE and uses his current Windows 10 Mobile phone daily to keep up with life and enjoy a game during down time.
Wow, why is it taking so long for WPCentral to get their own notification sound ;)

Reminds me of Carmageddon!

Its a fun game, but it always freezes on me in the second area.

HeroCraft, please publish this game here in the Brazilian Windows Phone Store. You can use PEGI or ESRB certificate to do that. I can help.

As my 3 year old son would say: zombieeeeeeeee :)

How about porting it to WP7?

We all know that isn''t going to happen. I feel your pain but let it go.. move on..

You need to stop asking that, Lance. It's getting old.

A game where you run over zombies in your truck? Sounds like my kinda game! It should hold me over until I can build a flame thrower steam roller bike in Dead Rising 3 at least.

I agree. I feel like I can't put too much time in playing without IAP. Makes it kinda suck. Otherwise I liked it.

Game keeps freezing on my 920 ANNOYING

It isnt just 920, man. It freezes in the 2nd area. It kinda sucks.

I'd rather pay a flat $3 to get rid of the fuel limit....wtf. Otherwise its the most fun I've had with a game on my phone in a while!

Good game but it really forces you to buy in app purchases.
Thanks anyways...played a while then uninstalled.

Yeah I may end up doing the same. The developer pretty much gimped the game by doing that.
EDIT:
I've decided that I'll keep on my phone. Even if I can only play in 15 min increments every two hours. Its a guilty pleasure in having too much fun with.
Windows Central Newsletter
Get the best of Windows Central in in your inbox, every day!
Thank you for signing up to Windows Central. You will receive a verification email shortly.
There was a problem. Please refresh the page and try again.