Zombies!!! escapes to Windows 8. Celebrate with this Xbox Live developer interview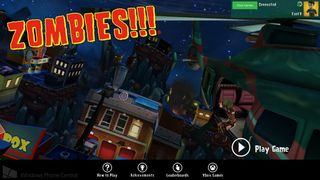 Babaroga's Zombies!!! was an early Xbox Windows Phone exclusive that still commands a loyal following from board game fans. I fondly remember buying it about a month before joining the Windows Phone Central staff, and subsequently advocating for an update to make one of the Achievements more easily attainable.
Jump ahead to the present, the Xbox Windows 8 and RT version of Zombies!!! has finally gone live. We previously covered some of the new version's features and improvements, and now PC and tablet gamers can experience the enhanced game for themselves. To get everyone in a zombie killing mood, we present this interview with Andreja Djokovic, the CEO and founder of Babaroga.
Hey Andreja. What's been going on in the Babaroga offices since we last interviewed you?
Original Zaxxon arcade game
We have been supporting the Windows 8 platform with a number of titles. The first one to release is Zombies!!! which [is now the 12th bestselling app] in the store. In addition to that, we are bringing Zombies to iOS and Android.
We have made exclusive development relationship with COLECO with additional classic titles that will be making out to the market soon. Many more surprises to come soon, but we are determined to support Windows platforms as wells iOS and Android with high quality content.
And you know you are a gamer if you remember Zaxxon. Look for it on Kickstarter soon. It will be the game which fans remember and [still] want to play… As I said many, many surprise to come from Babaroga in a very short amount of time.
Seeing as how we're talking about a zombie-themed game today, what's your opinion of the current season of The Walking Dead?
The current season of The Walking Dead is brutal! I just hope Merle continues to lose limbs that can be replaced with more medieval weaponry. And I can't imagine how many zombie ears Daryl must have squirreled away at this point. Maybe he plans to sell necklaces on Etsy when the internet is re-invented.
Now then. Zombies!!! is the first game to feature Xbox Live Avatars using weapons and battling nasty zombies. How did you manage to break that ground?
Fortunately, killing zombies is the responsible thing to do. You can't just have them wandering about. It would have been irresponsible to NOT arm the good-natured Avatars with the proper tools for the job. Once the Xbox Avatar team saw the playful nature of our game, they were onboard with us. It took a few passes to get it just right, but ultimately they approved everything.
Why do you think so few Xbox games use Avatars during actual gameplay?
If Avatars are not planned for, very carefully, at the start of development, then it becomes increasingly more difficult to integrate them. I would imagine, with all of the limitations and approvals necessary, many developers choose to just bypass it all together.
How long was the Windows 8 version of Zombies!!! in development?
A bit over a year. Integrating Avatars was a large chunk of that.
And how long before we start seeing DLC expansion packs for the Windows 8 Zombies!!! game?
Slow it down, good sir - we just got into the store! Get to work on all of those Achievements and before you know it, there will be updates and expansions waiting for you. No release dates yet, but this is merely the beginning for Zombies!!!
Windows 8 is still a pretty new platform. What kind of challenges did you face while making your first game for it?
The certification process for such a new and wide-reaching platform has been constantly evolving. Keeping up with these changes has certainly been a challenge. Also, being the first to use Avatars in-game for Windows 8, we had to carve that trail mostly on our own… Lots of thorns on that trail.
How do you view Windows 8 as a gaming platform? Can a closed marketplace thrive in the traditionally open world of PC gaming?
I believe so, especially given its tablet- and touch-focused approach. However, [that success] will require developer support to fill up the store with more titles. Until the certification process becomes more streamlined and the platform stabilizes in the market, I don't know how much of that developer support we will see.
Speaking of tablets… A Nokia tablet: good idea or bad?
Absolutely a good idea! Nokia has gone to great lengths to promote and push adoption of the Windows Phone 8 platform. They have personally sponsored the arrival of many great games and apps to the platform doing so under their name, while constantly pushing the boundaries of what the platform can do. Nokia is a known innovator who is invested in the success and potential of Windows 8. Unless that tablet says "N-Gage" anywhere on it, I think it's a safe bet. (Hey, I used to own a slim N-Gage! –ed.)
How is Shuffle Party for Windows 8 coming along? Will it be enhanced in any way compared to the Windows Phone game we all love?
It will be enhanced in ALL ways. Check it out!
Finally, I know you don't want to be pigeonholed as a developer of board games, but Babaroga pulled off Zombies!!! so well. Are there any other board games you'd care to adapt if given the chance?
Did you ever play Omega Virus? I always thought that would be a ton of fun to remake. Oh! Maybe an asynchronous Blokus! I don't know if Key to the Kingdom would translate well, but I'd sure love to give it a shot. Or maybe… Well, I should stop here. There are countless games we'd love to adapt if the opportunity arose.
Hope you enjoyed the interview, radical readers. We'll be meeting with Andreja in person at GDC in less than two weeks' time, so look forward to more news and insights soon!
Zombies!!! for Windows 8 and RT costs $4.99. Get it here at the Windows 8 Store. The Windows Phone 7 and 8 game costs the same price – here's a store link.
Get the Windows Central Newsletter
All the latest news, reviews, and guides for Windows and Xbox diehards.
Paul Acevedo is the Games Editor at Windows Central. A lifelong gamer, he has written about videogames for over 15 years and reviewed over 350 games for our site. Follow him on Twitter @PaulRAcevedo. Don't hate. Appreciate!