Zoo Tycoon Friends announced for Windows Phone and Windows 8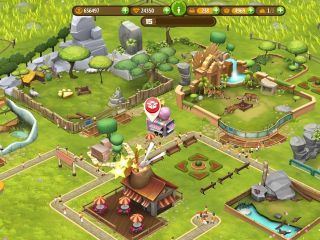 Microsoft has announced plans to release Zoo Tycoon Friends, a new entry in the long running zoo simulation game series that will be developed specifically for Windows Phone and Windows 8 devices.
The game, which is being developed for Microsoft by Behaviour Interactive, will allow gamers to take control of their own zoo, with over 40 animal species to take care of inside its borders. Gamers will have to create habitats for their animals and keep them well fed and protected, while also keeping their visitors happy with things like concession stands and other activities.
The Windows Phone and Windows 8 versions will be synced together so that progress on a Windows Phone device can be saved and then continued again on a Windows 8 tablet or PC, and vice versa. There will also be new Xbox achievements to be unlocked and leaderboards to compare your scores and progress with others.
The game will be free-to-play and will be released sometime later this summer. What do you think of Microsoft releasing this new Zoo Tycoon game for mobile devices?
Source: Microsoft (opens in new tab)
It would be so wonderful if they'd keep it as close to the original pc game as possible. But they won't.

Nope, because there will most likely be microtransactions.

Say NO to Microtransactions!

Still expecting some good a$$ time though...

It would also be good if you could actually fill the zoo up. The Xbox one version was complete crap because you couldn't add much at all rendering the game pointless very quickly

Agreed. The xbox one version isn't really playable when you can only fill 1/3 of your zoo

This is good for teaching children about animals.

Also good for exploiting them with IAPs.

so true, we already have the exact same game in Ice Age

Isn't age of empire also due this summer....and does late summer include august?

Big games are due in summer. Halo5 for wp is due in december

Who told halo 5 is coming? Are u jocking or have I missed it?
Posted via Windows Phone Central App for android

Yeh! Age of Empires! Hope it is first for WP.

Summer in the northern hemisphere runs from the summer solstice, which this year began on June 21st at 6:51am EDT, to the autumn equinox, which this year begins on September 22 at 10:29pm EDT. So, yes, summer includes late August.

This is great news. Some ppl can't be happy lol :D

I loved Zoo Tycoon as a kid, would be great to play again on my phone!

I loved playing all the tycoon games, Rollercoaster, Zoo, Train, School and of course the ultimate simulator, the Sims :D

XBOX Achievements YESSS Must download

Xbox on windowsphone is already dead

Obviously you don't know allot about this WP Xbox situation, do u?

Tell me more about that then

It's now just for first-party games.

I'll like to hear as well...

If this game is coming out for Windows Phone and this game has Xbox achievements, then Xbox on Windows Phone is not already dead. Suck on that walnut. #SaveXboxWP, baby.

Well i'm still waiting for the revival though

Don't wait: help make it happen. Join the #SaveXboxWP movement. Go here for links to UserVoice votes on WP and Xbox to help bring ID(at)Xbox to WP and Windows 8.

Very intuitive
Just hope that M$ wouldn't fk shit up:/

Lets hope its as good as Modern Mayor :)

Modern Mayor was good at the beggining, but when you got to level 40 it just got ridiculous with the exponential XP increases to level up, so I stopped playing it; it became a grind fest and not fun at all. So unless they fix this in MM I would not call that game a huge success.

MM was garbage. The whole "Energy" thing ruined it. Also, once you get up to a certain level its literally impossible to play without paying for ingame items. I deleted it quickly once that happened and gave it a 1 star review.

"Save WP Xbox" naggers are going to be happy with this game :D

Here, I fixed it for you: "#SaveXboxWP heroes are goign to be happy with this game".

I enjoyed the demo on XB1 so I'm happy about this.

Want roller coaster tycoon 4 too which is released only on ios

First thing crossed my mind +520

According to the Atari facebook RCT4 is also coming to Android devices, and a higher res advanced version is coming to traditional PC's. Its possible it could come to Windows Phone as well with enough begging but I personally have not seen an Atari game on Windows Phone.

To be able to continue progress on win8 and Xbox achievements, sounds good!

The first ever theme park game needs to be released!! I loved that game but no micro transactions please!!!! I would rather pay for the game.

I'm downloading this once it releases. Bonus points if WP and W8 versions sync with one another.

Really? You didn't read the article did you? -920 on reading comprehension.

You caught me. I only read the first paragraph. That teaches me not to simply skim an article before commenting.

Xbox enabled? At least from MS

Hell yeah, pls don't put there too much iap's and it will be kawaii! ;)

I'd love to play this on my WP :D

It's Xbox Live enabled, then I'll play it. If it ends up with the Xbox Live achievements ripped, I'll do what I do with all the other non-Xbox games: ignore it.

I wanna ask that can normal games be converted to Xbox games? I mean first release it for wp then in its next update make it Microsoft can ask permission from the game devs to make that they can make it Xbox live

Yes it can be done.
Lets take an example of asphalt 8.
If Gameloft releases an update to support xbl right now, they can.

I think its awesome news.

Exciting news! Once released, I'll will get that game instantly.

A Microsoft free-to-play game, nice try after money grabs in previous such games. Stay away from it, stay as far away as possible or you will get screwed over like everyone who played Age of Empires Online.

Don't get me wrong, I loath the free-to-play trend in mobile gaming. That said, some are more egregious offenders than others. From Microsoft, here are some bad ones and good ones and excellent ones on Windows Phone / Windows 8: [Bad] Hexic, Throne Together, Kinectimals; [Good] Secrets and Treasures; Snap Attack; Wordament; [Excellent] Project Spark. So, while we should all be skeptical of this game, we shouldn't dismiss it yet. It could be a good one.

And I keep dreaming with the rise of Tentacles and Taptiles on Windows Phone...

No Xbox,no download! #SaveXboxWP Jk,I'll download it anyways,xbox or no xbox :p But,I'm pretty sure that since it's from MS,it'll probably be xbox certified :)

Did you not read the article? It clearly states that it will be Xbox enabled.

Hey some good news for a change, fun game and Xbox all the way!

Yeehaw! Old memories present device.

Yea Microsoft, Atleast get this available for 512 mb devices!

I want age of empire!! T_T

I can only imagine the microtransaction horror. My sister tried Kinectimals and had to give it up quickly because of how bad the game was on that front.

Same here! Didn't even earn ONE achievement before quitting.

Cool. I enjoyed playing this game in the past

Did I see achievements?.... Mind blown :-)

Free to play is epic fail we have this same game with 1.5billion skins

Linking in with the Xbox is superb, but late. Good to see though. Hopefully no micro transactions.

I thought it was supposed to be zoo fighting!

Everyone should thank all the #SaveXboxWPers for this game. Good work, guys. Good work. In that vein, the title of this article should state that it's Xbox enabled. Because journalism.

Before any other thoughts: screw microtransactions. Make this into a comprehensive business simulation like previous Tycoon games on PC, and I for one won't mind paying $20 for it. Nothing ruins gaming experience like being asked to pay for crap every once in a while.

Maybe a FTP version with common FTP elements, but an option to "Upgrade" the game to a full version without those elements?

"free to play" No thanks. Microsoft and Free to play don't mix. *Cough* Age of empires online *Cough*

Aw yis! I was looking for this game in the store just yesterday! And all I found were some dodgy clones... I loved playing Zoo Tycoon on PC so hopefully it'll be great on WP as well. Looking forward to it!!!


Ahh Nostalgic, Used to play on PC,loved to gather so much visitors in zoo and suddenly delete the fencing of the cage of Tigers.They jump on visitors, grab and throw them .Suddenly all visitors starts becoming unhappy.Again I put Tigers back, built more shops , attract more visitor and again the evil fun goes on....
Windows Central Newsletter
Get the best of Windows Central in in your inbox, every day!
Thank you for signing up to Windows Central. You will receive a verification email shortly.
There was a problem. Please refresh the page and try again.