10 Xbox and PC games we hope to see announced in 2018
There are plenty of good games for Xbox and PC coming out in the upcoming year, but people always want to know what the future holds. Here's a list of ten games that we would love to see announced in 2018.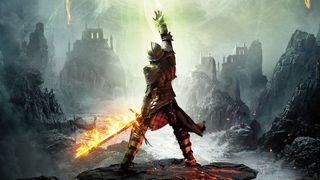 New projects in the gaming industry are always being revealed as the years go by, and 2018 isn't likely to be any different. We can expect a plethora of titles to be announced this year, but there are ten that we'd love to see more than any other.
Dragon Age 4
BioWare's biggest franchise is arguably Mass Effect, but coming in right behind it is Dragon Age, a critically acclaimed fantasy RPG series. After the first two successful games (and Dragon Age: Inquisition in 2014) a fourth entry to the series this year is not only possible, but expected.
Halo 6
Microsoft's flagship series has experienced somewhat of a dry spell ever since Halo 5 stopped receiving content. Though Halo is as strong as ever in the novel department, fans of the games are anxiously awaiting news about the next installment in the franchise. Considering that Halo 5 is two years old now, it would be quite a surprise if no news about its sequel came in 2018.
Grand Theft Auto VI
Rockstar's most popular series is undoubtedly Grand Theft Auto, and 2013's Grand Theft Auto V was widely considered to be an open world masterpiece. After the release of Red Dead Redemption 2 this spring, there's a good chance that the next GTA title will be Rockstar's main focus going forward.
Left 4 Dead 3
One of the most popular zombie franchises of all time is Valve's Left 4 Dead series. Featuring squad-oriented gameplay, a large amount of special infected enemies, and creative level design, the Left 4 Dead name is legendary. Since it's been almost a decade since the last one released, a new game would be amazing.
Portal 3
Considered a classic in the puzzle game genre, the Portal series has always been a fan favorite thanks to its charming, humorous stories and challenging, thought-provoking puzzles. A third Portal game would be great to see, especially since this genre has been somewhat lacking in recent years.
Star Wars: Republic Commando 2
Though it wasn't a major commercial success, the tactical shooter Star Wars: Republic Commando was received incredibly well by critics and regular audiences alike. A sequel has been a long time request from the Star Wars gaming community, and a well designed linear squad shooter is something that hasn't graced the markets in awhile.
Star Wars: Knights of the Old Republic III
The Knights of the Old Republic games are heralded by many RPG fans as some of the best in the genre, and for good reason: they boasted a solid Dungeons & Dragons inspired combat system, excellent storytelling, and stellar music and sound. Though BioWare's MMO Star Wars: The Old Republic was generally liked, a true sequel to Knights of the Old Republic II has never been made.
BioShock 4
BioShock Infinite, the third game in the franchise, was a hit with the gaming industry. This was expected, though, because BioShock has always had a history of well-written stories, strong gameplay mechanics, and creative worlds for the player to explore. Irrational Games, BioShock Infinite's developer, has since shut down, but the intellectual property still rests in the hands of publisher 2K Games. Hopefully, they have plans for BioShock that they'll reveal to us this year.
Borderlands 3
Borderlands was one of the first games to merge the depth of a massively multiplayer online role playing game with the action-packed experience of a first person shooter. The result was a huge success. Borderlands 2 expanded on what made the first game great, and is one of the most successful games that 2K Games has ever published. After the mixed reception of Borderlands: The Pre-Sequel, developer Gearbox Software likely will try to recapture the magic of the series with a new game.
The Elder Scrolls VI
The Elder Scrolls V: Skyrim was so popular that it grew into something of a role model for other open world games to look up to. Skyrim's success only added to the already well received titles in the Elder Scrolls franchise, and with over six years passing since the game's release, fans are looking forward to seeing if the sixth installment of the acclaimed series will be revealed in the new year.
Your thoughts
What games would you like to see announced this year? Let us know.
Get the Windows Central Newsletter
All the latest news, reviews, and guides for Windows and Xbox diehards.
Brendan Lowry is a Windows Central writer and Oakland University graduate with a burning passion for video games, of which he's been an avid fan since childhood. You'll find him doing reviews, editorials, and general coverage on everything Xbox and PC. Follow him on Twitter.
Cuphead 2, completed the first one... It was easy.
...joking, F?!*# that game, it's soooo hard! But seriously, a new title from Rockstar would be awesome (Bully was so much fun and LA Moore had great immersion). New Crysis to set the scale for benchmarking again? 😂

*Noire haha damn autocorrect.

I really hope Bully 2 is Rockstar's next game, the first one is one of my favourite games of all time, it's more than just GTA at a prep school, it's much more than that. Also the guy who voiced Jimmy Hopkins, Gerry Rosenthal, has a YouTube channel, he did a livestream of him playing Bully a couple of month ago:
https://www.youtube.com/user/gerber753 I don't think they'll announce GTA 6 anytime soon, especially since they're releasing so much content for GTA Online (and making tons of money off of it from players buying Shark Cards) And I think that Red Dead Redemption 2 will have some sort of online element, possibly similar to the fist game or GTA Online

i bet EA is gonna screw up DA 4 . They kinda fixed the franchise with Inquisition after the disaster of Dragon Age 2 and they are going to kill it with microtransactions and/or and buggy launch now . I am waiting patientrly for the next Tomb Raider

Yeah, I wouldn't have wrote Dragon Age 2 as "successful" because people bought it thinking it would build off the greatness of the first. Inquisition was far better than the second entry.

Cyberpunk 2077... I mean technically it's been annoucned but there's been little to no info since the trailer 5 years ago.

It will launch in 2019 or 2020

At this point I've given up all hope.

Valve makes video games? I thought they were a private equity firm.

Ninja Gaiden, Killer Instinct 2 or Season 4, Splinter Cell and Titanfall 3 or MechAssault

Half Life 3. That's all I want before I die.

Left 4 Dead and Portal 3? Brendan, Brendan, don't you know? Valve doesn't know how to count to 3! 😛

I don't think we'll see The Elder Scroll VI anytime soon, especially since Bethesda is heavily focused on The Elder Scrolls online (and making money from it) but who knows, Bethesda could surprise us at E3 2018 with The Elder Scrolls VI

Most of this seems totally unrealistic. I doubt we see ANYTHING from Valve, let alone two sequels to franchises that have been in relative mothballs. Honestly, IDK why people even care for another Left 4 Dead. The games were insanely shallow and redundant, I'd much prefer a new Dying Light or just about any other zombie franchise (though Dying Light is the only zombie title I've been a real fan of). Once you get past the initial jump-scare reactions of a new player facing the Witch and Tank and Horde for the first times, it's not really an interesting game. It's not particularly challenging, the AI is far from complex or exciting, the combat is really shallow, and there's no plot. Rockstar's also insanely slow with releases, so I doubt they would to back-to-back years fo their biggest franchises. They showed with GTA V that they love to roll with one cash cow to milk on microtransactions, if the market lets them. They'll definitely try to do that in RDR2, if they can, then sit on GTA VI until the market dries up for digital cash (heck even GTA V is probably still lucrative enough to skip on a new release for a while longer). GTA VIin 2018 would be a big mess up, IMO, as it would take too much potential money and attention from RDR2. Halo and Borderlands seem like the only ones with a real shot of coming out in 2018, if at all. BioShock probably wouldn't want to release from the same publisher and fight with Borderlands, so it would make sense to have it for 2019 instead. It's the same thing with Rockstar--why put two competing franchises out together and lessen your potential market?

pretty sure they meant announced in 2018 for all those games and not released in 2018.... None of those games will release in 2018 it's evident anybody could guess that

Exactly. 'GTA VI' would likely be released Spring or Fall of 2019.

Actually, I fully expect the next Halo WILL launch this year. We have also seen Bethesda do a short announcement-to-release with Fallout 4. I could see Borderlands 3 out this year, given it's been a long time and 2K doesn't really have anything else to sit on.

I doubt there will be any release from Valve and I am pretty certain that Bioshock is over, as Ken Levine dismantled the studio to focus in smaller projects. Bordelands 3 is probably on spot and I guess it is already time to check with Halo 6 development, if not a release. Also, because XBox One is being justily criticized to have a lackluster line of exclusives when compared to Sony and Nintendo, and that most of the announced projects should be relesead this year, I wouldn't be surprised if Microsoft would try to show a bunch of new titles during E3.

Ryse2, Sunset Overdrive2, Gears of war 5, Forza Horizon 4, Cuphead 2, Alan Wake 2. + some new 1st party IPs.

I just want some new IP. Maybe a new RPG in the vein or Blue Dragon or Lost Odyssey. I played all the Halos and Gears games but I think they need a good resting period.

I would like to see Anthem released this year.

Oh YES!! I can't wait to pay for loot boxes to win after paying 100 bucks to be allowed to pay again!!!