10 games you won't want to miss during the Steam Winter Sale
As 2017 draws to a close, Steam has launched its annual end-of-year sale, offering a huge number of titles at low prices. Here's ten of the best games you can pick up during the event.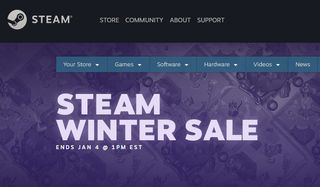 'Twas the big Winter Steam Sale, and all 'cross the net,
gamers held tight their gift cards and searched for titles to get.
From RPGs to Shooters, there were games aplenty,
most at a price that was well under twenty.
People rejoiced as the store pages quickly loaded,
while their Steam wallets' contents were quickly eroded.
They dashed to their libraries, one by one with their haul,
and merrily cheered as they clicked on "install."
They anxiously waited for their games to be ready,
with cursors poised over the play button, steady.
And as their installs were finally completed,
all real life priorities took a backseat, defeated.
Friends, these are the stories of Winter Sales past,
but be of good cheer, for they're sure not the last.
One is live right now, as if on cue,
so here are ten games that are just right for you.
Cuphead
This indie run-and-gun action game has been a hit for gamers this year, and for good reason: it offers satisfying gameplay and a unique art direction for a good price. It won several accolades from various game awards for its visuals and design, and continues to sell strongly. It is currently on sale for $16.99.
Night in the Woods
Night in the Woods is a narrative adventure game that explores the themes of growing into an adult powerfully. Though the lighthearted visuals may trick you into thinking otherwise, the story here tackles serious themes. It's a well written experience full of emotion and impactful moments. Right now, it's $14.99.
Rainbow Six: Siege
If you're a fan of highly tactical, skill-based first person shooters, than Rainbow Six: Siege is the game for you. Playing as either a defender or attacker of a structure, you must work with your team to outsmart your opponents in order to come out on top. Combat is intense, and each moment in this game might be the difference between victory or failure. Rainbow Six: Siege is available for $8.99.
Dark Souls III
Dark Souls is known in the gaming industry as a series that challenges the skill of its players. It's a franchise that isn't afraid to punish you for mistakes, and Dark Souls III is no exception. People who love a tough challenge, dark fantasy environments, and role-playing game mechanics will find the latest installment of Dark Souls a great fit. It currently costs $14.99.
The Long Dark
The Long Dark is a hardcore indie survival game that pushes you to scavenge your surroundings in order to make it through the winter days of the Canadian wilderness. In order to ensure survival, you need to explore, hunt, craft, and improvise strategies to overcome Mother Nature. It's on sale for $8.74.
The Witcher 3
The Witcher 3 was arguably 2015's most acclaimed title, with a story-driven open world in a beautiful fantasy setting. You play as Geralt, a highly skilled monster hunter who is tasked with finding a child from an ancient prophecy. The sheer amount of content present in the game has led to it being considered one of the best open world games ever. At the moment, its price is $19.99.
Tabletop Simulator
Video games are awesome, but sometimes it's fun to play the classic board games, too. That can be difficult to do online, but Tabletop Simulator makes it possible. It's many games in one, with classics like chess, checkers, dominoes, and more in a virtual setting. You can even make your own games! It's available for $9.99.
Borderlands 2
Even after five years, Borderlands 2 stands the test of time. Between the diverse cast of characters, different classes to choose, creative art direction, fantastic music, satisfying mechanics and humor-driven story, it's hard not to love Borderlands 2. It's on sale for $4.99.
Shovel Knight: Treasure Trove
Returning to the days of classics such as Ninja Gaiden or Castlevania, Shovel Knight is a 2D platformer action title that features fun gameplay, a solid story, and retro pixel graphics. Before you know it, you'll sink hours upon hours into this game, and enjoy every second of it. It's priced at $19.99 right now.
Ori and the Blind Forest
Ori and the Blind Forest is a breathtaking puzzle platformer that combines exceptional mechanics with phenomenal visuals and music. The story of the game is simple, but incredibly touching, and all of this comes together to create an experience you'll never forget. Right now, it's $9.99.
Your thoughts
What are some of your favorite Steam games on sale right now? Let us know down below. Remember, the Steam Winter Sale ends on January 4, so make sure you check it out before then.
Get the Windows Central Newsletter
All the latest news, reviews, and guides for Windows and Xbox diehards.
Brendan Lowry is a Windows Central writer and Oakland University graduate with a burning passion for video games, of which he's been an avid fan since childhood. You'll find him doing reviews, editorials, and general coverage on everything Xbox and PC. Follow him on Twitter.