10 hidden gems on Xbox Game Pass you haven't played yet
Let's dive into a collection of buried treasure available on Xbox Game Pass.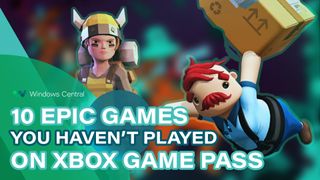 (Image credit: Windows Central)
Microsoft recently revealed that Xbox Game Pass has surpassed 10 million users. To celebrate this massive milestone we'll be showcasing 10 hidden gems on the service you probably haven't played yet. Let's dig in!
10. Demon's Tilt (WIZNWAR/FLARB LLC - Console/PC)
Demon's Tilt is an aggressive and unlikely mashup of two wildly different genres. Part classic pinball, part Castlevania-inspired bullet-hell, this frantic indie gem is an explosion of beautiful chaos. Your pinballs serve as weapons to smash your way through hordes of enemies and over-the-top boss fights. Gorgeous pixel-art, vivid colors, and a killer soundtrack deliver a complete sensory assault. Initially, I tried the game out of pure curiosity but ended up leaving with a huge smile on my face. If you're looking for the most metal pinball game ever made, this is it.
9. The Gardens Between (The Voxel Agents - Console/PC)
The Gardens Between is a gorgeous puzzle-platformer where two teens use a unique time manipulation system to progress through incredibly stylized stages. The core gameplay loop involves moving forward, which progresses time, and moving backward, which rewinds it. Nostalgic visuals and simplistic gameplay offer an almost meditative experience unlike any platformer I've played before. While it isn't the most action-packed title Xbox Game Pass has to offer, it does provide a short, sweet, and touching adventure.
8. Totally Reliable Delivery Service (We're Five Games - Console)
We're in the middle of a ragdoll-focused, physics-based game renaissance right now and Totally Reliable Delivery Service is definitely a part of it. It's a janky work of art. With four-player online co-op and a massive island to flail around on, this is the complete package for folks looking for dumb fun with friends. Ultimately, your goal is to collect jobs and try to deliver items with minimal damage. The dramatic physics and hilariously inconsistent controls make completing even the simplest tasks feel like a major accomplishment. For players looking for something a bit more sophisticated, you can also knock your friends out with farts.
7. Blazing Chrome (JoyMasher - Console/PC)
Blazing Chrome is the best Contra game to release in 20 years. With serious inspiration taken from all the best 2D side-scrolling shooters, this retro-throwback nails the look and feel of a classic era in gaming. The gameplay is tight, the character designs are perfectly 90s and the soundtrack absolutely slaps. I beat this game multiple times with several different characters and still wanted to play, which is a huge testament to just how great it feels to play. Grab a friend for some couch co-op and travel back to a simpler time.
6. My Friend Pedro (Deadtoast - Console/PC)
Remember the first time you played Max Payne and spent hours just diving around in bullet-time? My Friend Pedro is that feeling boiled down into a fast-paced platformer. Stylishly murdering enemies with slow-mo while riding a skateboard is not only endlessly satisfying but also damn cool looking. Uniquely designed stages and a deeply engaging combo system keeps the gameplay feeling fresh all the way through. With a focused and arcade-inspired progression system, you'll always be trying to one-up your last score.
5. Gato Roboto (doinksoft - Console/PC)
Are you a fan of Metroid? What about cats? If you answered yes to either of these questions, Gato Roboto is totally something to keep on your radar. This Metroidvania was obviously crafted by a team that loves action platformers, with amazing nods to games like Mega Man and Sonic the Hedgehog. Its distinct two-tone art style allows the player to unlock various color schemes that drastically change up the look of the game while you play, including iconic palettes such as Virtual Boy and Tamagotchi.
4. For the King (IronOak Games - Console/PC)
For the King is basically Dungeons & Dragons for the lazy, which in my case, works out beautifully. Gather up a few close friends in either online or local co-op and embark on a variety of predesigned campaigns with distinct missions and randomized encounters. With a slew of unlockable characters and content, classic tabletop inspired maps, and a wide range of enemies to defeat, there is a huge amount of RPG fun to be had here. There's no beefy player's manual or over-zealous dungeon master needed to fully immerse yourself in this fantasy experience.
3. Wizard of Legend (Contingent99 - Console/PC)
Wizard of Legend is a randomly generated, dungeon-crawling, roguelike RPG. While we've seen these adjectives used to describe countless games before, there's something truly special about this magic-focused take on the genre. Unlocking various spells and runes slowly work towards fulfilling the ultimate power fantasy of being a legendary wizard. With a huge amount of customization and fast-paced combat that rewards experimentation, every run feels challenging and rewarding. You can also shout Harry Potter spell names at your pets while playing and revel in their confused looks.
2. Void Bastards (Blu Manchu - Console/PC)
Fans of pulp sci-fi comics, System Shock, and generally rad first-person strategy shooters will find a lot to love in Void Bastards. Vividly hand-drawn enemies and environments give this game an incredibly unique comic book-esque look. Taking design inspirations from iconic titles like Bioshock and DOOM, this is what some might call "a big brain shooter." Docking on an enemy vessel is a delicate balance of resource collection and management that makes your every decision crucial to your survival. Neon colors, awesome space gadgets, and goopy alien guts make this one of the most engaging shooters released in recent memory.
1. What Remains of Edith Finch (Giant Sparrow - Console)
What Remains of Edith Finch is a gripping and devastating video game experience. I went in with little information or context and in a brief two-hour session left overcome with a wide range of powerful emotions. Masterful game design and haunting storytelling push you through the painful memories of a family with a tragic past. There has never been a game that has taken the same emotional toll on me as What Remains of Edith Finch. This is the perfect example of how video games as a medium can offer experiences that simply can't be matched by other forms of art or entertainment. File under 'B' for bawled my eyes out.
Share your thoughts below!
Have you played any of these hidden gems on Xbox Gamepass? If so, what are your favorites? Let us know in the comment section below! For more Xbox & PC focused video content, be sure to subscribe to our YouTube channel!
Are you an Xbox Game Pass subscriber?
Over 100 games for one low price.

Interested in trying these hidden gems on Xbox Game Pass? Make sure that subscription is active and ready to go!
Main
Get the Windows Central Newsletter
All the latest news, reviews, and guides for Windows and Xbox diehards.
Miles Dompier is a Freelance Video Producer for Windows Central, focusing on video content for Windows Central Gaming. In addition to writing or producing news, reviews, and gaming guides, Miles delivers fun, community-focused videos for the Windows Central Gaming YouTube channel. Miles also hosts Xbox Chaturdays every Saturday, which serves as the Windows Central Gaming weekly podcast.