12 days of tech tips: OverDrive apps deliver (free) library ebooks and audiobooks
If you have a local library, and a library card, you're going to love the OverDrive app for Windows 10, which brings literally thousands (millions?) of free ebooks and audiobooks to your PC, tablet and phone.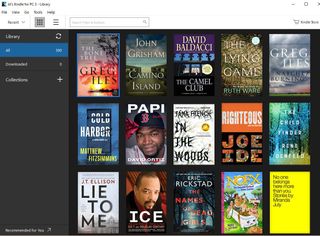 If your holiday travels are taking you over some rivers and through some woods this year, you're going to want a good book to keep you company. What's the best kind of book? Why, a free book, of course.
That's just what you get at the library, right? But library books are often, well … beat up and disgusting (you know some random guy read that book on the toilet). And you have to, you know, actually go to the library to get and return them.
But ebooks and audiobooks are a whole different story. If you live in a city, suburb or another area with a local library, there is a great chance that it offers some sort of digital catalog. And if your library offers digital books, the OverDrive for Windows 10 app could be your gateway to a seemingly endless selection. The app is also available for macOS, iOS, Android and Chrome, and it syncs across devices.
Seriously, if you're a reader and you don't use OverDrive, you are getting left out in the cold. So, come on in, where it's warm …
Getting started with OverDrive for Windows 10
First things first, you need an account at your local library, and you need access to the digital catalog. This usually requires visiting the library in person to create an account, or confirm your existing one, and to get a password or PIN to access its digital collection. When I setup my account at the Boston Public Library a few years ago, it took less than five minutes to get up and running. This is also an easy way to figure out if your library has a catalog that's available via OverDrive.
Once you have a library account number and login password (you use your account numbers as a user name), you download the app on your platform of choice, search for your library when prompted, select the proper location, enter your credentials, and you're good to go. It's literally that simple.
You'll also want to download Amazon's Kindle app for Windows (or another platform), because that's the easiest way to download and read ebooks. Not all books are available in Kindle format, so you may need to read them in a browser windows or another compatible ebook app. But I've been using OverDrive for nearly two years, and I'd say more than 95 percent of the books I've requested were available as Kindle downloads. And I read a lot. Even if you don't ever want to buy a Kindle book from Amazon, you can still download the app, create an Amazon account if you don't already have one, and then only use it to read library ebooks.
See Kindle for Windows on Amazon
Of course, like real library books, you sometimes have to wait for books to become available. Your library only has access to a set amount of digital copies of a book, so if all of those copies are checked out by other members, you have to wait until one is free.
Each library's catalog of digital books varies, but if your library doesn't have a book you want, you can request that it buy the rights to it, right from OverDrive. If enough people request that title, the library will likely purchase it. Again, I can't speak for every library, but the Boston Public Library is great about buying new titles I recommend.
What about OverDrive audiobooks?
In addition to ebooks, your library may offer a digital collection of audiobooks, and it's even easier to access and listen to them, because you don't have to download a separate app or open a browser, in most cases.
Just search for a specific book, or browse the catalog for one. Books are clearly marked as either ebooks or audiobooks. When you find a book you want to listen to, assuming it's available, you just click to add it to your loans page, jump over to that page, and hit the play button. That's it.
So go ahead, give the gift of knowledge, imagination, and escapism via free ebooks this year, whether it's for yourself, a loved one or a friend. Free ebooks are truly the gift that keeps on giving.
If you decide to give OverDrive a try — and you'd be a fool not to — let us know what you think in the comments.
Get the Windows Central Newsletter
All the latest news, reviews, and guides for Windows and Xbox diehards.
Al Sacco is content director of Future PLC's Mobile Technology Vertical, which includes AndroidCentral.com, iMore.com and WindowsCentral.com. He is a veteran reporter, writer, reviewer and editor who has professionally covered and evaluated IT and mobile technology, and countless associated gadgets and accessories, for more than a decade. You can keep up with Al on Twitter and Instagram.