From great games to the scalper scourge — 2020 was almost a great year for PC gamers
PC gamers had a lot to celebrate in 2020, but it wasn't all fun and joy.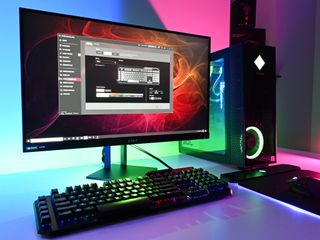 (Image credit: Daniel Rubino / Windows Central)
The last 365 days or so have been tumultuous outside of anyone's control, and many people turned to PC gaming to help deal with lockdowns, quarantines, and overall bad vibes. Sitting down in a chair, fitting a headset, and watching your PC boot is somewhat comforting, especially when you know there are great friends waiting to join a game.
We got new processors (CPU) from Intel and AMD, new graphics cards (GPU) from NVIDIA and AMD, new features to go along with them, and a bunch of great new games across all platforms. Speaking of platforms, new Xbox and PlayStation consoles launched this year, giving gamers more powerful options than ever before.
But it wasn't all gravy, with hardware shortages, price gouging, and major hype deflation. Let's take a look at some of the reasons why 2020 was almost a great year for PC gaming.
What made 2020 a great year for PC gaming
A number of positive PC gaming stories broke this year, cutting through the persistent malaise and giving us a bit of fun and something to look forward to. Half-Life 2 finally got its true sequel in Half-Life: Alyx, about 13 years after Half-Life 2: Episode Two made its debut. Valve took a risk building it exclusively for VR, but anyone who has played the game agrees it was well worth the extra effort.
In our Half-Life: Alyx review, it's noted that, "It's a must-play experience and a great way to start your VR journey, even if it might spoil you with its unbelievably polished mechanics, story, gameplay, and visuals. This is the top-tier of VR right now and the best single-player VR shooter ever made." High praise for a game that contends for the best of the year, VR or not.
Another contender for game of the year, Hades, also saw a full release in 2020 after spending some time in Early Access. In my Hades review, I award it a well-deserved full five stars and a Windows Central Best Award. It's the best roguelike I've played and is so worth the relatively small price tag (especially when it's discounted by 20% during the Steam Winter Sale).
After being delayed a few times, Cyberpunk 2077 saw a release for better or for worse. Playing on PC, Windows Central senior editor Jez Corden mentioned in his Cyberpunk 2077 review that the game "[...] is an open-world masterpiece that features some of the most immersive and liberating storytelling this industry has to offer." I agree with Jez here despite all the bandwagon backlash the game has received following its stunted console release. It's been mostly smooth sailing for PC players, and I've already sunk more than 60 hours into the game (nerd) without getting close to seeing all it has to offer.
Microsoft's legendary Age of Empires trilogy completed its Definitive Edition journey in 2020 with the release of Age of Empires 3: DE. We're still waiting to fully see what the forthcoming Age of Empires 4 has to offer, but for now we have three great games that are available as standalone pieces or through the Xbox Game Pass for PC. Age of Empires 2:DE is even getting a "Lords of the West" expansion in January thanks to how popular it has proven to be. If you played the original version years ago, it's definitely worth picking up again if only for nostalgia's sake.
Speaking of the Xbox Game Pass for PC, it has proven this year to be the indisputable best value in gaming. With more than 200 games — have a look at our Xbox Game Pass PC games list — for one monthly price, you can play a new game every couple of days and not see everything it has to offer in a year. And it only got better in 2020 thanks to Microsoft's acquisition of ZeniMax Media, the holding company of Bethesda Softworks, id software, Arkane Studios, Machine Games, and Tango Gameworks. It's already paid off for gamers, with massive titles like DOOM Eternal available to play and more on the way soon.
Moving on to the hardware side of things, Intel, AMD, and NVIDIA treated PC gamers to an extensive new lineup of products in 2020. Intel launched its 10th Gen Core desktop CPUs, bringing awesome gaming performance for those in need of an upgrade. Have a look at our Intel Core i7-10700K review and our Intel Core i9-10900K review to see what we thought about these chips.
Not to be outdone, AMD released later in the year its Ryzen 5000 CPUs that rival Intel's Core CPUs, opening up more options for gamers who want to maximize performance. My AMD Ryzen 7 5800X review shows just how potent these chips really are.
Later in the year, NVIDIA and AMD both launched new dedicated GPUs, combined making up most of our collection of the best graphics card options. NVIDIA's 30-series GPUs, including the RTX 3090, RTX 3080, RTX 3070, and RTX 3060 Ti, made huge generational gains over 20-series cards and immediately became the cards to get for high-performance gaming PCs. Shortly after, AMD countered with its own "Big Navi" Radeon RX 6000 GPUs, hardware that could rival NVIDIA's offerings in terms of raw power. Check out our NVIDIA RTX 3080 review and NVIDIA RTX 3070 review to see more about these stellar cards.
What made 2020 a not-so-great year for PC gaming
Following up immediately after the launch of these new GPUs and CPUs were massive stock shortages to the point where NVIDIA apologized for the RTX launch mess. If you weren't able to nab a new GPU or CPU seconds after they went on sale online or at a brick-and-mortar store, chances are you're still waiting. That's not a great look when so many great games are waiting for the latest hardware to be fully enjoyed.
Why? Supply issues with the components required to make this awesome new hardware have no doubt contributed to shortages, especially during a year affected by a global pandemic. And any stock that did make it to shelf was gone before you and I could get our greedy hands on it.
How? Bots bought it faster than most webpages could load, resulting in hugely inflated prices at other reseller sites. Scalping has been so bad that the UK has discussed a motion to make CPU hardware and console scalping illegal. I was lucky enough to get my hands on a Ryzen 7 5800X CPU, but it was the last one available at a local store and it just happened to be found on a shelf. And as for the new GPUs or new consoles, it's been a dry run so far in Canada.
Moving on to the software side of things, many of the games we were looking forward to in 2020 were delayed until 2021 and beyond. We actually have a separate list of every video game delay in 2020 if you're looking for a complete rundown, but some of the standouts are Far Cry 6, Dying Light 2, Rainbow Six Quarantine (apt name), and Halo Infinite. And while the Xbox Game Pass for PC is an exceptional value, any who were waiting for EA Play to join the service in 2020 will have to wait until 2021.
Some games did make it to market in 2020 despite previous delays, and the big one on everyone's tongue is currently Cyberpunk 2077. As mentioned, the game runs quite well on PC and has been a load of fun so far, but last-gen consoles have had a particularly poor run of it. Developer CD PROJEKT RED essentially declared a state of emergency for console players, allowing players to refund the game no matter how much time they'd already played. In any case, a lot of the backlash seemed to be from bandwagon jumpers, and many of the original complaints are proving to be unfounded. I just hope the hate doesn't deter studios from creating massive projects like this in the future.
What was 2020 like for you as a PC gamer?
These were my high points and low points for 2020, and I undoubtedly missed some big moments. Let us know in the comments section how 2020 treated you as a PC gamer!
Get the Windows Central Newsletter
All the latest news, reviews, and guides for Windows and Xbox diehards.
Senior Editor, Laptop Reviews
Cale Hunt is formerly a Senior Editor at Windows Central. He focuses mainly on laptop reviews, news, and accessory coverage. He's been reviewing laptops and accessories full-time since 2016, with hundreds of reviews published for Windows Central. He is an avid PC gamer and multi-platform user, and spends most of his time either tinkering with or writing about tech.