21 Must-Have Tech Gifts That Will Fly Off Shelves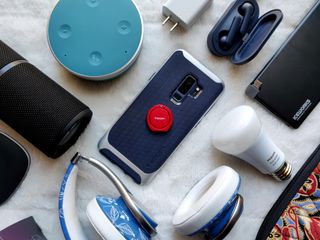 What will they like? What will they use? What gift will make me look like a cool friend/parent/cousin/uncle/grandma? How do I choose a good gift?!?! It's okay, we've all been in a gift-shopping panic before. Balancing functionality with fashion, balancing ease with edgy, it's not for the faint of heart — and let's not forget, when you buy them a top-tier tech gift and they have any issues, you are gifting them yourself as tech support. With all this in mind, I present to you a collection of presents that are useful, accessible, affordable, and — if I do say so myself — amazingly cool.
That's a whole lot of tech to give to family and friends, but remember that you don't have to break the bank to get a thoughtful gift. Phone grips like the Spigen Style Ring (opens in new tab) and Swappable PopGrips (opens in new tab) save my fingers from pain and strain everyday, they are compatible with just about every phone and phone case on the market, and they look cute AF doing it. Smart plugs like the Leviton Decora (opens in new tab) can give the recipient an addictive taste of how useful a smart home can be, even when used for something as easy as turrning on the coffeemaker before you get out of bed, especially when paired with a new smart speaker like the Amazon Echo Plus (opens in new tab) or the perfect-for-nightstands, perfectly affordable Insignia Voice Google Assistant Speaker and Alarm Clock (opens in new tab).