25 years of Microsoft Solitaire is being celebrated with a big tournament starting June 5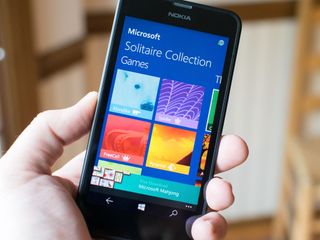 Almost 25 years ago, Microsoft added a free game, Microsoft Solitaire, as part of Windows 3.0 and productivity of PC workers has dipped ever since thanks to the game's addictive nature. Today, the company announced plans to hold a big public tournament using the Microsoft Solitaire Collection that can be downloaded for free on Windows 8.1 and Windows Phone.
Currently, Microsoft is holding an internal company Solitaire tournament to find the best players in the organization. Those players will then compete against the public starting on June 5. Microsoft stated:
So far, there's no word on the rules or prizes for the public tournament, but we will post up those details as soon as they are revealed. Microsoft has plans to pre-install a new version of Microsoft Solitaire Collection with every copy of Windows 10.
Download Microsoft Solitaire Collection from the Windows Store (opens in new tab) (Free)
Download Microsoft Solitaire Collection from the Windows Phone Store (Free)
Source: Microsoft
Windows Central Newsletter
Get the best of Windows Central in in your inbox, every day!
well a solitaire tournament. what a great idea for sure :P

I have always hated solitaire. Never works in my favor.

Lol you have to be perfect from the start.

Lol. Did not even play in my life so far.

A Solitaire Tournament? Wo! There goes the town! :P

No joke, Solitaire has the craziest battery use I have ever noticed for any app. It can burn through your battery even if plugged in. On another note, that Contosso app of theirs consumed a ton of data, even when not in use.

I just assumed it was designed to be used a hand warmer in colder climates.

It really is shocking. Still, I used have a go now and then.

Helicopter is another game that burns thru the battery I maybe lasted an hour and a half on my dvp when I 1st got it
http://video.ch9.ms/ecn/ch9/95c2/2ded8179-e317-4d5d-a6ce-9e45002495c2/HA...

I was just logging in to post that they should celebrate by fixing the app. They did release an update maybe six months ago that definitely improved the battery usage... it's still way too high for a card game, but I'd say it's 50% better than what it was. But I also constantly have a bug where the screen scrambles after rotation... it's doesn't happen the first time the screen rotates, but after playing a while it will. It's very annoying because it's always an accidental rotation, of course.

They still need to fix the crashes in later levels for hexic cant complete on wp because of it

I'm pretty sure it's mining Bitcoin in the background.

Ditto for Bingo. Not only that but after four to five games my phone gets so hot I have to stop playing for fear that it's going to overheat and shut down.

Lumia 530 with Windows 10?

Thank you, for writing comments that are nowhere near the topic. Your support is greatly appreciated. :)

Check out theSolitaire reviews in the store for Windows Phone 8.1

Yeah it's too bad the app sucks.

All I have to ask is what does the winner get ; )

Give it a break guys. Obviously, Solitaire isn't the first game that comes to mind for the gamer crowd. I see this as another example of Microsoft having some fun and getting their customers involved. Could you really imagine MS doing this even a few years ago?

I note that I mentioned the battery life, but I still think MS rocks for doing this.

I agree the battery life sucks; however I haven't found a game yet that doesn't suck my 920 dry pretty quick and turn it into a really nice hand warmer.

920 owner too. I don't play many phone games. But was pleased to install Solitaire, thought it would be real frugal.

This game is really bad, it lags a lot on my 640XL, it frequently doesn't load any games, the design is poor and seriously, Microsoft, ads? You could do better. Moreover, as it was already mentioned it drains battery and heats up phone.

Instead of these stupid tournaments, some major a-hole (like for example Major Nelson.. ) from the xbox games management team should call in all the coders on holiday / leave, lock them in one of the Redmond campus basement, hit them with wooden sticks twice a day, and not let them leave until they fix the crap called MS solitaire. Fix the version in windows8 store as well as the WP8 store version! These 2 games are literally melting the policarbonate case of any WP phone, especially if you plug in the charger (otherwise the game sucks the fully loaded battery dry under 45 minutes anyway). 2 out of 3 reviews complain about the damn overheating issue both in windows8 store version and the wp8 version, still MS hasnt fixed either of these crappy applications since the RTM of Windows8/WP8 2,5 years ago. Yes, damn 2,5 years. "But we have now solitaire tournaments for our idiot consumers". MS considers all of you W8/WP8 owners complete total gargantuan idiots. And they make even fun of you with this championship crap. I dont know about you, but I really hate when any vendor thinks it can fakk me from the back just because its a multi-billion dollar company, and I am just an average taxpayer consumersociety element.

Ah sorry, sorry so sorry. Forgot to add: MS Mahjong falls exactly into the same category. +1 more daily occasional hit with the wooden stick for all developers in the basement.

Here are some more things for you to whine about: 1) It is currently only Microsoft internal until June 5? Shows how much Microsoft hates their customers. 2) Something about US only, because Microsoft only gives special deals, prizes, and others to US only people (but ignore all those recent articles about discounts only available in the UK, India, games only available in Russia, etc. because those don't count). 3) They didn't announce prizes? Screw you Microsoft, how dare you make me wait? 4) Why they are wasting time running these competitions when that would be better time giving me a Win10 update that I wanted this morning but they didn't listen to me so I am going to switch to Mac, iPhone, Android, ChromeBook, etc. 5) The prize will probably be something stupid like Bing Rewards points. We demand that Microsoft gives every participant free Surface Pro 3 (the i7 version) and free upgrades for life. "some major a-hole" You mean like ricsip?

Your comment has absolutely nothing to do with his, why did you even bother posting?

My grandpa still plays this game I love it too.

What about a minesweeper tournament? :)

I wanted to download it, i read the reviews and read that it drains and heats the phone. Is it still true?

It's true, but it's a decent game. Not sure why these Microsoft games have to be so taxing on the phone battery, but this, Minesweeper, and Mahjong all seem to heat up the phone quite a bit.

Bring some hotpads if you're going to use your phone... you'll get burned!!
Windows Central Newsletter
Thank you for signing up to Windows Central. You will receive a verification email shortly.
There was a problem. Please refresh the page and try again.