2D indie platformer Chariot now available for Xbox One; free for Xbox Live Gold subscribers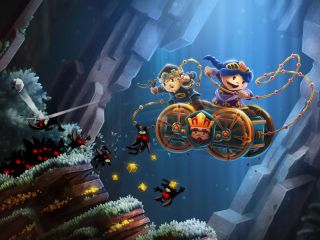 If you like cool new indie games, then you owe it to yourself to check out Chariot. This 2D platformer from developer Frima is now available for purchase for the Xbox One console and best of all, this game, which normally costs $14.99, will be free to download for the entire month of October for people who subscribe to the Xbox Live Gold service.
Here's a quick description:
Do you plan to get Chariot for the Xbox One?
Source: Xbox (opens in new tab)
Windows Central Newsletter
Get the best of Windows Central in in your inbox, every day!
Works great on the preview program, probably close'ish to release to public.

If your subscription expires after you download it, do you still keep it for free?

Just got Xbox one so I have no idea what I'm doing. It came with Xbox live trial. When I go to the game it's not free for me.

Can't download free gold games with a trial gold. With a gold subscription you'll get "free games with gold." Any games you download with your membership are free to play forever that your gold. If the membership lapses, you will lose access to those games until you subscribe again. Free forever if gold.

Thanks for the info, never would of figured that out.

Kurtd, you should check on amazon or groupon for deals on one year subscriptions. Best deals by far!

What's a good price and what does it do for me? So far I've only used Xbox for Netflix and bluray plus played Kinect sports once. Not sure if I even need the membership.

Amazon will go as low as 39.99 for a year. You get free games and good deals on games and can play multiplayer online. I use all of that, so it's a great deal for me.

worth it for the free games alone.

I second that...downloading!!

Just now got Cyan on 1020 India

Just got it also on my Lumia 1020 with Developer Preview with Rogers Canada!!!

Wrong article:) good to know but not relevant:)

Gold, heh. Continues to prove how worthless it really is. If you have to have gold to play it, better off buying it on eBay for 25% of the original purchase price, NEW.
As for indie/arcade, wait for it to be on discount or just buy it outright.

Have you been huffing the paint again?

Only an absolute retard would huff anything of the sort. It's just id much rather own the game than rent it with gold. e.e

Want some cheese with that whine? There's always one.

Yould rather rent than own a game? Suit yourself
Crazy people these days~

I just don't have a problem with paying 76 pence a week for xbox gold and If they are throwing I games too I will take it. Win win for me.

Gold is worthless? Its the greatest $60 I spend a year. Just because YOU don't see it's value, it doesn't make it worthless

You do realise that any game you get for free on Gold is yours to keep and play even if you did not carry on paying for Gold that's more than can be said for PSN that really is renting games.

I guess you can't read, its been mentioned already that you need to have active gold subscription to play games you get free with gold.

Idiot you can afford a £350 console but not £40 a year ? Thick as a plank

Idiot? I got this console for 200$ 4 yes 4 years ago with gift money, like hell I could afford it.

I don't like Legoboy's comments, but please don't call him names.

the x360 allows you to keep still but the One is similar to the PSN where you need to keep the subscription if you want to keep the game. But since they have pretty much all been indies for free so far it's kinda meh - but they are free and I have got a couple of other games on a decent deal from deals with gold. and had had tons of fun playing multiplayer which gold is required for, so well worth the $45/year that I pay (gotta get the deal when you find it)

Awesome game. Love it so far.

So did anyone buy a free game with gold for xbox one and download it after? Im planning on buy it on holidays and since i have my gold subscription for the 360 i been buying the free games, they show as purchased. Hope i get to download them when i get the console =) Did anyone do that?

As far as I'm aware yes any games you bought will be playable on your one. Sorry edit any free games you download will be playable once you get your xbox one

Is this available for PC? Looks too good to be Xbox only... :(
Windows Central Newsletter
Thank you for signing up to Windows Central. You will receive a verification email shortly.
There was a problem. Please refresh the page and try again.