2Flicka and Simple Calendar pick up new features in latest updates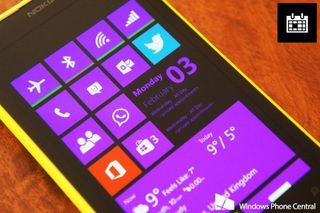 Flickr has no plans and no love for Windows Phone. Which is a shame, but at least we have solid third-party Flickr clients like 2Flicka. The app just picked up a pretty massive update. Speaking of updates, we're also seeing an update for Simple Calendar in the Windows Phone Store. Let's check out what's new in these two apps.
2Flicka
We last covered 2Flicka in late January. Back then the app was updated to version 1.4 and introduced notifications, Live tile fixes and much more. Today we have v1.5 in the Windows Phone Store with the following changes:
Ability to upload single or multiple pics straight to a photoset
Set cycling lockscreen background (automatically from Friends activity, my stream, favs) or static image that user chooses in photo viewer
Add/change location where picture was taken, to map manually
Ability to set what count should be displayed on the main tile and lockscreen (friend activity or notifications)
Pin explore, search, contacts and groups to start screen
New tiles with accent colored strip on bottom
Popup toasts for new notifications
Support to enable/disable background agent
Support for High Res picture in viewer
Improved UI to be more in line with WP8 guidelines
Increased the notifications range from 30 to 90 days
Minor bug fixes
This is a nice update for fans of Flickr using 2Flicka. We're liking the ability to upload multiple photos into a photoset. Which is something we'll be doing more and more of with devices like the Lumia 1020 or Lumia 1520. Pinning various sections of 2Flicka to the Start screen is also welcomed. Have a favorite group you frequent? Just pin it to Start.
Grab the latest version of 2Flicka in the Windows Phone Store. ($1.29/Trial available)
Simple Calendar
Head to the Windows Phone Store and you'll see Simple Calendar now at version 3.3.1.0. We last covered the app when it went to version 3.2.1. That update featured Live tiles with different colored backgrounds and more. Here's what's new in the latest version of Simple Calendar:
Added Lex and Brooks premium wide tiles
Add option to show week number on Frodo tile
Fixed Frodo tile to show appointments in white when tile background color matches account color
Not a big set of changes to Simple Calendar, but some that we're sure are appreciated by a few of you out there.
You can grab the latest version of Simple Calendar in the Windows Phone Store. (Free/In-app purchases)
Thanks for the tips everyone!
Windows Central Newsletter
Get the best of Windows Central in in your inbox, every day!
I like the look of that black live tile

2Flicka is a great Flickr app, but no love for Flickr Central? It got a nice hefty update Saturday night adding 8 new languages (to a total of 9 now supported) as well as inline photostream viewing from the contacts page, and bulk adding photos to sets and groups. Not to mention all of the other user suggested features that have been added since the app was last mentioned on WPCentral. Here is a link for those interested (it is free and without ads): http://www.windowsphone.com/s?appid=c4a83342-66b7-4709-a649-792f750bf266

Flickr Central is excellent! And its free. That's what I use. Paying for a Flickr app is just wrong.

Am using Flickr Central as my lock screen app too.. Its just awesome. We have control over what pic needs to be in our lock screen...

Dear Matthew, seems like you love hijacking articles about 2flicka. Besides this one, here's another 2flicka related article you've performed your magic on: http://www.wpcentral.com/unofficial-flickr-app-2flicka-updated-group-sup... I wonder why that is? Didn't they teach you at Microsoft that black hat marketing is bad? Did you see any mention of 2flicka or any other competing apps on articles related to your app? Did you see anyone from Indulged or Pixl promoting their apps on posts dedicated to yours? That's called common sense. You should spend more time improving your app instead of complaining you don't get enough exposure. Convince people with your app and you'll get further than with this kind of comment.

Calm down bro... The review in the WP store speak more than the exposure given to any app.. Instead of putting others down we need to spend time in getting better reviews.. :)

Also, line just released an update too

Has anyone seen anything about modifying the calendar API so that apps can access the API and edit appointments in the app and skip the stock calendar

You can't *just* modify APIs, especially OS ones. Using the OS APIs means your at the mercy of the boundaries within them.

Anyone know what those toggle tiles on top are? They look great.

I know shortcuts4all has the option to make those kinda of tiles and like millions of other really useful stuff , there is another app that does it bit it only has like 5 tile options

Would be nice if at least one of them included a hotspot tile.

Microsoft doesn't provide the functionality for programatically navigating to Internet Sharing. For other connectivity shortcuts, try Status Tiles.

Simple Calendar does not update the live tile at all.. The live tile still shows 3rd march as todays date.. Very bad...

Mine updates but it's pulling fictional calendar appointments from somewhere. Have a lot of days showing "private appointment." For no reason.

Flicker n yahoo hate wp coz stupid woman marissa mayer (ceo yahoo) ex scroogle..
Windows Central Newsletter
Thank you for signing up to Windows Central. You will receive a verification email shortly.
There was a problem. Please refresh the page and try again.