2K Sports reveals NBA 2K15's new MyPark features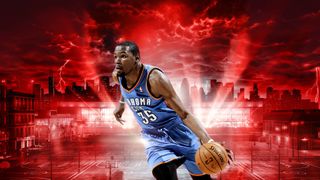 Basketball season is upon us and that really only means one thing to us gamers, NBA 2K15 will be in our hands shortly. Today, the guys over at 2K Sports revealed how they plan on taking MyPARK, which debuted last year on NBA 2K14, to another level on Xbox One. However, this year it's going beyond just the park. New features include affiliations, Jordan Rec Center, new rep system, and even a MyPARK Championship.
When you first step on the blacktop for the first time in NBA 2K15 MyPARK, you're forced to decide which affiliation you want to join. Your choices are The Old Town Flyers, Sunset Beach Ballers, or the Rivet City Rough Riders. The choice will not be easy though because whichever one you pledge your affiliation to you will get a unique boost to abilities only given by that team.
Since many people last year spent hours on end last year in the MyPark mode, 2K decided to actually make it worth something this year. Starting October 11 and lasting through the weekend before the NBA All-Star game, the MyPARK championship will put all three affiliations against each other in weekly round of competition. If you win, you earn points that count toward the championship. At the end of the season the winning affiliation will receive a newly designed home park!
Street ball not your thing? Well the new Jordan Rec Center is just for you. The Center feature full-sized courts, 5v5 players, and five-minute quarters with NBA officiating. The games you play here also count toward your rep and the MyPARK Championship. Also, if you watch the trailer they tease another park at the end that reminds me of Las Vegas. We'll have to wait to see what that park may be but I'm guessing that it will have some high stakes for winning and losing. NBA 2K15 launches next week for Xbox One on October 7.
Eww sports games on console, I can't believe people actually play these.

First! Before anyone says that this isn't relevant news, msft individuals are interested in more than just one thing... GOOD ARTICLE!!!

Don't enjoy watching hockey, yet I love NHL 15!

Yes finally basketball season is upon us. Bout to run around with James Harden and Dwight Howard. ROCKETS TAKE FLIGHT!!!

We'll have to play sometime I use the Knicks ;)

So glad this was written in this site!!! NBA 2K is that game!!!!

I might skip 15, 2K14 next gen was horrible.

Yes it was, full of bugs and glitches!!

I thought it was good on the XBOX One, at least in terms of gameplay. However, if you bought 2k14 for the PC, you should know they basically lied and sold what was actually 2k12 and called it 2k14 there.

I'm excited about the face scanning with Kinect. I'm going to be in the game!

Anybody want to lose in NBA 2k14 add me .. Shizz0matic23 .. The 0 is a zero

Long time reader, first time commenter. THANK YOU FOR POSTING THIS! People should stop complaining.
I come to you guys first for my tech news because you post stuff I want to read about (like this and everything else in Windows Ecosystem) and you don't have all the preachy BS or general bias and disdain that a lot of other tech blogs are serving out nowadays.
Please keep the posts you guys want on YOUR site. I'll keep reading!

Can we get the MyNBA 2k15 companion app for Windows Phone please? Posted via the WPC App for Android!

It is one of the nicest Games http://youtu.be/L_dKQl6iHp8
Windows Central Newsletter
Get the best of Windows Central in in your inbox, every day!
Thank you for signing up to Windows Central. You will receive a verification email shortly.
There was a problem. Please refresh the page and try again.