3 Screens, 1 Voice: How Windows and Xbox are merging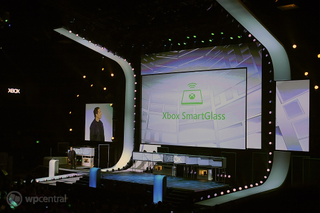 Xbox SmartGlass is Microsoft's strategic move against Apple's Airplay system (and preemptively against Google TV); it's an evolution for your Windows Phone, Windows Desktop and Windows 8 Tablets. Why is it the evolution? Because Microsoft's ecosystem is growing and they are focusing on inter-connectivity with all of their devices (and even those outside of their branding). No phone left behind, no tablet ignored, no Desktop chained down. Windows 8 is bringing a fresh look and giving users a better feeling experience while they use these devices.
Microsoft is effectively making their move to make your involvement a complete one with any of their devices. It's a smart move because Windows 8 may be challenging for some people to learn and get used to. SmartGlass will give people the confidence in Windows 8, that it will not be another Vista, it is changing for the better. It's a straight up consumer feature.
Here's the breakdown on how each device will pair with Xbox SmartGlass:
If you are using a Windows 8 tablet, and are watching a video, you can pause on your tablet, and continue on your Xbox. The Tablet then becomes a companion device streaming live information about the movie you are watching, giving you access to the behind the scene details
When you are playing a game, like the new Madden for Kinect, your Tablet can be used to make plays and actually play the game
Your Windows Phone will do the same as the tablet, but there wasn't any information that you will be able to control games with it, which is a little disappointing but I am sure more information will be released as we get closer to Windows Phone 8
Use your phone to scroll web pages when using Internet Explorer for Xbox
Your PC will be able to put up content to your Xbox, via video hubs, and also act as a companion device as well (but there was no demo, so we must assume there will be a few limitations when comparing using your windows phone or windows 8 tablet with SmartGlass)
Everyone knows about Apple TV and Airplay, but you need to buy separate devices and even then it is limited on how they interact. Airplay only mirrors your iPhone or iPad device but with SmartGlass your devices are much more than a mirror they become another opportunity for anyone to gain more content and control your Xbox. Everyone has an Xbox, and if you don't, you'll be needing one because SmartGlass is giving you what you always wanted; any Windows 8 Device to control and give you more information about what you're watching on your Xbox.
This is great to see since Microsoft is adding more and more content to the Xbox Live experience, enhancing it to be your only multimedia device in your living room. As our culture gains more momentum in consuming content through the internet people are okay with paying for streaming services instead of traditional cable or satellite. Microsoft is giving the consumer the opportunity to have any kind of connected device they want, and their content will be available on all of it.
It's a smart step by Microsoft for growing their brand, and using it to its fullest potential. Needless to say, we like the future...
Get the Windows Central Newsletter
All the latest news, reviews, and guides for Windows and Xbox diehards.