Look out! 6 Xbox Windows Phone games on sale while Earthworm Jim drops its price [Updated]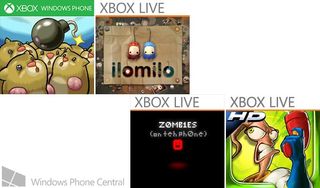 Update: As part of the Microsoft Publisher sale, a total of six games are on sale this week! Full list after the break.
On Xbox 360, the Xbox Live Spring Sale has just concluded. Starting later today, a selection of Microsoft Studios XBLA sales will go on sale. On the Windows Phone front, the big EA games sale took place during the same time as the 360's Spring Sale. You'll remember the EA sale as the one that took a bunch of crazily overpriced games like The Sims 3 and marked them down to just angrily overpriced. It's good to own a Nokia phone, where the EA exclusives sell for much more reasonable prices.
Coinciding with the XBLA Microsoft Studios sale, it looks like we're getting another Xbox game sale on Windows Phone! The sale titles include Gerbil Physics, ilomilo, and Zombies on the Phone, and three more games. Plus Gameloft's Earthworm Jim just got a permanent price drop. More details after the break!
Sale games
The Microsoft Studios Sale includes six games, all of which work well with Windows Phone 7 and 8. The sale lasts through April 8th. Check out this article for XBLA and Windows 8 sale details.
Gerbil Physics from Pencel Games
If you're going to buy a physics puzzle game, it might as well be the cutest one! In this quirky title, the nefarious Toad King has captured a kingdom of gerbils in tiny spheres and blocks. To free them, you'll use bombs and other tools to knock each level's rodent population down beneath the goal line and into freedom. The Achievements are reasonably easy, too.
Regular Price: $2.99 - Sale Price: 99 cents – Review - Store Link
ilomilo from Southend Interactive
This early release remains one of the most impressive Windows Phone 7 games, mostly because it captures almost the entire XBLA ilomilo experience (sans co-op and some extras) in mobile form. Ilomilo is a no failure game in which players switch between the two protagonists and try to help them reunite across twisting, gravity-defying levels. The controls work perfectly with a touch screen and the whoel thing is endlessly pretty and charming. Fairly easy Achievements too, if you use a guide.
Regular Price: $4.99 - Sale Price: 2.99 – Review - Store Link
Zombies on the Phone from Ska Studios
One of the few top-down twin-stick shooters in the Xbox Windows Phone lineup, this game began life as an Xbox 360 indie title. The phone version adds two extra modes (Endless Zombies and Time Viking) that help make up for the general lack of variety. Zombies on the Phone touts some seriously trippy visuals and an eccentric sense of humor. However, the touch-screen controls aren't the best and a few of the Achievements are annoyingly hard. Still, lots of gamers swear by this one.
Regular Price: $2.99 - Sale Price: 99 cents – Review - Store Link
Three more games on sale!
When this article first went live, only three games appeared to be on sale. Microsoft has now informed us that a total of six games are on sale from now until April 8th. The additional sale games are:
Earthworm Jim price drop
Before Gameloft wowed us with impressive and fully featured 3D games like Asphalt 7, the publisher bestowed Windows Phone 7 with this slightly unimpressive launch title. The actual Earthworm Jim platforming game is something of an acquired taste but still a silly and enjoyable experience. The phone game's virtual controls drop the ball though, as they are quite poorly positioned on the screen. Tough and time consuming Achievements too. Check out our review for more details than you can shake a worm at.
Still, now that Earthworm Jim has permanently dropped from $4.99 to 99 cents, those problems seem much more bearable! Bargain hunters rocking Windows Phone 7 or 8 can find it here on the Windows Phone Store. Don't let Psycrow and Queen Slug-for-a-Butt win! Thanks to Omar Alvarez for the tip!
Paul Acevedo is the Games Editor at Windows Central. A lifelong gamer, he has written about videogames for over 15 years and reviewed over 350 games for our site. Follow him on Twitter @PaulRAcevedo. Don't hate. Appreciate!
Lol! Exactly. The anticipation is killing me

I guess these guys really got drunk last night and are still having the hangover

hah, got jim earthworm for free >:D

How? O_O I paid $0.99 for this.

It went free for a day or so by mistake once.

Got it for free too and it was barely worth it :p

No more XBL gaming for now (Gamerscore is at 6,666). Besides, have Ilomilo on W8, and the others are meh (EWJ on its original consoles, though).

Yeah, I considered retiring my gamertag at 666 and then again at 1337 - but, of course, I didn't

Haha. Think I made a video of the day my gamerscore was 66,666. It's always fun to keep it like that for a few days. My other favorites were 99,999 and 199,999.

I just make a screenshot from the PC whenever my GamerScore hits a cool milestone.

Still play ilo Milo to this day

Ilomilo is great. I only played the trial, gonna buy it now. :-)

ilomilo was a great game, it's one of the few games that I paid full price for ($4.99) and when I played it, I could not put it down. I was addicted till I completed the game. I wish they released a part 2 for it...Maybe WP8 ?

Been keeping an eye on this game to go on sale for a while. I've had a little more time to game on my phone lately so this is great timing.

Me too bought both phone and xbox360 versions the added free levels where great too, well worth the original price so its a no brainer purchase on discount.

Got Earthworm Jim for free a bit ago, and I was pleasantly surprised by its decent controls. I'd recommend it for a buck.

i need a game on my 8x. how is ilomilo, never played. does anyone know if the achievements are easy?

If only the article addressed such topics... ;)

haha Paul stop brooding not everyone skims and go straight to the comments :-D.

I read somewhere once that the controls work perfectly with a touch screen and the whole thing is endlessly pretty and charming. Fairly easy Achievements too, if you use a guide

You don't even need a guide really to think the achievements are easy. Most of the puzzles are fairly simple. But yes using the guide makes them even easier than they already area!

Yeah, the only one that might give players trouble on its own is finding all the eggs.

eh yeah true. that was tricky.

Bought Em' all!!!!!! Yes!!!

Ilomilo was free when you bought a WP7 AT&T phone at launch. Have enjoyed and played it ever since.

How long is earthworm Jim on sale for? I'm upgrading to a Lumia 822 next week, will it be free on that phone all the time now? Or should I buy it now for .99?

It's on sale forever. Come on, read the article so's you don't hurt my feelings.

I read the whole thing. I wasn't sure since I don't have a Lumia (yet) I'm not sure what's on sale or free for Nokia (yet) that's next week.

Ah, well when we say price drop, that's a permanent adjustment to the price. The other three games in the article are temporary sales, but not Earthworm Jim.

If only everyone used that terminology like it should be used. Your on CAG and probably other deal sites, where people like to equate sales as price drops, meaning failure >_<

Ha ha, failure indeed. And yep, I'm a CAG for life. :)

Had to buy Zomb1es. As the game's song says, "It's just a dollar!"

Paul, I read every single alphanumeric value of your article. Good job. And yes, I'd like a cookie.

Good job, man! I'm moving you straight to the advanced class. :D

I've been waiting for an ilomilo deal since december/2011! Finally :)

Everybody should be picking up IloMilo and Gerbil Physics if you like easy achievements. Other two games are on 99 cents. Can you really pass on those? I didnt. I picked up the only game is didnt have, Z0mb13s!

The Xbox 360 dashboard mentions geoDefence for WP7 on sale in this sale.

Thanks. We updated the article with geoDefense and two more games that are on sale.

I swear geoDefense was always $2.99. That's the price I bought it for when I got my first Windows Phone in 2011.

Thanks for pointing that out - I got the pricing mixed up on that one. It's on sale for 99 cents.

GeoDefense doesn't seem to be on sale. It still costs $2.99.

Drats, I have all 7 of these games already. Alas, Zombies on teh Phone and ilomilo are both great games that everyone should buy. Hydro Thunder Go and Rocket Riot are very good as well.

GeoDefense does not seem to be on sale. The other games finally updated for me. Will give it a bit and try again for GeoDefense. All these games look really good. Earthworm Jim is not that bad of controls, I got 100% Achivements on it and really enjoyed it. It is better than what little respect it usually receives. Anyway, at $.99 I cannot see why someone wouldnt want it!

I would buy ilomilo and Hydro Thunder if they were updated.......

The only one I'm really interested in is geodefense, but the price refuses to change to 99 cents :(
Windows Central Newsletter
Get the best of Windows Central in in your inbox, every day!
Thank you for signing up to Windows Central. You will receive a verification email shortly.
There was a problem. Please refresh the page and try again.