Xbox Windows Phone Deal of the Week returns with Assassin's Creed, plus Microsoft Studios Sale news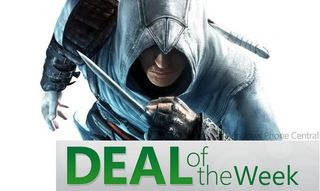 Does anybody remember the Xbox Deal of the Week for Windows Phone? It started quite humbly back in March 2nd, 2011 with a sale on Konami's so-so port of Frogger. The sales rolled on in the weeks to come, typically discounting $5 games down to $3 and $3 games down to $2. Only holiday event sales would grant larger discounts, until the fateful day when Gameloft's UNO HD became the first 99 cent Deal of the Week on November 14, 2012.
The next week Microsoft informed us that the Deal of the Week program had come to an end (although it never stopped on Xbox 360). This coincided with the first beginnings of the Xbox Windows Phone release drought, a period of about three months in which nine weeks saw no new game releases except for Nokia exclusives. New releases aside, we expected the Deal of the Week to return sometime in January, which didn't happen.
You can now thank your lucky stars, Xbox gamers. The Deal of the Week is back with Gameloft's Assassin's Creed: Altair's Chronicles for Windows Phone 7 and 8 marked down from $4.99 to 99 cents.
From big screen to small
Assassin's Creed: Altair's Chronicles (review) is a 3D platformer/action title set in the middle ages. With great graphics and full voice acting (though the acting is atrocious), it feels like a DS game squeezed into a mobile title ('cause it is). The controls are fiddly and the platforming can be frustrating, but the story and action mostly make up for it. The Achievements are fairly reasonable too – just check out this guide.
Now, Assassin's Creed has been on sale three times before, mostly recently for 99 cents during Black Friday week. Most Windows Phone 7 gamers who dig the series probably already have it. But Windows Phone 8 was still a new and elusive thing back in November, especially if you wanted one of the less common Lumia 920 colors. So more than anything, this Deal of the Week is a chance for new Windows Phone 8 users to grab Gameloft's best Windows Phone 7 launch title at a great price.
Assassin's Creed will be on sale for 99 cents through Tuesday, April 9th and is a 139 MB download. Get it here on the Windows Phone Store.
More sales than you can shake a hidden blade at
Don't miss Dust: An Elysian Tail on sale!
The Assassin's Creed Deal of the Week also coincides with the Microsoft Studios Sale that runs through Monday, April 8th. In case you missed it, six Windows Phone games are included in the sale: geoDefense for 99 cents (price hasn't droped on this one yet), Gerbil Physics for 99 cents, Hydro Thunder GO for $2.99, ilomilo for $2.99, Rocket Riot for $2.99, and Zombies on the Phone for 99 cents. Check out our previous article for store links and more details.
On Xbox 360, the Microsoft Studios Sale includes a ton of fantastic XBLA games:
On Windows 8 and RT, the sale includes:
4 Elements II - $1.49
Hydro Thunder Hurricane - $4.99
Ilomilo+ - $2.99
Rocket Riot 3D - $2.99
Royal Envoy 2 - $1.99
Zombies!!! - $2.99 – Check our developer interview!
Get them while they're hot!
Thanks to CheapAssGamer for the XBLA store links.
Paul Acevedo is the Games Editor at Windows Central. A lifelong gamer, he has written about videogames for over 15 years and reviewed over 350 games for our site. Follow him on Twitter @PaulRAcevedo. Don't hate. Appreciate!
I do not see geodefense for 99 cent did I missread

they need to bring deadlight to windws phones. it doesn need that much power to run that game.

You'd be a fool not to get AC for this cheap. I bought it when it was $4.99, and I think it was worth it. Had to start over though I reset my phone. Wish they had another way to save.

What I find mysterious is that no one mentioned the one-time offer in the marketplace where a few games like Sonic CD, SMB2, Assassin's Creed, etc. were labeled as free titles for one day. (First two were available from Nokia free without achievements.)

Odd...Assassin's Creed shows up as a Red Stripe Deal along with two other games...
Shouldn't AC just be added to the other News post from Daniel for Red Stripe?? http://www.windowsphone.com/en-us/store/collections/red-stripe-deals/db5...

It's the official DOTW, which we generally treat as its own thing.

I guess MS forgot that they started the Red Stripe deals? Is Red Stipe replacing DOTW? I do not see a DOTW on my phone like I used to, only Red Stripe. AC is showing up as a Red Stripe Deal for me.

Happy I got ilomilo free when I first got wp7 device:)

Managed to get AC for free when there was that bug.

Yup! Me too. Boring game though. Way too many cut scenes and almost nothing like its PC counterpart

Store mistake, bug, whatever. It wasn't intended to be given away, according to the official word.

I got EWJ and AC a few weeks ago when they were both free for a brief time. Good time passers.

Some nice deals, glad it has returned to windows phone. Kinda off topic but I really hope the next Xbox ditches the Microsoft points currency system.

It very likely will switch to regular currency.

No .. Not everyone has a credit card here in India .. MS Points are available in retail stores

Some people like not tying their credit cards to online systems. The best solution is how Microsoft handles payments for their Games on Demand titles on Xbox. It gives you the option to pay with credit card, PayPal, or Microsoft points.

That would be best, but I'm 90% sure the next Xbox will not work with Microsoft Points. That's what many developers seem to believe.

I'd actually like to see MSP be used for purcahses on WP. MSP cards are already sold everywhere, it would make it on par with iTunes and Google Play cards being sold.

I've brought it up to Microsoft before. The WP team is not interested in accepting MS Points, sadly.

Microsoft must sale WindowsPhone platform itself to Nokia - 'Cuz they know better what to do !!!

Oh look, you're saying something negative again. What a surprise.

Which is why before they joined WP, their company (at least in the UK) was going down the pan. I love Nokia as much as the next WP fan, but I don't honestly believe they could have done this alone.

geoDefense is NOT on sale.

Wish Uno HD would go on sale/get a permanent price drop. Would love to pick it up, but $5 is too much for a damn card game...

That and Oregon Trail which has been $5 forever.

uno been on sale a lot actually. last time i think it was 99 cents. But yeah $5 for that crap .come on. IT doesnt even have any kind of multiplayer....

Nice to see DotW back. Maybe it can stick around for a while this time...

geoDefense not on sale here in India

So pleased that MS are finally seeing sense and giving out some great sale items on the Xbox. Some of their recent sales have been amazing. I just wish they would consider permanent mark downs.

I would definitely get Assassins creed...had I not got it for free when that glitch happened XD

I bought rocket riot yesterday and completed it few minutes ago. the review on wp central said that the last boss is freaking hard and he had to play for 90 times bf completing it. I won it on first try.. ._.

I was talking about the final boss on the XBLA version. He is much easier on WP and Windows 8.

Thank god deal of the week is back. I hope it continues! And offers sales like this! $5 >>$1!!

Also, Mark of the Ninja is listed twice in Xbox 360 sales section...

Here is hoping they discount farm frenzy 2 to 99p in the next two weeks! Been waiting out on that one for so long. I want to farm!!!!

Please MS and game developers - update the old white top of the tiles with "XBOX LIVE "to the new green "XBOX" on all games in store. It would look much more unified and overall more professional than the mix today. And it would look much better in the game hub on the phone.

Rocket Riot not on sale :-/ Is it only in US?

Windows Central Newsletter
Get the best of Windows Central in in your inbox, every day!
Thank you for signing up to Windows Central. You will receive a verification email shortly.
There was a problem. Please refresh the page and try again.