Xbox 360 Impressions: Plants vs. Zombies Pinball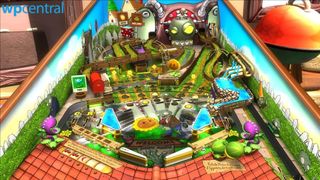 Prepare for a bit of Xbox 360 news that will spill over to Windows 8 and likely Windows Phone in the future as well. PopCap and Zen Studios have partnered up to introduce 'Plants vs. Zombies Pinball' to Pinball FX 2 on Xbox Live Arcade. If you'll recall, most or all existing tables will appear in the forthcoming Windows Phone port as well, so consider this a sneak preview if you don't play the Xbox 360 version of Pinball FX 2. Zen kindly provided a review code for the table, and now we've got full impressions to share after the break.
How the?
It's uncommon for videogame developers to share their brands with crossover content, so how did a PvZ table for Pinball FX 2 come about? Apparently a group of PopCap employees started work on the table as a side project. Realizing they would need a pinball engine, they started looking for a pinball partner. Zen Studios and PopCap met at GDC 2012, discussed the project, and soon Zen was building 3D models and conceiving game rules for the collaboration.
Zen Studios is no stranger to using licensed content in its pinball games though. On top of a multitude of tables based on Marvel Comics and Films properties, Pinball FX 2 already has a fantastic Street Fighter II table. The Playstation 3 version of Pinball FX, Zen Pinball also boasts an exclusive Ninja Gaiden-themed table.
Authentic zombies killing fun
The fog effect is new to Pinball FX. So are the zombies!
The most impressive aspect of 'Plants vs. Zombies Pinball' is its faithfulness to the source material. The table's art style perfectly captures the look of PvZ in 3D. The table is set up like a besieged yard, with the player's house at bottom. Key elements include a small pool area at right, a Sunflower in center, Mailbox at left, a Jack-in-the-Box at top-left, and Dr. Zomboss (the PvZ end boss) at top-right. It's sort of an explosion of colors, but just what you'd expect from a table jammed with icons from the PvZ universe.
The sounds are probably the best of any Pinball FX table. Bits of Laura Shigihara's wonderful soundtrack play throughout, changing depending on the circumstance. Genuine PvZ sound effects like the sun and coin collection sounds further increase the authenticity. Meanwhile a female narrator turns in a better performance than the voice actors from previous tables.
Tower defense pinball
The PvZ gameplay touches will delight PopCap fans just as much as the audiovisuals. After waking up the Sunflower, it will start to spew forth familiar sun orbs. Collect them with the pinball and they can be used to buy plants from the Flower Pot hole near the Mailbox. Some of the plants you'll encounter: Chompers (they kick the ball back by spitting it out onto the playing field), the Melon Pult (which can be manually aimed at zombies), Wallnuts (slow down advancing zombies), the Snow Pea (makes the ball frosty), Torchwood (sets the ball aflame), Potato Mines (blow up advancing zombies), and more.
Occasionally zombies will attack the yard, descending from the top of the screen towards the player's house at bottom. Kill them with the ball and they drop coins for spending in Crazy Dave's shop. You an also fight Dr. Zomboss himself if you complete four missions first, but I haven't managed to pull that off yet.
Activate the right target and Cravy Dave, the PvZ shopkeeper, drives his car onto the field. Hit it twice to open the trunk and purchase various score-enhancing goodies. As for the mailbox, you can first spell out the world MAIL and then start stowing balls inside it. The third ball activates Multiball and awards this table's only Achievement, worth 50 GamerScore. Pinball FX 2 Achievements are notoriously hard, but this is probably the easiest one yet.
Overall Impression
Anyone who enjoys Plants vs. Zombies (WP7 review) will get a big kick out of 'Plants vs. Zombies Pinball.' This table is easier and more intuitive than many other Pinball FX 2 tables, making it a great jumping-in point for new players. The Pinball FX 2 XBLA client is a free download, so you only need to spend 240 Microsoft Points ($3) on the table and you'll be knocking zombies down with pinballs in no time. Get it here from Xbox.com (opens in new tab).
Pinball FX 2 is slated to be a launch title on Windows 8 – in fact, the game is already playable on the Windows 8 Release Preview. Unfortunately, Microsoft has yet to embrace the idea of purchases on one platform carrying over to other platforms, meaning you'll need to buy tables like 'Plants vs. Zombies Pinball' a second time if you want to play them on both Xbox 360 and PC.
The same purchasing rules will apply to the upcoming Windows Phone version. Speaking of which, Zen still hasn't confirmed whether the game will run on Windows Phone 7 or 8. With no release date announced, we may be waiting a while to play it on the go anyway. In the meantime, check out our interview from earlier this summer for a few hints about what Zen has in store for us.
Paul Acevedo is the Games Editor at Windows Central. A lifelong gamer, he has written about videogames for over 15 years and reviewed over 350 games for our site. Follow him on Twitter @PaulRAcevedo. Don't hate. Appreciate!
When, oh when, will Pinball FX2 come out for Windows Phone? It's the game I've been looking forward to the most for the platform.

My guess is it'll be a Windows Phone 8 native code thing, and not come to WP7.

Me too. Not a peep and its killing me. If its exclusively in WP8 that will actually be the first killer feature that makes me want it now lol!

I can understand having to pay separately for Windows Phone, but Xbox and Windows 8 should be pay once, play on both. You still have to log on with your username, so what's the big deal? These companies won't be happy unless you buy the same game 10 times. I guess I'll just buy most of my games on STEAM because there doesn't seem to be an advantage buying them for Windows/Xbox (outside of the exclusive games).

The choice falls entirely on Microsoft - Zen Studios supports buying the same content and sharing it across systems with the PS3 and PSP versions of Zen Pinball. Upcoming free-to-play action-RPG Ascend: New Gods will share progress and purchases between XBLA, PC, and WP7, but it's an exception rather than the rule.

I really like Zen's pinball games and I'll probably get this PVZ table, but Microsoft is shooting themselves in the foot if we can't play the same game on multiple systems without paying extra. Apple has universal games now that you download once and play on both the iPad and iPhone. So much for Microsoft's three screens vision.
Perhaps they are heading this way with WP8, W8 and whenever the 720 comes out. If they are smart, they will.

Well, your XBox games don't work in the PC... And vice versa... So you have to buy them twice anyways if you wanted to do that.

This table looks sweet, will demo it!
Windows Central Newsletter
Thank you for signing up to Windows Central. You will receive a verification email shortly.
There was a problem. Please refresh the page and try again.