3DMark benchmark test for Windows RT is leaving the Windows Store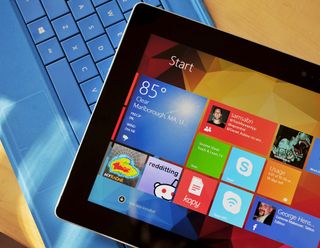 The Windows RT version of Futuremark's popular 3DMark benchmarking software will be removed from the Windows Store. This decision comes as part of Futuremark's preparation for the launch of Windows 10.
In addition to taking down Windows RT version of 3DMark, Futuremark will also remove the 3DMark Vantage benchmark for sale via Valve's Steam service. The company did say that it will continue to support both products, and 3DMark Vantage will continue to be sold directly via its website. 3DMark for Windows RT will also be available to enterprise and business customers on request. It also revealed that it will no longer support its Peacekeeper web browser benchmark, although it will continue to be available on its website.
Microsoft has plans to update Windows RT sometime in September, but the company has yet to reveal what new features and improvements will be included. However, it will not be updated to Windows 10.
Source: Futuremark
Windows Central Newsletter
Get the best of Windows Central in in your inbox, every day!
Wait... Am I reading this right? Microsoft just stole something from Steam?! If true, that's awesome!
(for Microsoft, anyways...)

I'm confused. Why would someone need a graphics card benchmarking app for RT?

Because (at the time) the assumption was that there would be a whole ecosystem for RT that included various ARM chips, and well.... We all know how that went

We still assume that win10 will work on ARM systems.

it will work on raspeberry PI 2

In other words no one uses these so what is the point of the company supporting them. Can't blame them - how many RT devices will be coming here on...

Well most likely they are going to repackage the win32 app and put it through the store as well. Or they may just continue to offer it through the website only.

A bit irrelevant, anyone knows a good benchmark testing app for windows phone? CPU-Z doesn't seem to exist and Antutu Benchmark doesn't seem to work (it was last updated 3 years ago).. Then, what do we have?

Thanks, I'll go check it out :)

How many RT devices were made, 2?

I have one, so there should be only one more. It will be worth a fortune

Like 5. I know of 2 from Microsoft, one from Dell, one from Acer, and I think one from Lenovo.

Also the Nokia tablet, 2550 or something?

Oh, yeah. Forgot about that one lol

1 from nokia 2520 or something

Dell did not make an RT device. They were all Atom based regular windows units.Asus also had the Vivotab that was an RT device.

"Dell did not make a Windows RT device" So we all dreamt up the XPS 10?

Dell XPS 10 was RT. it was a qualcomm chip.

7 that I know of surface Asus VivotabRT - great machine, still, its my daily driver till this day. Some samsung that was only in Europe, forgot the name The original Lenovo yoga 11 Dell XPS 10 Surface2 Nokia Lumia 2520

MS made 2, Nokia made 1, Asus made one.

Windows RT needs backward compatibility of Windows 10 Universal Apps.. ;)

If it had more support, sure, but the support for it went down the drain when hardly any were sold.

I think MS should just replace everyone's RT's with either the low end Surface 3 or something like the
Toshiba encore. In the end it would probably cost near enough the same to work on updating and supporting the RT as it would to give everyone replacements or at least offer a limited time, heavily subsidised trade-in. Would also gain a bit more trust from those that bought the RT's only to have them pushed aside within a couple of years. Luckily I never purchased one myself, but I'd feel pretty gutted by now if I had bought one.

Agree, but with a CEO like this one forget it....
Ballmer was a fair person even if he made big mistakes (SL and RT)

They may not have sold the millions of units MS hoped for, but when the refurb and new Surface Rt 1 units were being blown out on eBay, and eventually Surface 2s, quite a few were scooped up. So many RT tablets are out in the wild than many want to give credit for.

and so the exodus of the few apps that were available begins ... not at all unexpected, thank you ms for leaving me and my beloved sirface2 to rot without a win10 update ...
Windows Central Newsletter
Thank you for signing up to Windows Central. You will receive a verification email shortly.
There was a problem. Please refresh the page and try again.