5 best multiplayer games in the Windows 10 store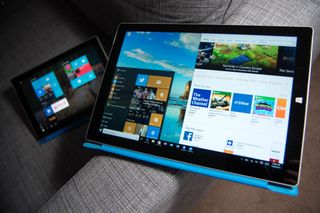 (Image credit: Dan Rubino / Windows Central)
One of the best things about gaming in this day in age is the ability to play games with random strangers across the globe. With the launch of Windows 10, we will soon be able to do this with strangers whether they're on their PC, Xbox, or phone, although no games support this just yet. So, we thought we'd take the time out and highlight what we believe are the best multiplayer experiences that are available right now in the Windows 10 store. Let's get started!
Minecraft: Windows 10 Edition Beta
Minecraft is Microsoft's staple game in the Windows 10 store right now as it even coincided with the launch of the new OS. As of right now the game is simple though as it's basically the Pocket Edition of the game that you can find in any app store. That being said, the plan is for the game to be continually updated and add features that Minecraft for PC already has.
Minecraft allows you to join a friend, go around the world, and mine, survive, and create elaborate structures. Something about the freedom that Minecraft allows you to feel is why this game can become so addicting. So, if you're looking for a multiplayer that can steal your life, Minecraft Windows 10 Edition can do just that.
Minecraft Windows 10 Edition Beta - $9.99 – Windows Store (opens in new tab)
Royal Revolt 2
Royal Revolt 2 is different from most Tower Defense games as it is one of the few that allow you to not only defend, but attack as well. That means instead of always building structures to protect your base, you get to play as the enemy who is taking down those towers and destroying that base.
When playing online, this brings about a sort of MOBA style gameplay since you have to attack your enemy's base as well as defend your own. The thing I enjoy the most about Royal Revolt 2 is that although it is a free-to-play game, you can enjoy all of the game without having to buy one thing. The fact that the game is so easy to get into and free makes it hard to not give it a try. So go ahead and download it and thank us later.
Royal Revolt 2 – free-to-play – Windows Store (opens in new tab)
Call of Duty: Heroes
Think of Call of Duty: Heroes as Activision's answer to the hit that Clash of Clans has become. The premise is the same here, take control of a small outpost and build it up to become an impenetrable base. Once you've done so, you can then take out bases of nearby enemies all while taking control of classic COD characters.
That being said, the game differs in that it uses Killstreaks that you've seen in the console games to spice up gameplay here. For example, get ten kills and it will throw you in an AC-130 and have you raining down fire from above.
The only downside to this game (especially since it's from Activision) is that it's free-to-play and features some in-game purchases that go up to $99.99. So be careful!
Call of Duty: Heroes - Windows Store - Free-to-play (opens in new tab)
Heroes of Order and Chaos: Multiplayer Online Battle
Heroes of Order and Chaos is Gameloft's portable answer to the crazed MOBA scene right now. In Heroes of Order and Chaos, you choose from one of 52 characters each with their own unique powers and abilities.
Your job is to team up with strangers and take down the opposing team by creating ambushes and controlling key areas of the map. To take down enemies, you can use your existing abilities or upgrade them with XP accumulated during the game. Once you take them out, move towards their base and wipe it out.
Heroes of Order and Chaos can be played without spending your hard earned cash, but you can buy things from the store to heighten your experience.
Heroes of Order and Chaos: Multiplayer Online Battle - Windows Store - Free-to-play (opens in new tab)
Kings of the Realm
King of Realms is a cross-platform real-time strategy game that pits your guild against another player. First, you begin building your empire by using over 200 building choices. Then fortify it to withstand enemy forces and creating a vast army. And finally, you're ready for the battlefield to destroy your enemies' kingdom.
Perhaps the best thing about Kings of the Realm is that the game is completely free. This means no one can shell out $100 to be a better player. They have to take the time and effort to become the true King of the Realms.
Kings of the Realm - Windows Store - Free (opens in new tab)
In Closing
One thing I noticed while making this list is that the Windows Store doesn't have many multiplayer games to choose from. To make matters worse, the ones we do have all seem to be in the RTS, MOBA, and MMO genre. Let's hope developers small and big change this trend sooner rather than later. I'm sure we can expect change when a bunch of the Xbox games hit the store.
That being said, these games mentioned above are all worthy of your time and (a little) money. If there are any multiplayer games you guys know of and enjoy that we missed, be sure to let us know in the comments below!
Windows Central Newsletter
Get the best of Windows Central in in your inbox, every day!
One of the best things about having a gaming computer is that I do not need to limit myself to any store.

How dare you leave out Star Wars: Commander

Any local coop? Miss those kinds.

Actually Asphalt 8 has that future, you are welcome :)

There's a new game in the Windows Store called Storm of Wars. It's supported on both Windows 10, Windows Phone 8.1 and there is also an Android version out in beta now with Iphone support coming next month. It's similar to a Clash of Clans type game and is very addictive. It comes from Ocous, the same developers who released Age of Sorcery for Windows Phone 3+ years ago. Here's the Windows 10 link: https://www.windowscentral.com/e?link=https2F%2Fclick.linksynergy.co... Shameless Plug: If you try it out please use me as a referral. We both get gems which are very helpful later in the game. My referral code is 019179238.

It is. I've been playing for about 1 1/2 weeks. It just came out of closed beta for Windows a few days ago. I've been completely addicted to it since I started.

014968716 enter this referral code for free gems! thanks!

Hey Jonathan, I just want to point out that HOC (Heroes of order&chaos) wasn`t updated on windows since... 30th of July 2014, and the short film that is posted in the article actually has nothing to do with HOC on windows.

Minecraft: Windows 10 Edition is awesome for multiplayer and will be especially more so once it integrates with Pocket Edition. I'd like to know how you all feel about the multiplayer in Carcassonne, though.

For the casual crowd, UNO from gameloft is a nice time waster. I wish we had Hearthstone already...

UNO! +830!
Not to forget pocket tanks either. :P

Does royal revolt 2 support save game sync across device now? That's the main reason why I gave it up one year ago

It doesn't, but its a while lot newer and better game.

I am really sick of apps that ask for access to my local libraries. Does anyone know for which reason 'King of the Realm' needs my photo library!?

Pocket Tanks, World Domination for me! Great Big War game was fun but haven't played that in a long time for some reason... lack of updates probably :)
Windows Central Newsletter
Thank you for signing up to Windows Central. You will receive a verification email shortly.
There was a problem. Please refresh the page and try again.