5 intriguing apps for Windows 10: November 6, 2015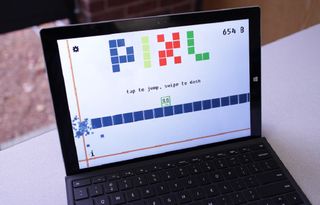 With the ever-growing number of apps and games in the Windows Store, it is becoming increasingly difficult to keep up with what's out there.
For that reason, every Friday we showcase some apps that have piqued our interest. They may have been in the news recently, they may be new to the Windows Store, or they could simply be old apps that we just stumbled upon.
They are the 5 Intriguing Apps of the Week.
Xbox Avatars
Microsoft's Xbox Avatars app brings the avatar editor from your game console to the convenience of your Windows 10 PC or phone.
Quickly edit your avatar's appearance, including face, clothing, and accessories. The app gives you access to any purchased or earned content that you have on your console, so you can show off your wares.
You can start from scratch to create a brand new avatar or work between multiple Xbox Live accounts.
When you're finished, you can snap a still photo of your avatar to save, share with friends, or replace your current Gamerpic.
Because Xbox Avatars is available on Windows 10 for PC and Mobile, it makes tweaking your avatar portable and convenient.
wordBrush
WordBrush is a fun little app that takes any text of your choosing and turns it into a paintbrush tool.
Import any image as the background or start from a blank canvas. As you move your cursor across the screen, the text follows the pattern, repeating as necessary. The letter size also increases and decreases with the speed of the cursor.
WordBrush offers a slew of options for your creation. You can choose font, text size, color, opacity, and more. There are also different brushes with their own options. Your finished pictures can be saved to file, so you can print or post them.
The free version of wordBrush has plenty of tools included, but you can always opt for the additional packs.
WordBrush is a great way to create wall art or jazz up your social media posts.
WiFi Monitor
WiFi Monitor is a Windows 10 utility that gives you a snapshot of wireless access points in your vicinity, along with basic information about them that will help you best plan out or troubleshoot your wireless network.
With WiFi Monitor, you will see the networks' names, signal strength, frequency, encryption type, channel, and more. You will also have various ways to view the data, including graph and list form.
Based on the information, WiFi Monitor will recommend the best channel for your access point.
In addition to removing ads, the pro version of the app offers the ability to connect to detected networks from within the app and to perform speed tests.
mTalk
MTalk is a third-party Tapatalk client for Windows 10 PC and Mobile.
With mTalk, you can subscribe to any number of the thousands forums that Tapatalk has to offer. Post messages, share threads, and message people from your phone or PC.
This is the very first iteration of mTalk, and thus still lacks some functionality. But it is a good start, for sure.
Be sure to give the developer feedback.
Pixl
Meet Floppy, one of the last remaining vestiges of 1990's technology. In Pixl, you must help Floppy survive the march of progress as it comes racing up from behind.
Pixl is an endless runner that has you jumping from platform to platform and dashing ahead to outrace impending doom. Along the way, you must evade enemies, avoid traps, and choose the right path so you don't get stuck.
Pixl uses colorful retro graphics and old-school sounds to take you back to that nostalgic time when blocky heroes were all we had.
The controls are simple, but the game will keep you on your toes. And you never get the same level twice, so you can't rely on memorizing patterns to survive. Pixl is free to play on Windows 10 PC and Mobile.
Be sure to check out our other selections from previous weeks. Have a great weekend!
Do you have an app you want us to highlight? Drop us an email at tips@windowscentral.com with "5 Intriguing Apps" in the subject line.
Windows Central Newsletter
Get the best of Windows Central in your inbox, every day!
i got the avatar app. thanks :)

mTalk holds a lot of promise. I really hope it only gets better.

I've been using Wifi Monitor for awhile and really like it, especially since it's a universal app on both Windows 10 desktop and mobile. Not something I need everyday, but I find myself needing to debug WiFi often enough that it's useful to have with me on my phone and tablet. One less thing to miss from Android, and I don't think iOS allows these types of Wifi analyzer apps (unless it's a jailbroken device.)

Thanks for making the links work again and thanks for the heads up on this app.

Hello, We have released a new fully-featured Windows 10 client for Reddit . Try Reddit+ here: https://www.microsoft.com/store/apps/9nblggh2004w We will be happy for your review and for your comments. Creato Studio