5 intriguing apps for Windows 10: September 25, 2015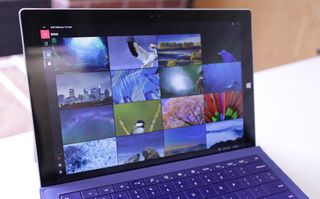 With the ever-growing number of apps and games in the Windows Store, it is becoming increasingly difficult to keep up with what's out there.
For that reason, every Friday we showcase some apps that have piqued our interest. They may have been in the news recently, they may be new to the Windows Store, or they could simply be old apps that we just stumbled upon.
They are the 5 Intriguing Apps of the Week.
Translator 10 Beta
Last week, Microsoft unveiled the beta version of their new Translator app for Windows 10 and Windows 10 Mobile.
The new design isn't the best that Microsoft has come up with, but the functionality is top-notch.
Using traditional text input, Translator 10 Beta can interpret fifty different languages. It can translate eighteen different languages by listening through your device's microphone. But the coolest trick is clearly the ability to hold your camera up to a piece of text, like a road sign, and have the app translate it over the image in real time.
Translator 10 Beta keeps a history of your queries, letting you search them or mark them as favorites. You can also download language packs, so you don't need an internet connection in order to use the app.
You can even learn a new word or phrase every day with the Live tile's Word of the Day feature. Whether you are traveling or just need a one-off translation, Translator 10 Beta is really useful. To borrow a phrase from the great Han Solo, "She may not look like much but she's got it where it counts, kid."
Yahoo
Yahoo has redesigned their email app for Windows 10. Veering away from their Windows 8.1 design, the new app mimics Yahoo's web interface almost exactly.
However, unlike the browser version, the Yahoo app incorporates features of Windows 10, such as desktop notifications, Live tile support and unread message count on the lock screen.
Just like the website, you can also customize your inbox using Flickr and jazz up your messages with the help of Paperless Post's Stationary.
But there's more than just email. With Yahoo for Windows 10, you can access your Contacts, Calendar, Notes, News Feed, and even Messenger.
Yahoo has brought the experience of their webmail to your Windows 10 device, along with the convenience of Windows features you have come to love.
Book Bazaar Reader
Book Bazaar Reader is a versatile eBook reader that lets you open a variety of file types, including EPUB, MOBI, FB2, PDF, and TXT files.
Books can be sorted by author, genre, title, etc., and your most recent books are quickly accessible in the reading list.
The reader interface is well-designed and features animated page turns and a progress bar. Hyperlink and bookmark support makes it easy to jump to specific pages. You can customize font type and size, as well as margin and spacing settings. Pages can be bookmarked, individual selections highlighted, and notes added.
In addition to being a solid eBook reader, Book Bazaar Reader is also a phenomenal source for free reading material. It contains a browser of online resources jam packed with open publications that are free to download.
As a reading app alone, Book Bazaar Reader is worth a download. Throw in the thousands of free books, journals, and magazines that it gives you access to, and it becomes a must-have for people who love to read.
Soppy's Adventure
In Soppy's Adventure, you play the titular character, a lonely drop of water who is trying to find his way back home. Unfortunately, you must guide your way through three dangerous lands in order to get there.
Soppy must jump his way past enemies and traps to get back home. The object is to get through each level unscathed as fast as you can, collecting at least one star along the way. You can also collect coins, which will earn you more points and help you get more lives.
The graphics in Soppy's Adventure are vibrant and humorous. The gameplay is easy to learn, but tougher to master, so you won't grow tired of it too soon.
The real catch with the game is that, win or lose, each level will cost you one of your nine lives. Once they run out, you either need to wait three hours or purchase more lives in-app.
If you don't mind paying or waiting, Soppy's Adventure it can be a fun time waster
Brilli Wallpaper Changer - Start, Desktop & Lockscreen
Brilli Wallpaper Changer is pretty much the be-all end-all of wallpaper apps.
With Brilli, you can set your Start screen, desktop, and/or lockscreen to change automatically. Each can use a separate image, or you can have them sync'd up to use the same one. The change interval can be set from as often as every 15 minutes to once a day.
You can create multiple collections of backgrounds using your own files or just have Brilli pull images directly from Bing. And being that it is a universal app, Brilli Wallpaper Changer will work on your PC, tablet, and smartphone.
The app is free, though you can choose to pay $1.49 to increase the maximum number of image collections and number of files per collection. If variety is the spice of life, then Brilli Wallpaper changer is a bottle of hot sauce for your Windows devices.
Be sure to check out our other selections from previous weeks. Have a great weekend!
Do you have an app you want us to highlight? Drop us an email at tips@windowscentral.com with "5 Intriguing Apps" in the subject line.
Windows Central Newsletter
Get the best of Windows Central in your inbox, every day!
In the windows phone app I click on the download link and instead of showing the various titles of the apps it directly goes to the store for Soppy's Adventure

I think Bookviser Reader is much more well designed and beautiful. Function almost same like Book Bazaar Reader.

Yahoo apps looks like a web wrapper.

If the Yahoo app mimics the web interface, why just not use the web interface? I set mine to "basic", the full web interface does not work well using touch, for me at least.

live tiles and lock screen...

good the iTunes folder from the outside drive to your My Music folder itunes update The Home Sharing attribute in iTunes 9 allows you to share great.