5 intriguing apps for Windows 8.1: April 3, 2015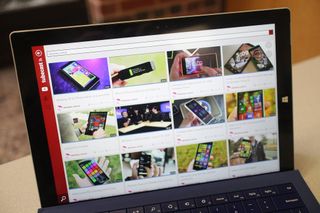 With the ever-growing number of apps and games in the Windows Store, it is becoming increasingly difficult to keep up with what's out there. For that reason, every Friday we showcase some apps that have piqued our interest.
They may have been in the news recently, they may be new to the Windows Store, or they could simply be old apps that we just stumbled upon.
They are the 5 Intriguing Apps of the Week.
File Cards
File Cards is a nicely-designed file management app for Windows that lets you create a workspace with all of your commonly-used folders on it. The folder contents get displayed in an individual column so you can easily scroll through them.
You can also search, sort, and filter contents of a single folder or all of them at once.
File Cards includes many of the common functions of Windows Explorer, multi-select, like copy/cut/paste, and creating/moving/deleting folders. In addition, you can create ZIP files from within the app.
Common file templates can also be added so that you can create a Word document, Excel spreadsheet, etc. right from within the folder you are working in. File Cards is a novel file management experience. It will normally cost you $9.99 but is on sale for half price until April 23.
Download File Cards for Windows 8.1 ($4.49 until 4/23/2015, regularly $9.99) (opens in new tab)
StaffPad
StaffPad, an app that we reported about on Tuesday, takes handwriting recognition to a whole new level, music composition.
Designed specifically for Surface 3 and Surface Pro 3, StaffPad uses touch and onscreen writing to empower you to write music right on your tablet or PC. Whether it is a simple tune for a single instrument or an entire symphony, you can handwrite the notes and StaffPad will translate them into a digital score.
You can pinch-to-zoom in on excerpts, move snippets around, or take notes using the freehand sketch layer.
It doesn't stop at composing music either. StaffPad is equipped with an entire digital orchestra to playback your creation, which can be saved in MP3 or WAV formats.
StaffPad supports the importing and exporting of MIDI and MusicXML for working in multiple music applications. It also lets you print out the score, in its entirety or pieces.
If you are serious about composing music, StaffPad is a must-see.
Download StaffPad for Windows 8.1 ($49.99 until 4/4/2015, regularly $69.99) (opens in new tab)
LIO
If visual art is more of your forte than music, then you may want to take a look at LIO, a portfolio creator for Windows. LIO helps you display your artwork laid out in a series of columns and scrolled through horizontally.
Be it for a job interview or an exhibition, you can neatly organize your creativity into a simple-to-view format.
Download LIO for Windows 8.1 ($2.99, with free 7-day trial) (opens in new tab)
Tubecast
You may be familiar with the Tubecast for Windows Phone, but as of a couple of weeks ago, this stellar YouTube client became a universal app for phone and PC. Tubecast is packed with features, including the ability to watch various levels of playback quality, audio playback under the Lock screen, and the ability to download videos to your Windows Libraries.
If that weren't cool enough, what really sets Tubecast apart from its fellow YouTube clients is its casting capability. Tubecast can share whatever video you are watching to your Xbox, smart TV, Chromecast, or AppleTV.
There's even more to come in the near future with 4K and Roku support on the horizon.
Tubecast has a free version, but I recommend you purchase the full version, which includes the casting feature.
KVADPhoto+
KVADPhoto+ is a one stop app for touching up photos and creating collages. It includes a set of standard editing tools for adjusting exposure, cropping, resizing, and all of the other tools that you would expect.
But KVADPhoto+ also gives you other enhancement features like tilt shift, plus a decent range of filters and frames. There are more available for purchase within the app, which presumably also come included in the Pro version.
The other function of KVADPhoto+ is creating collages. So once you are finished making your pictures look the way you want them to look, you can assemble them into creative arrangements.
And all of your creations can be shared right from the app using the Share Charm.
KVADPhoto+ is an all-around solid photo manipulator, especially as free apps go.
Download KVADPhoto+ for Windows 8.1 (Free, with in-app purchasing, $3.99 for the pro version) (opens in new tab)
Be sure to check out our other selections from previous weeks. Have a great weekend!
Do you have an app you want us to highlight? Drop us an email at tips@windowscentral.com with "5 Intriguing Apps" in the subject line.
Windows Central Newsletter
Get the best of Windows Central in in your inbox, every day!
I am the first one to comment here ...and I have used 4 out of 5 apps but best of all tubecast is the one app I find gr8 and very user friendly

MyTube isn't on Windows 8.1....yet ;)

Tubecast made Norton go crazy on my thinkpad 8

Agree with soin712 Tubecast is richful in features than MyTube! Such a gr8 @pp :)

Tubecast is amazing, love it! Doubt Google could do any better.

Stoked to see my app mentioned on WindowsCentral! I know this isn't the biggest site for artists and designers, etc but, for those who check it out, I hope you like it! Feel free to send any feedback my way. Chris aka LIO dev

Tubecast Roku support, that's what I've been waiting for! Hope it comes soon I don't use a Roku personally, but my family and quite a few friends do. It would be nice to cast directly to their Rokus without having to pair through the youtube app.

Staffpad is listed as full price ($69.99) for me - in US.

Tubecast coming up with constant network errors. Lots of people reporting the same problem. Not gonna pay for something that won't connect.

It's due to Youtube API exceed(a lot of people use tubecast) I sent a fix last friday but MS don't want to publish for some (crazy) reasons, so please be patient it will work on a while.
Windows Central Newsletter
Thank you for signing up to Windows Central. You will receive a verification email shortly.
There was a problem. Please refresh the page and try again.