5 intriguing apps for Windows 8.1: December 5, 2014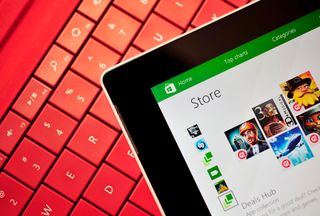 It's hard to believe that the first week of December is already over. I haven't even finished my Thanksgiving leftovers, and yet it's time to take another look at five apps that have gotten our attention this week.
This time around, we have a mishmash of apps, some for fun and some for productivity.
TouchMail
TouchMail is a little bit of both and we have covered this app in the past, though it is time for a helpful reminder. It is a modern style email client that that turns all of your messages into brightly-colored tiles. The touch-friendly interface makes it easy to read, sort and manage your mail from your tablet.
You can add multiple email accounts and effortlessly switch between them. Contacts can be classified as V.I.P.'s, so messages from them are distinguishable from all of the others. You can also import contacts' pictures from your People Hub.
TouchMail isn't going to replace Outlook for business or heavy email users, but it is a simple and fun way to check email while chilling on the couch. It could also be a useful tool for teaching kids about using email.
Sonic Dash
Sega's Sonic Dash made it's Windows and Windows Phone debut a couple of days ago. It's an endless runner, in the tradition of Temple Run, that features all of the well-known heroes from the Sonic the Hedgehog world.
Collect those precious gold rings as you run, jump, roll and fight your way through the fast-paced world. The more you get, the more power-ups and characters you can get. Of course, you can always take a shortcut and unlock them through in-app purchasing.
Whether you decide to invest money in it or to keep it free, Sonic Dash is a lot of fun.
Meme-Generator
How many times have you been cruising Reddit or Facebook and thought of a perfect meme that you could post? Never...Oh, well, then move along then.
But for those of you who have, Meme Generator is for you. As the name implies, this app lets you whip up a quick meme in seconds using a straight-forward interface. Memes can then be instantly saved or shared.
Meme Generator includes a ton of popular (and lesser-known) memes categorized alphabetically. Got a great idea for a new meme? You can create your own custom one. There are plenty of other ways out there to create your own memes, but Meme Generator is certainly a good one.
AppSwitch
The sad fact is that different operating systems do not always have the same apps available to them, which can make jumping from one platform to another can be a pain in the tuches. The makers of AppSwitch must have had these pains in mind when they developed it.
AppSwitch is a search engine that compares what apps are available for Windows 8.1 (not Windows Phone), iOS, Android and Blackberry.
It's as easy as typing a word or phrase into the search field. You can then switch between each OS to see what official or third party apps are available for that platform and which ones are the most highly rated. If you find an app that fits your need on Windows 8.1, you can click the download link in AppSwitch and be transported to the app page in the Windows Store to get it.
If you aren't looking for anything specific, AppSwitch also gives you lists of apps sorted by Featured, Latest, Most Popular, and Top Rated.
At the time this article was written, it looks like the Android section was having trouble displaying. AppSwitch isn't perfect, but it is a handy way to discover what apps are out there.
Video to Audio Converter
The last intriguing app of the week is Video to Audio Converter. As you would expect, this app rips the soundtrack from any video and converts it into an audio file of your choice, either MP3, WMA, M4A, FLAC or OGG.
The beauty of it is in its simplicity. You browse to the file on your computer, then choose the type of file you want to create, the sound quality, and where you want it to save. You can also queue up multiple videos at once.
The ripping process is very fast. I converted a 13-minute video in less than a minute.
Video to Audio Converter usually costs $3.99 but is on sale until the end of the year.
Alright, we'll be back next week with some more intriguing apps for Windows 8.1. Got any apps that you want us to highlight? Send us an email to tips@windowscentral.com with "Must-have apps" in the subject line!
Windows Central Newsletter
Get the best of Windows Central in your inbox, every day!
I also think there's this cool game called ATUM and it only works on SP3 or desktop. (Not RT).

Btw u gotta use the materials around yourself to manipulate the computer. You have to use the keys.

I'll have to try that one, too. Looks like the low ratings are to do with RT issues. My favorite (by a landslide) app game on the surface is Machinarium - really wish there were any other games like it in the Store.

Aww man, not Windows 10. :)

Now downloading Meme-generator...

Any one know how much audio quality you lose going from flac to mp3 or perhaps a losless version of wma?

Depends on th source as well the destination file. Quantitatively speaking, your audio quality is proportional to the amount of data stored per second ie kbps. But this is only a quantitative analysis to make a comparison.

not gonna lie, been playing and LOVING sonic dash on my SP2.....have had it on my android tablet since day 1, but it was stuck in portrait mode.... playing in landscape ROCKS

Can not install Sonic Dash for Windows 8.1 on my PC, I think this game support only tablet not PC

You can bypass the warning. It works just fine with keyboard. I'm playing it on an oldschool desktop. It's an awesome infinite runner. I think it's the best on the store. This would have been the perfect candidate for Xbox Live integration.

Is there an audio trimmer app? Like if I wanted to take a 3 minute .mp3, but cut out the first 30 seconds.

Microsoft Mobile's Ringtone Maker perhaps?

Great compilation, Daniel.

best meme generator for windows 8.1 is funcapsmatic super meme generator http://apps.microsoft.com/windows/app/funcapsmatic/30475530-6d60-417b-93...

Scratcher catcher is the best game for Windows ever. http://apps.microsoft.com/windows/en-us/app/scratcher-catcher/a3476de5-008e-4335-ba61-39a5248893de