'Sonic Dash' races onto Windows Phone (and Windows too)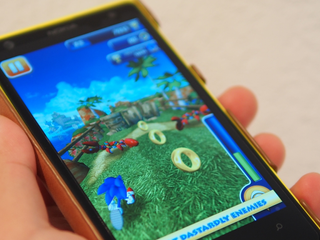 It looks like Sonic Dash, the endless runner featuring Sega's iconic mascot, has finally made its way onto Windows Phone. The game puts you in the shoes of Sonic, Tails, Shadow, or Knuckles as you run and dash through vivid environments and engage in challenging boss battles.
Update: It is also worth mentioning that Sonic Dash is also available for free on Windows 8.1! Links below!
Features of the game include:
You can head on over to the link below now to get in on the action. Let us know in the comments if you're going to give Sonic Dash a shot.
Thanks to everyone who sent in tips!
Windows Central Newsletter
Get the best of Windows Central in in your inbox, every day!
Dan Thorp-Lancaster is the former Editor-in-Chief of Windows Central. He began working with Windows Central, Android Central, and iMore as a news writer in 2014 and is obsessed with tech of all sorts. You can follow Dan on Twitter @DthorpL and Instagram @heyitsdtl.
At bloody last ! Just need plants vs zombies 2 now

You just read my mind!! I need PvZ 2 NOW!!!

Oooh I'm getting this now!

cool! 512 supported. ehm, btw here is official Five Nights at Freddy's if you guys want :p http://www.windowsphone.com/en-us/store/app/five-nights-at-freddys/ec8f9...

What the actual eff?
This looks like it runs at 144p, and the publisher's excuse is hardware limitations?
My ass looks prettier than this game.

Mind your language. There's a hardware limitation to everything, and that, including the dev's brain. If you're so good then go code it yourself. /s

Hardware limitations my ass, these devs were just too lazy to optimize.

Well I would not say that. You know it takes a lot of hard work to optimizes game plus recoding of entire game. Coding for game for first time itself is frustrating and recoding takes a lot and plus I app is FREE these people are too selfless even with their normal job pays. So don't call these guys lazy

Tell me what's the point of making the game available on WP which can't be played same goes for pc devs but still they have a good reason that they have to optimise the game for a different number of hardware but windows phone being so less compared to ios and android, still they can't optimize the game?

SEEEEEeeeeeeeGAAAAAAaaaaaa.*

Welp, someone here doesn't get it...

I wish this was universal so bad. I want it on Surface. Phone will do for now though

It's a free download on Windows 8.1 as well. The article was updated. :)

Is this a christmas treat? It seems like many games are coming this month..

Its ok, spider man unlimited is way better tho, but at least this doesn't have the stupid energy concept, you just play and play and play so huuuuuge plus there. There's just something odd about the swiping in this game for me. Its hard to explain.

I guess it's not quick enough to respond to the swipes, is it?

Tried it, uninstalled it. The gestures I make are not recognised in time, so no go for me.

Same here. But I'll give it a try after an update or two.

This game is pretty fun. Production is top notch. Sonic is great for an endless runner.

Finally! Now if we can just get Crazy Taxi, not the endless driver but Crazy Taxi Arcade. Also, it supports 512MB RAM devices. Just downloaded it on my 1520 and 635. Thank you Sega!

Crazy Taxi wad great fun. Would love to try it again.

Yesss awesome :-) the only thing i really missed when switched from iOS to WP, finally ;-) :D

I am actually astonished to see this. My hat off to you Sega(still my fave dev/console maker, DC was greatest console ever).

Shenmue, ahh the memories. When will Sega just give us number 3. Rumour has it Sony trying to get it as ps4 exclusive. I hope this isn't the case. Also, though not Sega made, PowerStone 1&2, best multiplayer game.

Jet Set Radio was amazing.

Sweet! I have this game on my iPod touch. Haven't played in awhile though.

That's it, I'm tired of running!

Wonderful. Keep it coming Microsoft!

Great addition to WP. Now all we need is Sonic and Sega All Stars Racing with XBOX and Multiplayer

Ok but at what point does he start going fast

Great. I've expected for this game. Now we want Top Eleven Be A Football Manager please

Finally! I miss this game from iOS.

This is the first SEGA game for WP available here in Brazil. Great!

Probably because it isn't integrated with XBOX...

Does the Windows version have the ability to use keyboard to play?

Awesome. My daughter loves this game on her Nabi. I keep telling her that I played the Sonic game more than 20 years ago. Posted via the Windows Central App for Android

Nice! Another one for my endless runner collection..

Popular games like this need to be Xbox integrated!
Lets hope it will be integrated in the future like what Rovio did with bad piggies recently!

Yep, especially since this is the first Sega game that doesn't support Xbox Live, it's a huge disappointment. Be sure to tell @SEGA and @joebelfiore that you are disappointed the game isn't Xbox enabled. Use the #SaveXboxWP tag, if you'd like.

This is terrible news. This marks the loss of another major publisher for Xbox games on WP. Although it had been a long time since their last WP game release, this marks the first time that Sega has released a non-Xbox game on WP, just at a time after the recent spurt in Xbox WP games. Extrememely disappointing. If you'd like to see Sega return to the good side, be sure to let them know to #SaveXboxWP (details here).

You lost them two years ago. The rest of us, we're happy that Sega has returned to the platform after such a prolonged absence. Sonic Dash is great, although it lacks the long-term goals and constant events of Spider-Man Unlimited.

Lost puppies can come back. Rovio did. I won't give up on prodding Microsoft about it; as I think Xbox gaming on WP is one of its few remaining distinguishing features that set it apart from iOS and Android. And we all know that Windows Phone badly needs each and every edge it can muster up. There is no valid reason why Microsoft hasn't fixed the broken WP Xbox certification process or extended the ID@Xbox program to WP.

I really wanted this and now it's here.

I think is better than Spiderman

Laggy piece of shit on my L1520

Wth, wow. Sega bring Sonic 4 Episode 2 with Xbox sync please, oh wait everyone has probably beaten it making that feature useless... Sonic Dash is much welcomed though.

If this has made to windows store then I am sure other sega games will also eventually make it to windows phone

I've Always Loved Sonic and it finally is here

Owo. So many new games. Gotta catch em' all

Oh my F god just a month after i bummer about it

Finally :), thanks for the news.

Lets hope they bring virtual tennis to WP.

Why are so few games utilizing Xbox integration? I want achievements and to sync save data between my devices.

Yess! It seemed as one of the coolest features on the OS when I was about to buy my first Windows Phone. On , though: Another endless runner... Well, at least Sonic fits it perfectly.

You two are both prime candidates to join the most important cause in mobile gaming: #SaveXboxWP. Details here. Welcome aboard.

Ohh my gosh.... I think dis game was paid on Android and free on WP..... How cool is dat :-))

Actually, it's free throughout the whole smartphone ecosystem...

How awesome!! Downloading now :)

Cool. Hopefully, we can get Crazy Taxi and some Xbox Live achievements next.

Crashes a lot on my 1320. Expecting an update!

M so happy to see this game on windowsphone that too for 512

Good to hear. Guys, how the game on 512MB devices? Any lags?

Not at all.... Just music shutters and gameplay is fine

Besides a bit hard to jump in time, it runs fine on my L720.

Lagging a lot.. Plus I can't do tricks normally in the air..

I have downloaded this game and its not showing in my app list
Plz help

I just played... Feeling the same PC experience!! Just awesome!!

Looks awesome. And is free. AND at least Sega shows a little 512MB-love...
(yes, I'm looking at you, SLIDEboard!)

Wowowowow Windows is getting the apps lol developers scared of Windows 10 heheheh

Awesome game! But if u let kids play with your phone, be careful w your wallet (and turn on the PIN safety option there, in case still didn't) :)

Can't believe no one has posted this comment "seem faster" lol.

This might be fun. I had sonic when it came out on wp7!

This game is awesome, but... It laggs when you're doing those trick in the air.. It crashes when you play more then 20 minutes~.. And.. Characters are really expensive. Please.. Just remove that crash and lagg from game, and this game will be PERFECT! > Windows 625 :x

I have the same problem on the lumia 625 too. It`s a shame...
Windows Central Newsletter
Thank you for signing up to Windows Central. You will receive a verification email shortly.
There was a problem. Please refresh the page and try again.