5 intriguing apps for Windows 8.1: January 16, 2015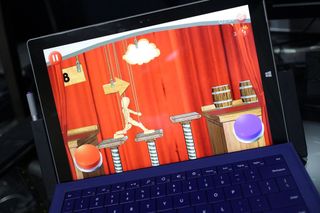 It's Friday again, which means it's time once again to check out five more Windows 8.1 apps that got my attention in the past week. Today we have a pretty random assortment for your consideration.
Among the jumble you're bound to find something interesting, I'm sure.
Strung Along
First on the list is a funny little game called Strung Along. You control a marionette and have to guide it through the stage through various obstacles, controlling one leg at a time. The idea is simple, but the execution is not.
Strung Along combines cool artwork and entertaining sound effects with original gameplay. It takes coordination and patience to succeed. As you make your way up in levels, the challenges get tougher and more sophisticated.
The better you do, the more coins you collect. Those coins allow you to unlock extras, like wardrobe accessories and different game modes. Strung out is great for children and adults alike.
Share to Speech
If you find that you are often too busy driving or running around to read articles or documents that interest you, there are two things you should do. The first is to schedule some downtime into your life. The second is to check out Share to Speech.
Share to Speech is an incredibly innovative app that converts text to audio, just by pasting a web link or opening a file from within the app. It then saves your text as an MP3 file that you can listen to now or later. Audio files can be shared directly to folders, OneDrive, external drive, social media, or even your Windows phone.
There are many different supported files that Share to Speech can handle. Audio can be listened to from within the app, snapped to the side, or in the background. There are myriad different ways that you can benefit from this award-winning app.
You can try it for free for fifteen days. The full version will run you $4.99.
UrzaGatherer
Next up is a niche app for those of you who play Magic: The Gathering. UrzaGatherer is a fantastic way to manage your collection of cards. With this app, you can input every card you own from any edition of Magic, entered either manually or by importing a spreadsheet. Keep track of not only how many you have, but get up-to-date prices for them as well. Your entire collection is also searchable by just about any characteristic you can think of.
In addition, UrzaGatherer helps you inventory the decks you've built, complete with win/loss record. And if you feel like playing a match, you can use in-app life counters, dice rolls, and coin flips to help you out.
Right down to its lock screen slideshow, UrzaGatherer seems like an app developed by a fan and player. It is a must-have app for any MTG player.
iFixit: Repair Manual
iFixit brings the wealth of tech manuals, and how-to's on the well-known website right to your PC or tablet. Search through thousands of articles on how to fix your favorite device, whether it's a phone, computer, gaming console, etc.
The best part is that new manuals get added on a weekly basis.
The app isn't perfect, as some videos are restricted from laying within the app, due to YouTube policies. But over all, it's solid. Not to mention, it's also free.
CurrentWeather
Who doesn't love a minimalistic weather app? CurrentWeather is about as minimalistic as it gets, displaying conditions from anywhere in the world in a crisp and simple layout.
The sectioned view shows current weather, pressure, visibility, humidity, and the chance of precipitation, as well as your five-day forecast. You can add multiple locations and switch between metric and imperial measurements.
Unfortunately, in this case, minimalistic leaves me wanting just a little bit more. It would be nice to be able to change the color scheme, but I can live without that. However, Live Tile would make this app nearly perfect.
Alright, that's a wrap. Be sure to check out our other selections from previous weeks. Have a great weekend!
Do you have an app you want us to highlight? Drop us an email at tips@windowscentral.com with "5 Intriguing Apps" in the subject line.
Windows Central Newsletter
Get the best of Windows Central in your inbox, every day!
Is it just me or does anyone else too can't find the weather app on the store ?

No. The currentweather app. Cant find on store. :|

Try Prognoza... It's very good...

MSN app is great. Fluid, clean, metro. Wish all apps looked like that.

It's only available on w8.1 not wp

Yes. I know. The download app link in this article takes you to only "share to speech" app. Hence I searched manually for currentweather on the store but couldn't find it.

Strung along is causing glance to go upside down on my 1320...

is it me or is it difficult to find new & exciting apps on the windows store? These articles are good, but they often feature a few of the most standout apps already advertised at the front of the store. Hope Win10 accelerates app introduction and generates a bit of buzz about the place.

I have always think about that too, it's hard to find new apps that offers new/different things

I assume you've discovered Photowhirl? I love that app. & best of all, it's a Windows 8 exclusive!!

I never heard of Strung Along until now. I downloaded it and its actually pretty fun and addicting!!

Strung along looks good.....also,I love ifixit...they're great

The irony of ifixit is when you need it, your phone is probably broken. But that Share to Speech is excellent, i had that idea a while ago.

Great app suggestions. Strung and the weather app look interesting

Link to an application from this post doesn't working expect share to speech app.

You left out GPS Calculator Pro, its one of the best tool that is a must for most of the WP owners

At the moment the best app for Magic The Gathering is MTGBugs Next for Windows Phone http://www.google.it/url?q=http://www.windowsphone.com/en-us/store/app/m...