5 intriguing apps for Windows 8.1: June 19, 2015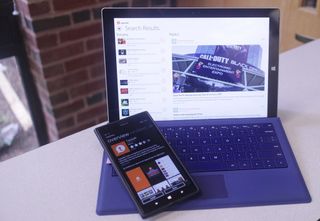 With the ever-growing number of apps and games in the Windows Store, it is becoming increasingly difficult to keep up with what's out there.
For that reason, every Friday we showcase some apps that have piqued our interest. They may have been in the news recently, they may be new to the Windows Store, or they could simply be old apps that we just stumbled upon.
They are the 5 Intriguing Apps of the Week.
CourseSmart eTextbooks
CourseSmart eTextbooks is an official app for the online subscription service of the same name. CourseSmart allows you to get your school books in electronic form, giving you easy access on multiple devices and eliminating the need for a backpack full of books.
The app also lets you highlight passages and take notes on your device. These notes and mark-ups will sync across all the CourseSmart system, so you can see them anywhere you can access your account.
The CourseSmart app also supports portrait and landscape orientation and has the ability to search using keywords. The app is free, but a subscription is required to use it.
SoundCloud Shadow
SoundCloud Shadow is a simple client that lets you search and listen to anything that the SoundCloud music service offers.
Search by artist, song title, or any key word. You can favorite selections and download them to local cache for access offline.
SoundCloud Shadow does not have a lot of bells and whistles, but it is fast and it works.
Tapatalk
Earlier this week, Tapatalk launched a revamped version of their Windows Phone app, which is now a universal app, available on Windows 8.1. For those who are not familiar, Tapatalk is a gateway to thousands of online forums on just about any topic.
Tapatalk makes it easy to keep active on your favorite forums reading, posting, sharing pictures, and sending/receiving private messages.
Trackage
The brilliantly-named Trackage is a one-stop app for tracking all of your shipments and deliveries. Be it from UPS, FedEx, LaserShip, or the good ol' U.S. Postal Service, just enter your tracking number and a name/description of your choice. Trackage does the rest.
Packages are organized by status and all of your information will sync between devices and can be shared with others.
Trackage has a cool 50/50 view that shows you the app info alongside the parcel information on the carrier's own website. You can also pin individual packages as Live Tiles for convenient access to shipping updates.
And once your stuff reaches its destination, Trackage can automatically archive your packages based on a date of your choosing. If you find yourself shipping or receiving goods fairly often, Trackage is a great way to help you manage it.
Fonto
Fonto is another app that combines your photos with text. However, unlike others that overlay the text onto the image, Fonto does the opposite, shaping the picture into the words.
Just import an image you want to use and type the word or words to go along with it in the text field. Then use the point-and-click editing tools to change the size, color, font, and opacity.
Your finished product can be saved to your device or shared with others.
Fonto has a limited number of font options at the moment, but for a free app, it's worth a look.
Be sure to check out our other selections from previous weeks. Have a great weekend!
Do you have an app you want us to highlight? Drop us an email at tips@windowscentral.com with "5 Intriguing Apps" in the subject line.
Get the Windows Central Newsletter
All the latest news, reviews, and guides for Windows and Xbox diehards.