5 things we love about the Windows 10 Creators Update
The Creators Update is finally here — these are our top 5 favorite things included in the update!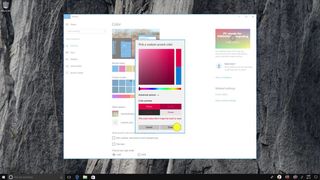 The Windows 10 Creators Update is here, and it's packing a number of new features that we're super excited to see included with Windows 10! Although not everything is great, here are our top 5 things we love about the Creators Update.
Personalization
With the Creators Update, you now have several more personalization options over previous versions of Windows. For starters, you can now set any color as your accent color, which can be applied to window titlebars, the taskbar, Start menu, Action Center and live tiles. No longer are you limited to the 48 colors that Microsoft provided before, although they are still there.
What's more, there's now a new Themes area in the Settings app that makes it easy to customize not only your accent color, but wallpaper, cursors and sounds too. You can even head to the Windows Store and buy/download new themes as well, meaning you don't even need to put any effort into creating your own personalized desktop experience. Just download one!
Another neat customization option that's available in the Creators Update is the ability to remove the apps list on the Start Menu, allowing you to make your menu look much more like a Windows Phone's Start Screen. Removing the Apps List from the Start Menu is one of the first things I do on the Creators Update, as it helps make my Windows 10 mine.
Night light
One of the things we're really excited to see in the Creators Update is the inclusion of a blue-light filter. No longer do I need to head to the web and download a 3rd party program to enable a blue light reduction filter, as Windows 10 now has one built in.
Just head to Settings, and enable Night Light. This feature will give your screen a warm tint in the evenings to help with eyestrain, and as a result will make it easier to get to sleep at night if you're someone who ends up looking at computer screens late at night.
Admittedly, it's not very customizable, but what it offers right now does the job. You can set it up to automatically come online when the sun sets outside, so you don't even have to worry about it.
Windows Update
If Windows 10 is known for anything, it's incredibly annoying updates. Luckily, with the Creators Update, Microsoft has made Windows Update somewhat less annoying. Admittedly, you still can't disable updates entirely (which I'd argue is a good thing) but you can now postpone updates much more and even schedule them so they don't interrupt you during PowerPoint presentation or streaming session.
There's a new "snooze" function, which you can hit if Windows Update is requesting a restart at an inconvenient time. You can also schedule Windows to install updates at a specific time if you know you won't be using your PC at that time. Furthermore, you can now set your Active Hours to span up to 18 hours, telling Windows when it simply isn't allowed to force install updates.
Also, behind the scenes Microsoft has made several improvements that make feature updates much smaller when downloaded. No longer will you have to download a 3GB update every time a new feature update is available, as Microsoft's new "Unified Update Platform" shrinks those downloads by up to 30%.
Pick up where I left off
With the Creators Update, Cortana is slowly starting to work for you. One of the new features is the ability for it to show you apps and documents that you had open earlier and on other PCs, allowing you to quickly pick up where you left off and get right back to what you were doing.
Cortana will also automatically set reminders for you when you make them in emails, another nice addition. Unfortunately, Cortana is still not yet available in all markets, so these features aren't available to everyone.
Security enhancements
Between the newly updated Windows Defender, speed enhancements to Windows Hello, and locking app installs to the Windows Store and Dynamic Lock, the Creators Update includes several new security enhancements that make this version of Windows 10 the most secure yet.
You can now lock app installs to the Windows Store only, meaning an app won't install unless it was downloaded from the Windows Store. This is off by default, but can be enabled if you wish.
Dynamic Lock allows you to pair your phone to your PC via Bluetooth for added security. When you walk away from your PC and your phone disconnects from it, Windows will know to automatically lock itself. It's a nice feature, but it could do with a few customizable options.
So there you have it, that's our list of 5 things we love about the Creators Update. What are your favorite things about the Creators Update? Let us know!
Windows Central Newsletter
Get the best of Windows Central in your inbox, every day!
Zac Bowden is a Senior Editor at Windows Central. Bringing you exclusive coverage into the world of Windows on PCs, tablets, phones, and more. Also an avid collector of rare Microsoft prototype devices! Keep in touch on Twitter: @zacbowden.
Live folder. Finally I can organize the tons of my apps the same way as I have done on my phone. The Tablet Mode is actually usable now.

Other PCs? How about from my phone?

yeah, it could be better optimized for low end HW but its not, so W7/8 is still a better option

im runing windows 10 on 2 machines a i7 3770k with a nvidia 1070 and a 775 q6600 cpu with a crapy cheapo 10 pound card. Both systems work great with windows 10, w7 and w8 on both my systems ram well but so does windows 10, ap[art from missing features i used to have in apps like skype and the restrictions in edge windows 10 is definatly on both a 4 year old system and on a 9 year old system amazingly smaath(baring silly updates) and well much more reliable than both 8 and 7, well actually ill say just 7 cause 8 was prety amazing in reliability too even with updates. Windows 10 bigest fault is pace at features released, upadtes tend to break the machine alot more than either 7 or 8 but windows 10 on both my machines has been virus free, trojan free, adware free, fast runing, smooth mostly and well a very pleasureable experience on both my systems which is why edge new tab restrictions and microsfts forcefullness aproach hasnt scared me away just yet(its close though). The q6600 atkes ages to boot but i dont think 30-40 seconds with 8 hds is that bad lol, it was same in windows 8 and a little showing booting to 7, the i7 well 3 hds and takes 8 sec to boot.

W7 is not a better option. Boomers who stick with old operating systems for their ancient PC's are just hurting Microsoft, (and hurting us all) as programmers will not come back to Windows as readily, since we haven't hit the One Billion Mark yet (We are only at 500 Million). Also, there's Shadow Brokers....

The CU around for several months for testing and preview only now you say disappointing?

I haven't seen any "pick up where I left off" Cortana suggestions yet, but I did just notice for the first time that it read an email and suggested creating a reminder for me. It would be nicer if that popped up in my email, or at least as a system notification. I don't often open Cortana and read the cards directly. The settings make it sound like it would do that, so maybe this is just a bad sample where I didn't give a precise time. Dynamic Lock is definitely a win, if lacking in configuration settings for now. Night Light I love in principle, but I try not to be on the computer in the last hour or two before bed anyway. It would be better on the phone, because I do use that right up to bed.

I've had a couple of instances since. One was a reminder in Cortana's 'app' itself, another was from her on the action centre, and I got a nice prompt when I opened Edge on my desktop, asking me whether I wanted to use some tabs I'd had on my SP4 only 10min beforehand.
It seems to be a bit hit-and-miss, maybe to avoid irritating people, but I'm liking it.

-folder tiles -smaller update sizes.

I haven't seen the Personalisation tab but Night Light is good. More colours would have been good.

Night Light is blocked for me for some reason. I'll be sticking to F.lux anyway.

Could it be because you have f.lux installed?

I doubt it. I think it was blocked before I installed F.lux. I had to reset my computer and I made sure to check out the new features before I reinstalled everything.

i have the same problem the option to turn on nightlight is grayed out.

I do ALOT of research for engineering projects & "setting tabs aside" in Edge has been a lot more advantageous than I thought it would be

Engineering projects. yet you find this "old renamed as new" feature to be useful ?
Engineering might not be your thing... these are basically temporary bookmarks for dumb people

really? i find it takes a extra click per new tab compared to ie, opera, safari, chrome. It feels like a step backwards where tab draging is concerned. I cant even drag a tab to the top of the windows, let go and pow its full screen. On edge i have to go to the full scren box and press it every time. Its certainly not advantagous to me compared to what im used to and its one of two things that prevents me using edge and truest me uive tried many times as its awsome in alot of ways.. Some of the left click options on tabs are awsome, alot of things in edge are awsome its a shame they miss something simple and usefull like this. Also no default home page for new tabs sucks, especiallt when your used to that on every other browser you use and have used for years, well exept on edge.

Where's the love for all the Creator's features, like Paint 3D? (yeah, nobody uses it.)

Yeah. MS should let third party developers focus on such nieche software.

To be honest, most people who are interested in the kind of thing that Paint 3D does probably already use better quality free\opensource software already.

People will use it for the same reasons they used paint. Quick, simple and dirty image modification like crop and resize. Gimp and Photoshop takes forever to open before you can work on the image. And doodling in 3D is fun and that does not require to spend so many hours into 3D modeling software.

Also, edge browser continually crashes after the update... It normally takes at least 3 attempts to launch it and also does not launch sometimes when going to browse a website from an email....

I don't have any trouble with edge, fwiw

Best: Initial support for USB Audio 2.0. Some respect for app uninstallation and deprovisioning. Service process improvements. Expected: DPI improvements. Settings consolidation. Worst: books on Edge

I want multi select on tiles like on Windows 8.1

Found 'set tabs aside' in Edge to be the best feature.

And that's the best of it??? It took me all evening to sort this update. And all for that???

It really wasn't an interesting update at all. But at least we got Paint 3D & 3D Builder!!! Yeah... I couldn't care less either :P

Anyone else having huge problems with grid arrangement on 4k screen with 125% scaling? I just cant seem to arrange my desktop icons with that scaling. Works fine with 100% but that is way too small for a 4k screen.

1. Address bar in Registry Editor 2. Win-Shift-S to capture a window area 3. Mark a web note in Edge seems to work better.

Do I see "My People" down right on the first picture

There's something Microsoft has to fix for sure. Users must ALWAYS have the ability to change a tile to it's default icon. This is very important and I don't know if they 've done something about that in the creator's update. Live tiles are great but many times they can be frustrating. We may want to immediately recognize an app by it's familiar color or icon. Not allowing this is a fundamental design mistake.

Absolutely agree. The smallest tiles are icon-sized but don't have the icon text beneath them, which I find a nuisance. I wish icons were offered as an option, in the same list as "small, wide, large" etc for the tile size.

Isn't it what "Turn off live tile" for? When I do that, the app stops showing stuff on the tile and the icon is displayed. Turn off live tile has been there since the beginning of Windows 8, it's on the right-click menu of a tile.

You're right. This is an issue for W10M. My mistake posting to this thread. I thought turning live tiles off wasn't always available but it is.

Norton Identity Safe for Edge, Finally!

Most useful only Night light

things i am still waiting for. Edge to have a new tab open to my default page and also drag and drop new tabs like in ie, edge is very limited these ways. I also feel sticking a edge button on ie next to the tab and new tab area ios a slap in the face to users, microsft need to stop this. The only people left on ie are microsft fans, people who want to use bing and want to use edge bnut cant cause they both miss things we need, for example a shopping button that google has, you tube, maps and other google short cuts. a browser that alows the user to use it they way they want and always have been. The only thing microsft is doing with these actions is forceing more of their fans onto chrome, firefox opera ect. Also still cant get cortana to work in plex with voice comands, she hears what i say, and what i say is what plex told me to, yet she cant do anything other than open plex. Trying to open a movie or a tv show results in either a internet search or a soz groove cant do that lol. on thing i like was the adition of a skype windows to move around your friends feed, that works great. still want to be able to control my logitech camera and my audio within skype but havent been able to do that for years, unless i still use the very old skype lol. Tiles, i love them but how many people out there have a start menu with a handfult of prety and interactive tiles and a few dozen really badly designed shortcut thumbs. We need a built in tile editor that lets us pic a imager to map to a tile, at the minimun. I cant really say how much im disapointed by a small improvement in colour pallet or a night vision im never gona use. tiles are great let us the users make them look great for older programs or for developeres that cant be bothered. And no i dont want to have to download a seperate app and then some other files just to chage a windows 10 tile. windows desktop 10 is awsome i just hope they stop wioth all this tom foolery and forcefulness, their aproach has cost them a large chunk of the consumer market and unless they alter their forced aproach then theyll find that even gaming will not save them in the consumer market. All it would take is android or apple to get serious about games and consumer windows would be in trouble. Plse microsft turn around these restrictions. PS: love updates being forced on other people, particually none advanced users but i hate that restriction on myself, especially as almost every upade in the last 1.5 years or at least 60% of them has stoped something working usually skype or on 3 occasions making their store unusable resulting in rollbacks that dont fix the situation so a format and reinst needed. Lets fix edge so we can open tabs to our choice of home page or even my default home page of google lol, lets fix edge so draging a tab to the top of one of my monitors results in the tab opening full screen. Lets bring back stop updates but hide it so only advanced users would find it, Can we also get a tile editor thats simple to use plse. Can i have video camera controls in skype and audio controls in skype and plse stop breaking skype with every other update. lastly id really like control panel shortcut back on my start menu duuuuuu.

ps. installed creater edition , didnt like some of the changes like the start meu so rollbacked, the roll back stoped my store from working so apps wouldnt instal, they just downloaded and failed, luckly this time a reinstal of creaters update solved that store issue but now im stuck with a start menu that i feel is inferior to what we had, apart from grouping things in 1 folder, i like that, i wish they kept control panel on the start menu instead of pushing me to type it in in a search. Again it feels like microsft is forceing me to use windows their way instead of my own. Rightfully or wrongly thats how i feel aboput microsfts aproach now.

None of this looks particularly exciting to me. I'll install it whenever I get around to booting into Win 10 again. Hell, I didn't even install the "anniversary update" until mid January. Meanwhile 8.1 is just fine on this desktop, and on various laptops and tablets I have here.

To be honest, customizations aside, i didn't find all the rest particularly interesting. Except the fact, but maybe i am wrong, that for some reason, the resolution of the display seems a tad better on my X1 Yoga, while it doesn't show any change on my Acer Black Edition. That could be mere perceptions rather than real improvements but my eyes are very sensitive and so i think something has happened in that department. For the rest, it's the usual thing. The usual thing DOES NOT mean BAD. I like Win 10. But it is obvious that priorities in places like this are different from priorities in other countries and for different types of people. In particular, Cortana, Updates and OneDrive should have granular options for disabling or removal altogether. Many people don't need/want Cortana. I deem it a disgrace that Microsoft keeps pushing it in people's throat. OneDrive keeps popping up even if you don't want it and the Updates, well you don't know what you're installing and really have no options to decide what to do. One of those broke my audio on the Acer and it stayed that way till the Creators update fixed it. Office is the same. You don't know where your data is going, and who is collecting them. In substance, if i want a pinch of privacy on my own machine i have to resort to a Linux distro and open source software. That is a disgrace updates and fancy things can't fix. But i understand it is not everyone's worry in some parts of the world where privacy and control over what you buy isn't a priority anymore.

One irritating thing is: I updated and for the next day or two could not get the desktop to sleep. It keeps waking up and then the HDD is working like crazy. It even woke up from "shut down". Usually sleep and shut down works pefectly.

Take a look what Taskplanner is saying.
Remember windows asked you at what time System maintenaince should be planned ? They ignore it sometimes after updates and so you have it the whole day.

after windows 10 creators update,admin tools where lost,recovered by using sfc /scannow

For those that think creators update doesnt run well on "low end hardware" I just bought a CHUWI 10 inch tablet for $189 (dual boots to android) and it runs the creators update flawlessy. I thought sure it was gonna mess up my dual boot, but no, I'm loving it. Tablet mode works great too.

What i like most is edge which is now my fav browser and Chrome kicked out. No more crashes.
The Settings pages are now beautiful and good designed and now I trust in typing a single letter about what i Need and its there. And gamemode is just fantastic. What most People complain about now and in future updates is the for me the real strength of Microsoft only few changes and a snappy functioning System.

Still no full screen browsing for Edge.... sigh.......

SHIFT + WINDOWS + ENTER will enter into full screen mode on Edge. Repeating the keystrokes again takes you out of full screen.