5 Windows 10 apps you should try: Fitness with friends, notes to self, and historical heartbreak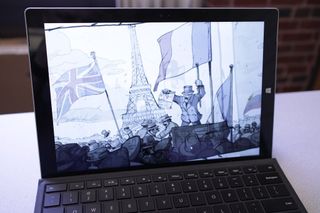 With the ever-growing number of apps and games in the Windows Store, it is becoming increasingly difficult to keep up with what's out there.
For that reason, every Friday we showcase some apps that have piqued our interest. They may have been in the news recently, they may be new to the Windows Store, or they could simply be old apps that we just stumbled upon.
They are the 5 Intriguing Apps of the Week.
EzPodder
EzPodder is a straight-forward podcast player for Windows 10 computers and phones. The app has a clean user interface that displays each podcast as a tile.
You can search by name or keyword, or browse by genre. Podcasts can also be added via their URL or imported/exported using OPML files. Mark your favorite podcasts and view a list of them with a simple click.
Whether it's subscribing to a title or just grabbing individual episodes, you can stream them live or download them to listen offline. You can also have your favorite podcast play in the background while you use other apps.
EzPodder has some other cool features as well, like password-protecting feeds, a sleep timer, and the ability to back up your settings and episodes. There are also tons of customization options to change the look and feel, genre options, and regional settings.
EzPodder is a solid all-around podcast player, be it for your PC or Windows 10 Mobile phone. The paid version is ad-free and comes with a free trial. There is also EzPodder Lite, which is free to download, but has advertisements.
Available for Windows 10 PC and Mobile.
inKin
The fitness + social media hybrid site inKin finally released an official app for Windows 10 Mobile last week.
inKin's app helps motivate you by letting you challenge, compete with, and keep tabs on your family's and friends' fitness progress. Share your steps for the day, your weight loss, and more.
The real beauty of inKin is that it taps into most well-known fitness trackers, so just about anyone can participate. Fitbit, Microsoft Band, Garmin, Jawbone, the Moves app, you name it.
The inKin Windows 10 app lets you set goals for weight and other fitness metrics and gives you a live feed of your stats. You can also use it to engage in daily and weekly competitions with the community or go head-to-head with someone you know.
The dashboard combines all of this into a single view and the leaderboards give you a quick snapshot of how you rank amongst your peers.
Let's face it, for many of us, it's tough to stay motivated. Having a network of friends that are all in the same boat will keep you moving and hold you accountable. And you may even earn some bragging rights along the way.
Available only for Windows 10 Mobile.
Download inKin for Windows 10 (opens in new tab)
Snips
Snips is a free app for Windows 10 for PC and Mobile that lets you quickly create notes on your device.
Just start typing in the text field then click on the Send button and a new memo is created. You can then give it a title and edit the body of the message.
Need to save a URL for later? No problem, copy it from your browser and paste it into Snips. You can also create more complex notes, like "to do" lists.
Anything you add to Snips can be shared to other apps using Windows 10's built-in Share function or copied to the clipboard. And if you have the app installed on multiple devices, your memos will sync between them.
The Live Tile will display your latest notes, so you can get a glimpse of them without having to open the app. Snips also has a built-in spell checker, as well as light and dark themes.
While Snips is not a comprehensive time management system, it is a handy way to take notes and save tidbits of information on the fly.
Available for Windows 10 PC and Mobile.
Download Snips for Windows 10 (opens in new tab)
Video Jack
Video Jack is an ultra-light media viewer for Windows 10 PCs and tablets that plays your movies in their full resolution with high-end sound.
The no-frills interface is incredibly easy to use. Just point the app to whatever video or audio file that you want to open and that's it. The onscreen controls are unobtrusive during playback and disappear when you stop hovering over them.
Though the app itself is not rich in features, its real value is in its ability to play most video files and most audio files. Video Jack supports 3G2, 3GP, AAC, AVI, FLV, M4V, MKV, MOV, MP4, WM, WEBM, TS, and just about anything else you can throw at it without having to download third-party codecs.
And because it is so lightweight, it won't bog down your system.
If you're looking for an app with a lot of bells and whistles, then Video Jack is not for you. However, if you're in the market for a free app that will handle pretty much any video you can download, then you should give Video Jack a shot.
Available for Windows 10.
Download Video Jack for Windows 10 (opens in new tab)
Valiant Hearts: The Great War
Earlier this week, Ubisoft released Valiant Hearts: The Great War as a universal app for Windows 10 on PC and Mobile.
Valiant Hearts is a beautifully-crafted game that follows a handful of regular people whose stories all become intertwined during World War I. There are four episodes that have you exploring, battling, and solving puzzles to win the day with the help of a trusty canine.
Valiant Hearts is designed in what looks like hand drawn artwork to form an animated graphic novel of sorts. Though dialogue is limited mainly to emotive sound effects, the narration and series of events come together to form a heart-wrenching tale of love and heroism.
The game is not terribly challenging, but instead takes you on a meandering historical journey that takes you through the rigors of war. It's fun enough to engage children and adults alike, carries with it sobering message.
Available for Windows 10 PC and Mobile.
Download Valiant Hearts: The Great War for Windows 10 (opens in new tab)
Be sure to check out our other selections from previous weeks. Have a great weekend!
Do you have an app you want us to highlight? Drop us an email at tips@windowscentral.com with "5 Intriguing Apps" in the subject line.
Any other apps similar to MSN health and fitness for windows 10 mobile (except Microsoft health app).? Can anyone suggest.?

Fit bit app, Hulu, netflix

You're trying express what, exactly?

So wait, you're able to purchase episodes for Valiant Hearts (deducing from the screenshots)? Me and almost every other person who has rated the game in store has reported an internet connection error :/

Valiant Hearts: for better or worse best history lesson of World War I I've had. And that ending is heartwrenching. I can count on one hand the number of games that have delivered such an emotional payload. Highly recommended.

Might give Snips a try. I love note taking apps but I'm yet still to find an app that satisfies me on both PC and mobile. Sent from my laptop on Windows 10 Pro Insider Preview

Cannot download Inkin on my 950 xl...?

Cannot find video jack in the store, nor am I able to download the app from the link. Please help

So this video jack can really play an .avi codec? There are so many out there claiming the same thing but doing nothing like it. All in all its worth the try.