5 Windows 10 apps you should try: Get a laugh, set up a media server, and break out of a dystopic prison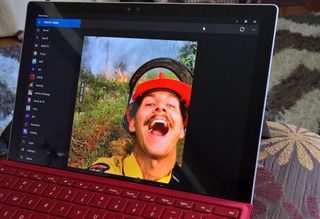 With the ever-growing number of apps and games in the Windows Store, it is becoming increasingly difficult to keep up with what's out there.
For that reason, every Friday we showcase some apps that have piqued our interest. They may have been in the news recently, they may be new to the Windows Store, or they could simply be old apps that we just stumbled upon.
They are the 5 Intriguing Apps of the Week.
Perfect 9Gag
Perfect Thumb, the makers of several Windows apps, including the best Flickr app around, are at it again with Perfect 9Gag. As you may have guessed, this is their third-party client app for the popular humor site 9Gag.com.
Sporting a streamlined user interface, the app lets you browse the latest posts in categories like Funny, GIF, WTF, and more. You can also sort within each section by what's hot or what's fresh.
Perfect 9Gag supports in-app GIF animation and video playback, so you can enjoy everything without jumping to an external browser. You can also download videos and images, copy post links, or share directly from the app.
Logging into the app with your 9Gag account allows you make posts on the site using your camera, a URL, or custom meme. You'll also be able to comment and upvote\downvote other people's posts.
Perfect 9Gag follows in the footsteps of the developer's other apps, delivering a topnotch user experience with a mix of design and functionality. Available for Windows 10 PC and Mobile.
Download Perfect 9Gag from the Windows Store
Kodi
Kodi has released a new version of their media player for Windows 10 computers and tablets.
Kodi (formerly known as XBMC) is an open-source media player that works across several different platforms. The app itself doesn't contain any media itself, but rather lets you connect to a local media server, hard drive, disc drive, or remote server.
There are also tons of third-party plug-ins available that will let you stream content.
The Kodi app allows you to stream pictures, videos, music, and even stuff like weather forecasts from these sources to your Windows 10 devices and control it using a remote.
The user interface is both beautiful and intuitive, and although it is not quite perfect yet, the app is solid.
This beta version is only available for PC at the moment, but the developer envisions a true UWP app for mobile and Xbox One sometime in the future.
Available for Windows 10 PC.
Download Kodi from the Windows Store
Graphiter
Graphiter is a drawing app for Windows 10 that turns your computer into a digital sketchpad.
With pencils ranging from 2H to 8B, you will get the exact tone you are looking for, while the blending tools will help you soften the hard edges and fills into natural-looking textures.
There are also colored pencils for adding zest and life to your drawings and an ink pen for precise line work. And what drawing set would be complete without some erasers?
You can create multiple books to organize your drawings however you want to and any sketch can be exported to JPG or PNG.
The free version of Graphiter includes fourteen pencils and two erasers, with other tools available as in-app purchases.
Available for Windows 10 PC.
Download Graphiter for Windows 10
EarTrumpet
EarTrumpet is an app with a single function that can actually make a big difference in your daily computing life.
Its purpose is to control your PC's volume. And although Windows 10 already has volume controls of its own, EarTrumpet is far superior because it lets you change the volume of individual apps.
It works with both traditional desktop apps, as well as those that you download from the Store. You can also completely mute each app or your master volume in Windows.
Perhaps you are playing music with Groove while playing a game and want the in-game sounds to be louder. Go ahead and lower the volume of Groove to create some ambience and pump up the game sounds just a tad for clarity. You get the idea.
EarTrumpet runs as an icon in the taskbar, just like the volume controls that are native to the operating system. The control panel fits in with the rest of Windows 10 aesthetically as well, so it feels like it belongs there.
On its face, EarTrumpet may seem like a trivial app, but give it a try, and you just may find it becomes one of your most-used tools.
Available for Windows 10 PC.
Download EarTrumpet from the Windows Store
Signals: Lockdown
Signals: Lockdown is circuit-based puzzle game for Windows 10 computers, tablets, and phones. You play the role of a captive in a futuristic prison who is trying to break out using your electrical hacking skills.
Each lock has a shape pattern on it that must be matched by connecting the correct combination of nodes to it with wires that you draw with your pen, mouse, or finger.
Throughout your attempted escape, you are taunted by the AI warden, who is reminiscent of Portal's antagonist, GLaDOS.
Signals: Lockdown will keep you busy with each of its two episodes, totaling one hundred levels. The challenging logic puzzles and custom ambient soundtrack are a great way to exercise your brain.
But fear not, if you get stuck on a level, you can opt to use a hint, which become available after a certain period of time.
Signals: Lockdown is free to download, with optional in-app purchases.
Available for Windows 10 PC and Mobile.
Download Signals: Lockdown from the Windows Store
Be sure to check out our other selections from previous weeks. Have a great weekend!
Do you have an app you want us to highlight? Drop us an email at tips@windowscentral.com with "5 Intriguing Apps" in the subject line.
Get the Windows Central Newsletter
All the latest news, reviews, and guides for Windows and Xbox diehards.