5 Xbox One X Enhanced games we love (a lot)
After spending nearly 10 hours with the Xbox One X prior to launch, these are our top titles so far.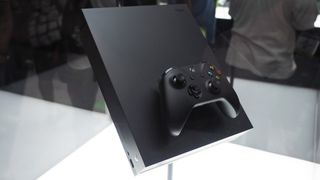 Less than two months remain until Microsoft's upcoming flagship console, the Xbox One X, hits store shelves worldwide. Following its reveal at E3 2017, a stream of new details has continued to emerge, surrounding both the system itself and the games to expect at launch. Promising to deliver improvements to both existing and upcoming Xbox One games, increased resolutions, more consistent frame rates and other visual upgrades will be frequent changes across select games.
Since the console's unveiling, we managed to spend a fair few hours with prototype versions of the Xbox One X, getting a feel for the console and its growing library. The titles updated for the console, known as "Xbox One X Enhanced" games, will be those that truly shine on the device, with the ability to take full advantage of the newly available resources. We rounded up five enhanced games we're loving right now on Xbox One X, ahead of its slated November 7 launch.
1. Rise of the Tomb Raider
The latest entry to Lara Croft's daring adventures, Rise of the Tomb Raider, was first released in 2015 as a launch exclusive for the Xbox One. Following a tense hunt for the lost city of Kitezh, the game served up a thrilling journey of combat and puzzle solving, building upon the foundations established in its 2013 predecessor. And despite releasing on other platforms since, the game still holds up as one of the most visually stunning available on consoles today.
Microsoft recently announced that Crystal Dynamics is making a return to Rise of the Tomb Raider this fall, with a reworked version to leverage the additional horsepower of the Xbox One X. Players will have the choice between a boost to 4K, an improved frame rate, or overall enhanced visuals following the update, alongside other new additions such as HDR and spatial audio support.
We had the opportunity to experience 15 minutes of Rise of the Tomb Raider's "The Prophet's Tomb" mission, which dives into a Syrian tomb in search of the Eternal Prophet. From the start, it was immediately clear that a bump to 4K resolution showcases the game in its best light yet, with the intricacies of its world now shining through. This is especially true with the expansive areas of the mission, with improved detail and realism throughout environments.
While I invested many hours in Rise of the Tomb Raider at launch, as one of the most visually impressive games showcased on Xbox One X to date, this will be one to revisit.
See at Xbox Store (opens in new tab)
2. Gears of War 4
Launched shortly after the Xbox One S, Gears of War 4 was one of Microsoft's most impressive games to hit the console last year. While its memorable set pieces and robust mechanics marked a welcome return to the franchise on current generation consoles, the inclusion of HDR made for a striking advancement in visual appeal.
Gears of War 4 has been announced as one of the several in-house titles set for a 4K upgrade this fall, and if our demo is in any way indicative of the final experience, the game will be a must-try on Xbox One X. With improved resolution and graphical fidelity, this revision comes close to the Windows 10 version, however, with the optimization expected for fixed Xbox hardware.
During our hands-on, we experienced two sections of the campaign, with two very different environments. Whereas one mission had us fighting incoming enemy hordes attacking an enemy village, the latter followed the squad's escape from Fenix's estate during the night. Both day and night scenes were clear and refined in 4K and paired gracefully with the color enhancements of HDR.
See at Xbox Store (opens in new tab)
3. Quantum Break
After the mixed reception Quantum Break received at launch, the announcement of its Xbox One X version earlier this year came as somewhat of a surprise. Regardless, it appears Quantum Break has been given the upgrade treatment to offer improved visuals.
Quantum Break's biggest criticisms were directed toward its gameplay and live-action counterpart, and while these won't be changing, the update builds on its visual strengths. Following a bump in resolution, seemingly for both its in-game portions and cutscenes, Quantum Break on Xbox One X now greatly exceeds its counterpart on standard hardware. Although the game supposedly doesn't hit native 4K, its changes are still a massive leap over 720p.
From the relatively realistic character models, to the effects of time distortion powers, after seeing Quantum Break on Xbox One X it's understandable why time was invested in an upgrade.
See at Xbox Store (opens in new tab)
4. Rush: A Disney Pixar Adventure
Of all the upcoming games I'm looking forward to on Xbox One X, a re-release of Rush: A Disney Pixar Adventure is one I didn't expect to make this list. However, seeing the jump from the Xbox 360 release, the upcoming remastered 4K versions are all the more impressive.
Although technically not an upgrade, with the game being sold as an entirely new title on Xbox One, it's still striking to see the differences in hardware capabilities over a five-year period. Rebuilt with improved textures and an increased resolution, the game has seen clear refinements overall.
This latest version of Rush also reels in the Kinect requirement, allowing players to experience all its content with a standard Xbox One controller. While motion controls are still possible with an Xbox One Kinect sensor, changing up its control scheme will open up the title to a larger pool of players.
See at Microsoft Store (opens in new tab)
5. Forza Motorsport 7
While many of Microsoft's most anticipated titles are now set to launch in 2018, the annual entry to the Forza series is still on track for later this year. Forza Motorsport 7, a return to the series roots, is set to be one of the biggest games from Microsoft Studios this fall, launching shortly prior to the Xbox One X.
Once the Xbox One X drops on November 7, Forza Motorsport 7 will be one of the many games with a 4K upgrade set for launch. With support for 4K and HDR, while maintaining 60 framers per second (FPS), the game is shaping up to be an outstanding showcase of the console's abilities.
Other more advanced improvements with this game, such as dynamic weather conditions and track variants, aren't exclusive to Xbox One X, however, it is greatly enhanced with the additional power of the console.
See at Xbox Store (opens in new tab)
Over to you
What Xbox One X games are you most looking forward to playing on the console? Let us know your thoughts in the comments.
Windows Central Newsletter
Get the best of Windows Central in in your inbox, every day!
Matt Brown was formerly a Windows Central's Senior Editor, Xbox & PC, at Future. Following over seven years of professional consumer technology and gaming coverage, he's focused on the world of Microsoft's gaming efforts. You can follow him on Twitter @mattjbrown.
Quantum Break needs much better lighting and animations, moreso than a res bump.

I'm planning on finally playing it only after I get my One X in, so unfortunately I won't be able to tell the differences.

It's still an incredible game it just isn't exceptional graphically. Also don't play it like a cover based shooter, you really have to use your powers and move around, a lot, otherwise you'll die, especially on the higher difficulty.

Shader look pretty crazy to me tho...

Just tried the forza 7 demo thus morning. Only played 5 mins of it and of course I couldn't experience the 4k yet. Initial impressions? Graphics simply don't wow me. However I was reminded of how smooth the controls are. It does feel good to play. I'll need more time with the demo To really make a good judgment
Windows Central Newsletter
Thank you for signing up to Windows Central. You will receive a verification email shortly.
There was a problem. Please refresh the page and try again.