6 cute laptop bags for women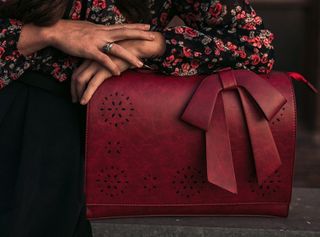 Looking for an adorable laptop bag for you or the special lady in your life? Here are six super cute ones that are bound to catch 'er eye!
Shopping for a laptop can be challenging, but in some instances, shopping for the perfect laptop bag can be even more difficult.
Whether you're someone who prefers more of a backpack look, a classic over-the-shoulder purse style, or maybe a little mix of both, there's a laptop bag out there for every woman on the go!
Here are six super cute, functional, and stylish laptop bags that are perfect for women!
ECOSUSI PU Leather Laptop Messenger Bag
Modern, functional, and designed to double as both a purse and a laptop bag, the ECOSUSI PU Leather Laptop Messenger Bag is a highly-rated option to consider while shopping around.This $49 bag is designed to fit a 13- to 14-inch laptop and secures the device with a velcro strap. The purse also comes with one large compartment, two smaller pocket compartments, and one zippered compartment for easy organization (especially if you're someone like me who has a very messy purse).You can pick up your very own ECOSUSI PU Leather Laptop Messenger Bag in colors like red, black, blue, and brown — and did we mention the fact that you can carry it like a briefcase by unclipping the shoulder strap for an extra pop of business chic?
S-ZONE Canvas Laptop Backpack
Give me an S! Give me a hyphen! Give me a Z! Give me an O! Give me an N! Give me an E! What does that spell?! S-ZONE! What's that mean?!… Well, it's just the name of the company that designed the super stylin' and incredibly well-made Canvas Laptop Backpack!This durable, vintage-looking canvas backpack is made out of a thick material with a PU leather trim along the sides, so you get fashion and function coupled into one.The inside of the bag is littered with pockets for your on-the-go convenience and organization, including a zipper pocket in the front area, a zipper pocket and open pocket under the flap, and two side pockets, while the inner cavity has two zippers, one inner zipper pocket, an inner laptop compartment, and two inner smaller pockets, so you can store your charging cables and your makeup at the same time!Depending on the color you want, the S-ZONE Canvas Laptop Backpack can cost you between $19 and $26. This particular bag comes in dark dray and coffee.
Pad&Quill Valet Luxury Laptop Bag
Keep it simple. Keep it classy. Keep your laptop stylish and secure with the Pad&Quill Valet Luxury Laptop Bag!This $140 bag is designed from a full-body, full-grain American brindle leather. It can fit a 13-inch laptop, and if you're still worried about that high price tag, the Pad&Quill Valet Luxury Laptop Bag comes with a 25-year warranty and 30-day money back guarantee!Though this bag isn't as fancy as some of the others on the list, the high quality and ratings make it a durable, functional bag for any businesswoman, or perhaps someone who just appreciates a higher-quality, longer-lasting product.9to5Mac had this to say about it:The bag didn't disappoint when it came to living up to the usual Pad & Quill craftsmanship. The company uses incredibly soft to the touch full-grain leather that has a distinct matte black look, parachute-grade nylon stitching, and the hand-pounded copper rivets mentioned above. It's confident enough in the durability to give all bags a 25-Year warranty.You can pick up your own Pad&Quill Valet Luxury Laptop Bag in colors like galloper black, chocolate, and chestnut.
Fjallraven - Kanken Classic Pack
Add a little pop of color to your everyday outfit (or don't — there are like a bajillion colors this bag comes in!) and keep your laptop in a Fjallraven - Kanken Classic Pack!The brand Fjallraven launched the Kanken bag in 1978 to help school children carry heavier and heavier books on their backs with minimal stress. The bag is designed to be as lightweight as possible but still durable and is made from Vinylon F fabric, and soon the trend spread from Swedish school children to adults because of its functionality and design.This $81 bag can be carried as either a backpack or a bag depending on how you wear the straps. It comes with a reflective logo which is great for women who bike, and it is both water resistant and machine washable, making it an ideal workout bag.The only downside? The laptop compartment isn't heavily padded, so if you're someone who needs some additional security, this might not be the best pick for you.One of the best parts about the Fjallraven - Kanken Classic Pack? The number of color options! You can pick from air blue to birch green to fog to brown to deep red to deep red with a folk pattern to orchid to peach pink to plum to ocean green to navy … there are so many options! Be sure to check them all out for yourself!
Estarer Women's Business Laptop Briefcase
Made from a high quality PU leather and designed to keep your laptop safe from the outside world while still looking fashionable, the Estarer Women's Business Laptop Briefcase is an eye-catching bag that's perfect with almost any woman's career, lifestyle, and outfit.The Estarer Women's Business Laptop Briefcase is designed with an internal laptop and tablet compartment which fits up to a 15-inch laptop.The bag is also highly compartmentalized, making it perfect for someone who needs an extra bit of help with organization!This $46 bag comes in three different colors: brown, black, and wine red.
Himawari Waterproof Travel Backpack
Say goodbye to your boring ol' backpack and say hello to the highly-rated, super kawaii Himawari Waterproof Travel Backpack!This waterproof backpack is made from a durable nylon material, making it perfect for travel or an adventure with your gal pals. The laptop compartment is lined with a plush material to protect your up-to-13-inch laptop, while several smaller pockets help you keep things neat and organized.The straps on the bag are also padded for extra comfort and can easily be adjusted depending on if you're wearing a t-shirt or a giant puffy winter coat!You can pick the Himawari Waterproof Travel Backpack for $33 in a multitude of colors and color combos, including pink and blue, pink and gray, red and dark blue, as well as many more options.
What are your top kawaii bag picks?
Is there a particular bag that you love to use? Let me know in the comments below!
Get the Windows Central Newsletter
All the latest news, reviews, and guides for Windows and Xbox diehards.