Sneak peek: 6tag for Instagram gets new Modern design in impending update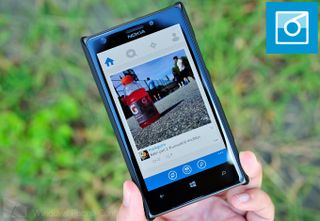 It was just a few days ago that 6tag, the unofficial Instagram client for Windows Phone 8, received a robust update with version 1.2. That update included the premier feature of multiple-account support. Now we can share with you the long-rumored new UI for version 1.4, which is due in the Store in the next twenty-four hours.
Responding to some critics who would prefer a swipe / gesture based system for 6tag, developer Rudy Huyn has obliged those users by offering them a second UI. The new choice is called 'Modern' while the old design is now called 'Polaroid'.
Users can simply head into Settings and under General find the new design choice, allowing users the option to dynamically toggle between the two layouts.
From a usability perspective, we prefer the new Modern layout as swiping left or right to change categories seems more natural to us. Another neat trick is revealed when you scroll down through your images. Huyn as instantiated a UI change where the navigation bar disappears when scrolling, allowing you a nice full-screen view of your Instagram feed.
In related news, Huyn has quit his full-time job to focus squarely on making Windows Phone apps. That means more apps and more updates should be on their way. It's hard to believe that Huyn has been doing this only part-time up until now, so we're excited to see what else he will create.
6tag appears to be catching on as a handful of third-party apps like Ciel, Apict and Countdown have announced sharing integration with the Instagram client.
This version of 6tag will be for Windows Phone 8 only but with the new UI option, Huyn has noted that it will now be easier to port back for Windows Phone 7.x users.
Version 1.4 for 6tag will be available shortly and we'll of course alert you when that happens. For now, you can watch our video tour above and see what's in store for you soon. Stay tuned.
Daniel Rubino is the Executive Editor of Windows Central, head reviewer, podcast co-host, and analyst. He has been covering Microsoft here since 2007, back when this site was called WMExperts (and later Windows Phone Central). His interests include Windows, Microsoft Surface, laptops, next-gen computing, and arguing with people on the internet.
http://www.youtube.com/watch?v=qObzgUfCl28 Just pretend he's saying Rudy instead of Ruby. :P

finally, this is much better, i feel home again :D

And that was when he was doing this part time too! Full time app developer Rudy Huyn will be even better than before (if that's even possible).

Poor Instance. Rudy is the developer to beat.

Instance v2, when it finally hits, will still give it a run for its money. It too is very well done.

Is it stable? Instance is pretty but crashed left and right for me.

Unfortunately, everyday that goes by more people become loyal to 6tag.
I have already paid for both, so I'm anxious to see Instance. However, I'm not optimistic about support.

if it will, it'll come down to developer support, and Rudy has Daniel Gary beat there

We need to stick both developers in a steel cage last man standing match!!!!

battle to death with Nokias

According to Marketing theories the first one hitting has the cards to win, even though the second could be good too the first place will be reminded first giving him more chances :)
So, a point for Rudy! :)

Instance was out long before 6tag.

IOS was out long before android.
..you saw what happened there. Point being, just because it was out first means nothing especially since instance support is next to nonexistent most of the time...amd I was an instance beta tester.

Yep, but what I meant is if you're second you must give your best twice if you want to win the market. If instance doesn't take our breath away that's it. As a neutral costumer I will give it a try anyway :)

Well i guess i'll stick with 6tag now. I was liking the design of Instance way better but this will make me stick with 6tag

Really nice to see how Rudy manages to both create very functional AND well designed applications. I hope people support such nice developers by buying their applications and writing good reviews in the store.

Both great apps, both deserving devs IMHO :)

Am i the only one who doesn't give shit about official instagram app !!

Personally 6tag, and instance v2 more than suit my needs, but having an official instagram app would help attract people from other platforms.

I agree. "unofficial" is just harder to push through making people aware those are actually available. Just look at the cnet review claiming none instagram applications available, etc.

And check out twitter, everyday someone is asking @NokiaUS and/or @Windowsphone about instagram or are saying something like "I'd switch, but I need instagram".

Exactly what my point is. If all those people considering switching to wp knew how good unofficial alternatives we've got, they might end up actually switching. That would create a storm of a whole lot of switches --> official applications being thrown at store :P

I personally don't want everyone to switch from another platform to WP. I don't want WP to become some mainstream pos like iOS eventually. (doubt it'll ever happen, but still)

That sounds just as smug and snobby some accuse iPhone users of being.

They would if they know there are unoffical apps...

He should be Windows Phone Developer Emeritus No. One! Straight up showing fools how its done. =P

Rudy. When WP starts really taking on the market, this man will be a celebrated hero. A pioneer in everything that is right and awesome for the WP platform. He's basically nokia personified? :P

Surprised someone has not made this guy an offer he cannot refuse to go work for them tbh!! Nice work Rudy!!

Rudy, I'm a straight man, but will you marry me?

Now 6tag looks identical to instance. All of our twitter clients look alike, now we're doing the same with our instagram ones?

Lucky you can decide yourself wether to use the new design or not, isn't it? :P

I was just about to say that, it now looks exactly like the Instance v2 beta UI.

Similar, yes, but not exactly. Love that Rudy gives you an option on the upcoming update. I still prefer 6tag, but Instance V2 has been awesome too.

Rudy Huyn should be given a special award for his services to Windows Phone

Awesome news. Amazing how he quit his "real" job to focus on developing, he's truly dedicated. I'd love to see a Twitter client from Rudy!

Rudy, you are a beast. Great work.

@ Rudy, if you are reading this, I would really like to know if you also have (near) future plans on making Windows 8/RT apps.
@Daniel, now this would be a nice time to think about that interview with Rudy, right?
(Forum thread is still live)

Shoot, forgot about that...will try and get on that. Thanks.

I hope he's gettin paid good. Must be, to quit his job like that.

Very nice to see apps of this quality. Great job.

Check out some of the reviews, some serious haters in there.

Great to know Rudy Huyn is fully dedicated and well appreciated.
Just got some problems with ppls videos appearing on others post. Hope that gets fixed. And some hash tags seem to not work.
Otherwise fantastic.

I had this a couple of times. I deleted the app, restarted the phone, installed the app again. Solved it for me.

Incredible!!

I want to know what is next from him?

Why don't large companies who are 'unwilling' or unsure about WP8 ask people like Rudy to make a third-party app, then if it works and is popular, buy it and turn it official. Win win?

Someone pour cold water on this guy, he is on fffffiiiiiiirrrrrreeeeee.!!!!!!!

Any news on 6tag coming to windows 7 phone guys ??

Read the article, it mentions 7.x.

I am a big fan of the multiple account support. Follow me at BK_lumia1020. What would be great for a future update is linked account support where I can view all my feeds in screen. When I go to post a pic or video, I get the option to choose which account(s) to post to after I edit the image. I can see how this might not work so well with the news section though. Just a thought.

im using instagramm because of 6tag...always heard about but 6tag gave me the option to creat a login and use this program...
my dollar bill goes to 6tag..kkk

If quit his job, he must be making some pretty good money. Hopefully he has health care though. :)

I think France has a socialized health care system, of course last I heard it was going broke to though.

I bet Rudy can make a full featured Facebook app in 6 weeks and make it work 3x better than the beta version Microsoft has been working on for months.

Developer Ruby is amazing. Very good job my friend.

Such a gorgeously designed app. Still keeping my fingers crossed that the weird flash when you switch to video capture mode has been corrected.

Will there be support for Facebook pages?

And this is precisely why I use 6tag. Excellent developer and approval from instagram to use their API.

What about version 1.3 of 6tag? Or is it skipping right over to 1.4? BTW, great work on this app Rudy!

I've been using both Instance Beta V2 and 6tag. Both excellent apps. Will continue to use both and decide which one is the best, though its starting to look neck and neck at this point

Rudy is Awesome! They should name the next Windows phone 8 a Huyn.

Everyone is excited and I'm just over here patiently waiting for 6tag to come to WP7.

me too ,any news on w7 version ??

Nothing concrete, but I hear WP8 devices are pretty cheap these days... Just Saying....

Rudy why not a live tile showing perhaps the last photo uploaded something like that

Hey Rudy, want to make some serious cash? Make a Facebook messenger app.

Loving that Daniel only follows 34 people. . .and one of them is The Rock.

:) I have to keep it simple...and the Rock is awesome.

Wow, Rudy does it again. I'm so glad this happened, because I wasn't really liking the "polaroid" UI! This UI is much more practical Imo. I hope this comes to 6sec too!

I like the other version better but I love WP.

I can't wait for this update. The bugs from the last one are killing me.

Have you tried uninstalling/reinstalling?

I wonder if Rudy has seen the movie "Rudy"?

UPDATE IS AVAILABLE!!!!
Just downloaded it. Didnt even have to go into setting to swtich to modern, when I launched it started up with Modern. Leaving it like this. Takes what I loved about instance and incorporated it into 6tag Love swiping. much easier than tapping that counter at the top
Was wondering how the swiping the image around to download etc was gonna work, but now u tap the three dots at the bottom of the post.
Windows Central Newsletter
Get the best of Windows Central in in your inbox, every day!
Thank you for signing up to Windows Central. You will receive a verification email shortly.
There was a problem. Please refresh the page and try again.